Princess Anne's daughter Zara Tindall is currently in Australia attending the Magic Millions Polo with her husband Mike Tindall. Zara is there to play and captain the team Harrolds. She wore a bright floral dress and fascinator by a local milliner.
Zara was dressed in Kate Spade 'Vintage Fleur Crepe Dress', retailing for £250. The high neck floral mini shift dress is covered in a large bold print of flowers with red and pink coloured petals and white stems and leaves. The dress features a high shirred neck, long sleeves with shirred cuffs. The oversized trapeze style gives a 1960's vintage vibe to the dress, which sits just above the knee. The rear showcases a centre keyhole with button closures at the nape of the neck. You can purchase the dress here. Try this to get the look for less, purchase here.
Stylists Note –> Shirred refers to parallel rows of drawn-in or elasticated gathers of fabric. Shirred fabric is common around the neckline, sleeve cuffs or waistline of a dress.
Embed from Getty Images Embed from Getty Images
Zara wore Brisbane based Milliner Meg Rafter 'Red Roses Headband'. The pretty headband has a singular row of oversize red roses along an Alice band with small spikes of red dyed goose feathers sprayed through the roses. You can view Meg Raftner's website here.
Zara has also worn this navy, green and white checkered pattern Meg Rafter fascinator to the Magic Millions Polo event recently. The oval shaped percher sits very prominently toward the front of the head atop a thin navy headband. The fascinator is adorned with towering tapered turkey feathers in navy, green and white. You can enquire about this piece here.
Embed from Getty Images Embed from Getty Images
The Olympic silver medalist carried a Kate Spade 'Hayes Street Hazel Pearl Shoulder Bag', originally retailing for £188 but now on sale for £113. This miniature front flap bag is all kinds of girly cuteness and what you have come to expect from Kate Spade. The grained leather bag has a snap closure front flap with a scalloped edge and is embellished with a trim of interchanging sized small to large faux mabe pearls. Double red leather mini tassels are knotted in place on the silver ringed hardware sitting along the top of the flap. These hold the silver twisted chain link in place for an optional cross-body style which can also be worn as shorter double chain strap. There is a large interior compartment with singular slip pocket. You can purchase the bag in red here and in black here.
Embed from Getty Images Embed from Getty Images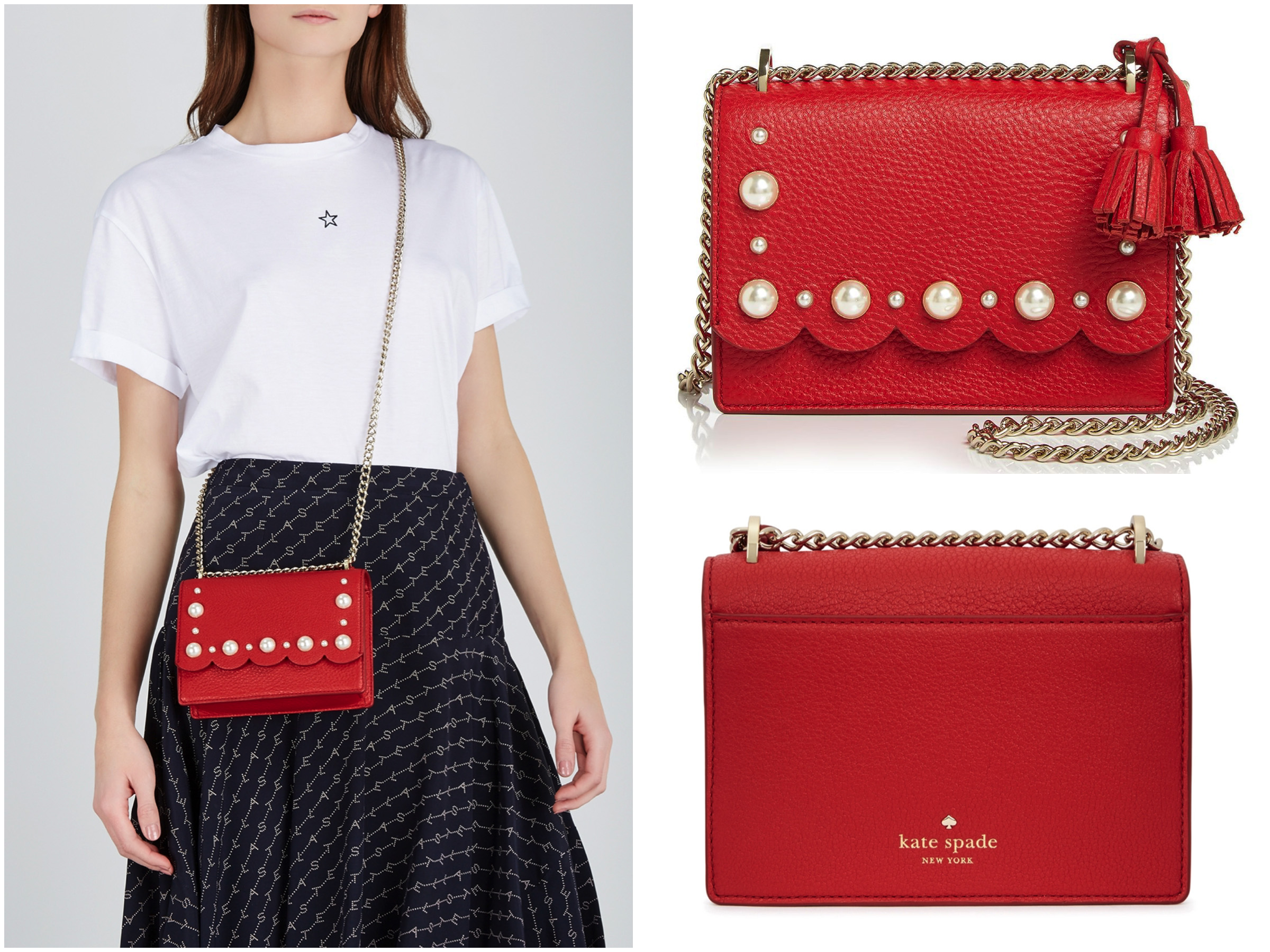 Zara wore a pair of Valentino 'B Drape' taupe leather pointed pump. The court heels have a cross-over ruched toe vamp and heel cover, with plexi sides and appear to have a 10cmm heel height.
Zara accessorised with a simple and elegant pair of pearl drop earrings and a thin silver bangle on her right wrist. Try these earrings to get the look, here.
You can get Zara's look here.
with thanks to @polkapopp for shoe info