The Countess of Wessex had a quite busy week with various CHOGM engagements. Here are some of the engagements she attended and beautiful dresses she has worn.
19th April Dinner at Buckingham Palace.
Sophie attended The Queen's formal dinner at Buckingham Palace. The Countess wore the Aquamarine Tiara, which is one The Queen lent her, that can be worn as a tiara or necklace. It features a large aquamarine stone in the centre surrounded by two wave patterns of diamonds on either side. This piece is said to be a G. Collins and Sons creation and seems to be one of the few tiaras that does not have a photo of the tiara on display for us to get a closer look at. She also accessorised with a multi colour gemstone earrings and necklace set which we are yet to identified.
For the evening reception Sophie wore a lilac Tatiana Kovariková gown that she has previously worn to the Swedish Royal Wedding of Prince Carl Philip and Princess Sofia. This gown was gifted to Sophie on a trip to Prague; Tatiana Kovariková is a designer from the Czech republic, established in 1995 she has many celebrity clients.
The dress does appear to be an ice blue in colour it could just be the lighting in the photographs. The gown features a deep v-neckline and flutter cap sleeves. A fitted bodice with ruched fabric to the empire waistband. The gown features a long sweeping skirt that has a very gradual flare to the floor. Beautiful delicate feminine details of floral embroidery adorn the shoulders and each side of the waistline just above the waistband. A gorgeous gown that has a regal presence. Get a pretty replicate of this gown on sale for £56 here.
Embed from Getty Images Embed from Getty Images
Sophie carried an Anya Hindmarch 'Bespoke Maud' Clutch in metallic silver. The clutch retails for £475 and this style of Anya Hindmarch clutch is also a favourite of The Duchess of Cambridge's. The clutch features an metallic a-frame hinge and clasp. The clutch can have the wearers initials embroidered into it and even has the option of having a personalised messages sewn to the interior. Sophie has had this clutch for many years. You can purchase the 'Bespoke Maud' clutch here. Get a cute replicate of this clutch here and the most amazingly affordable replicate (and one that you can personalise) clutch for £22 here!
19th April CHOGM Formal Opening
On Thursday 19th April, Sophie attended the Commonwealth Heads of Government Meeting formal opening in the Ballroom at Buckingham Palace. Sophie joined other members of the Royal Family, leaders from the Commonwealth nations as she listened to a speech from Her Majesty officially opening CHOGM.
For this engagement Sophie wore her Suzannah Silk Tea dress in marigold print, retailing for £595. A vintage-inspired tea dress from the 1930's, this dress is made from a soft silk crepe de chine cloth. The dress is made from in a bright rich navy blue with white, yellow and black marigold flowers in a graphical linear pattern. The tea dress' construction features a deep v-neckline with ruching around the bodice and inverted v-empire waistline, 3/4 sleeves, an invisible rear zip closure and falls in a fluid fluted skirt to a longer midi length. A gorgeous feminine dress that can be worn for years.
The Queen's daughter-in-law has previously worn this dress in late 2017 on an official engagement to Sri Lanka. You can purchase Sophie's dress here. You can get a nice get the look of Sophie's dress for £36 here and £25 here.
Embed from Getty Images Embed from Getty Images
Sophie wore her back to front Pearl Studs from Heavenly Necklaces, which retail for only £30 and are on sale for £10! The small pearl measures 8mm and sits at the front of the ear, the large pearl measures 15mm and acts as a butterfly. The pearl earring is made from sterling silver plated with rhodium for it's anti-tarnish and anti-allergy properties. These earrings come in numerous colour ways – Sophie wears the white pearl version, though unfortunately her colour is out of stock. You can still view her earrings or purchase in another colour-way here. You can get some earrings like Sophie's here.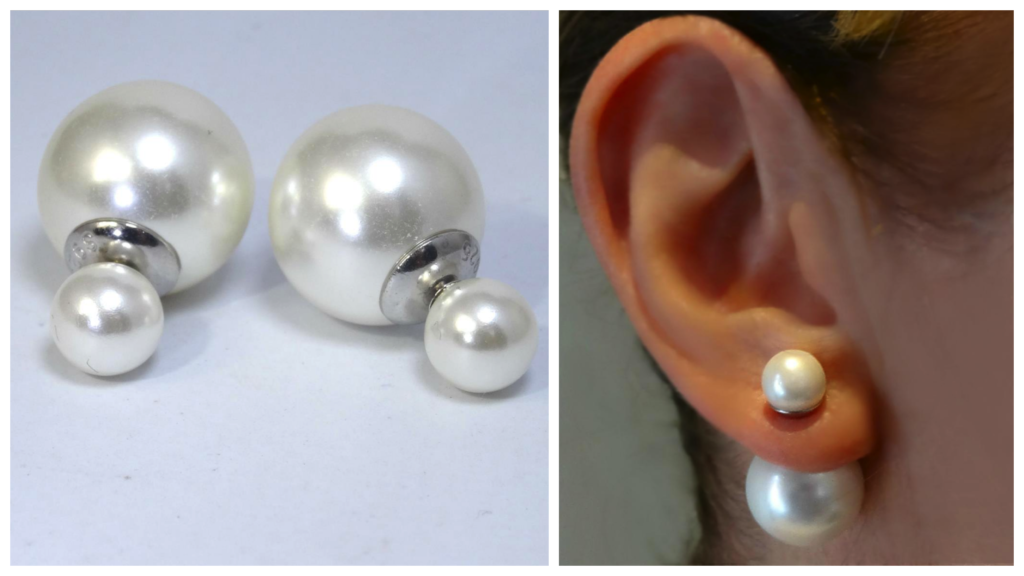 Sophie also wore her 'S' Initial Necklace on a gold chain, which is still yet to be identified.
18th April 100 Women in Business Summit
The Countess attended the 100 Women in Business Summit at the Royal Garden Hotel in London. She was there to give the opening Keynote Address for the event.
Sophie wore an Oscar de La Renta Floral jacquard dress, retailing for between £1,728 and £2,145. This dress has a bateau neckline and 3/4 elbow sleeves, with both the neckline and cuffs of the sleeves feature a half moon cut out lattice pattern trim. The dress is a true fit and flare silhouette with a-line skirt that falls to just above the knee. Navy with white botanical pattern throughout. The dress is unlined, has a rear zip closure and is made from a blend of viscose and polyester. It is part of Oscar de La Renta's Resort 2018 collection.
This dress is perfect for both day and evening engagements and could be worn with wedges or heels. Please note that this dress has several different names and prices across several retailers, which can be confusing. We have found all of them and included them for you in our get Sophie's look at the bottom of this post. You can purchase Sophie's dress here, here, here and here. You can get an amazing replicate of this dress for £89 here.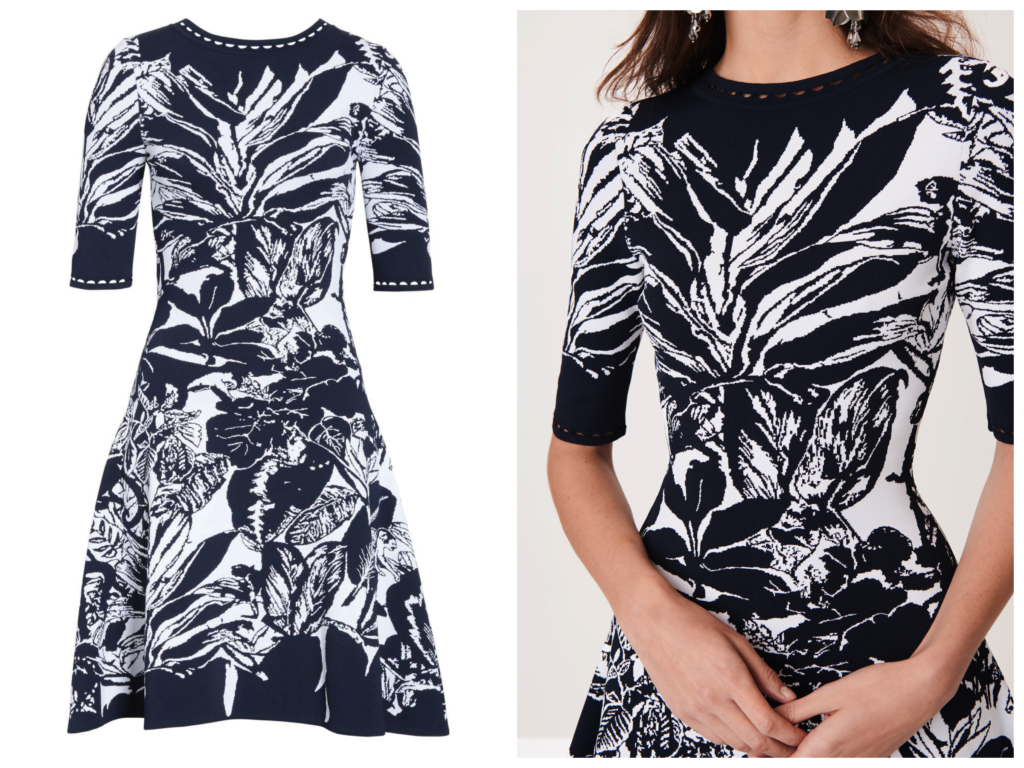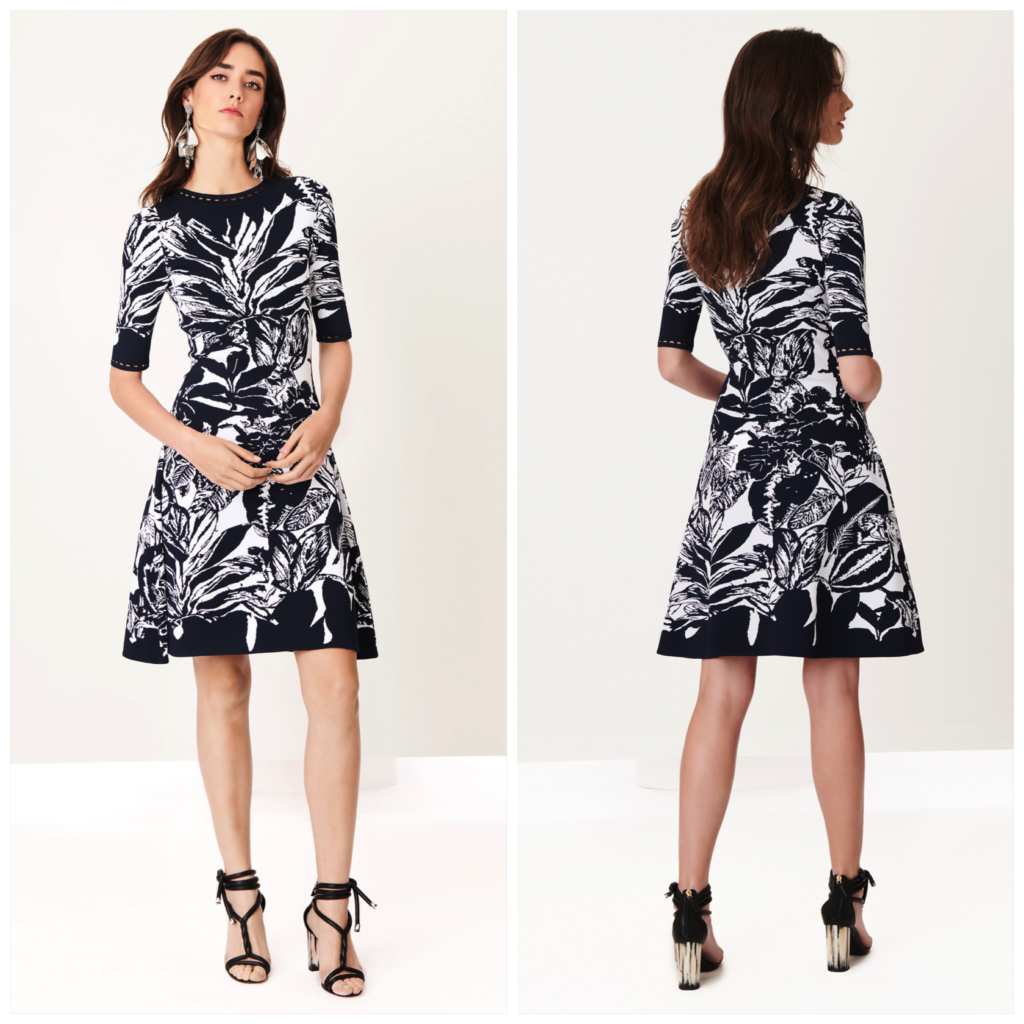 The Countess wore a structured black blazer over the dress. The single-breasted blazer has notched lapels, large patch pockets at the hips and half buckle cuffs.
She accessorised with her Birks Les Plaisirs de Birks Maple Leaf pendant with pavé diamonds, retailing for £946. This is a small open pendant in the shape of a Maple Leaf, inlaid with pave diamonds on a white gold chain.
17th April Queen Elizabeth Diamond Jubilee Trust
Sophie spoke about the need and importance of sight for all people.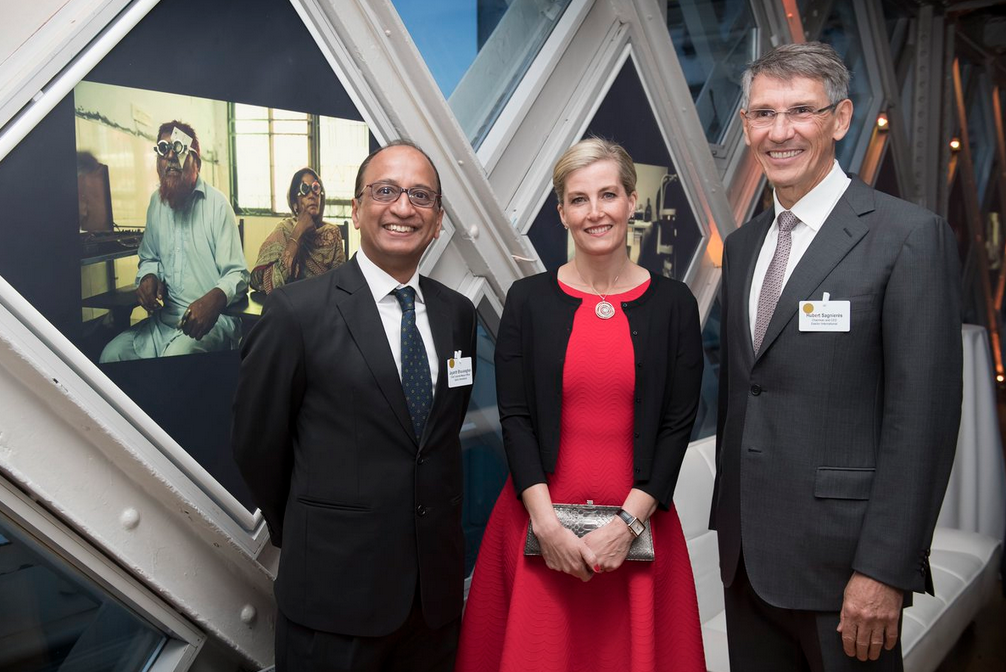 Sophie wore an Alaïa scalloped wavy stripe knit dress, a beautiful look on her. A rounded neckline features on this bright vibrant red dress with an intricately knitted and grooved wavy pattern, throughout. It is hard to see the detail of this dress straight on, though zoom in and you can see the pattern quite well, transforming this dress to a beautiful piece. This cap sleeve dress has a fit and flare silhouette with scallop edged sleeves and hem line. The dress has quite a low scooped back with concealed zip. The dress is made from a Viscose/Polyester/Nylon/Elastane blend.
Sophie has previously worn this dress and it is unfortunaltey sold out. You can get a great get the look dress on sale for only £85 here.
She also wore a black cardigan which is unidentified at the moment.
Prince Edward's wife wore a Hettich sapphire and diamond circle open work pendant, retailing for £18,950. An intricate pattern of disproportionate spirals, inlaid with diamonds and sapphires toward the centre. This is quite a large and striking disc shaped necklace. Very much a statement piece of jewellery from Sophie. The Countess debuted this necklace on her recent visit to Malta. Buy Sophie's necklace here. You can copy Sophie's style here.
Sophie carried a Sophie Habsburg 'Amber' style clutch in pewter. Sophie also has this clutch in beige. The Amber in Pewter colour-way is the bottom clutch in the image shown. A snake clutch bag with hard shell, a-frame, jewelled cabochon clasp closure and satin interior. The Amber comes in various colours. You can purchase an Amber clutch here.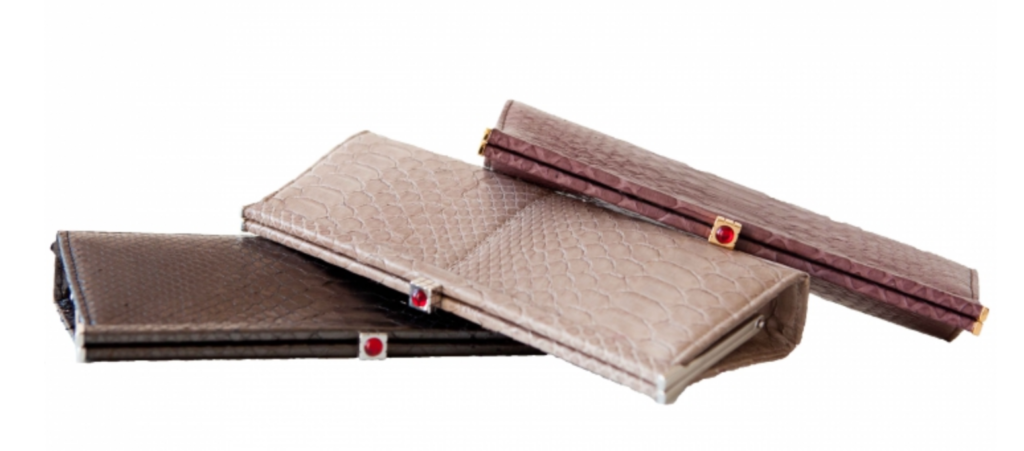 April 16th – tree planting at Buckingham Palace
Sophie was in attendance to plant a tree as part of The Queen's Commonwealth Canopy and to mark the Commonwealth Heads of Government Meeting in London for 2018.
Sophie wore the Erdem 'Analena' floral print pencil dress, retailing for £757.73. The dress features as jewel neckline, cap sleeves, angled seaming on the bodice, a cinched waistline and exposed rear zip. The fitted pencil dress, falls to just below the knee and has a white hibiya orchid print on a black background. The Royal has worn this dress on previous occasions and is a nice departure from her normal fit and flare style. We really think that pencil dresses suit the Countess. This dress is no longer available, though you can still view it here. Get a really nice replicate of this dress here.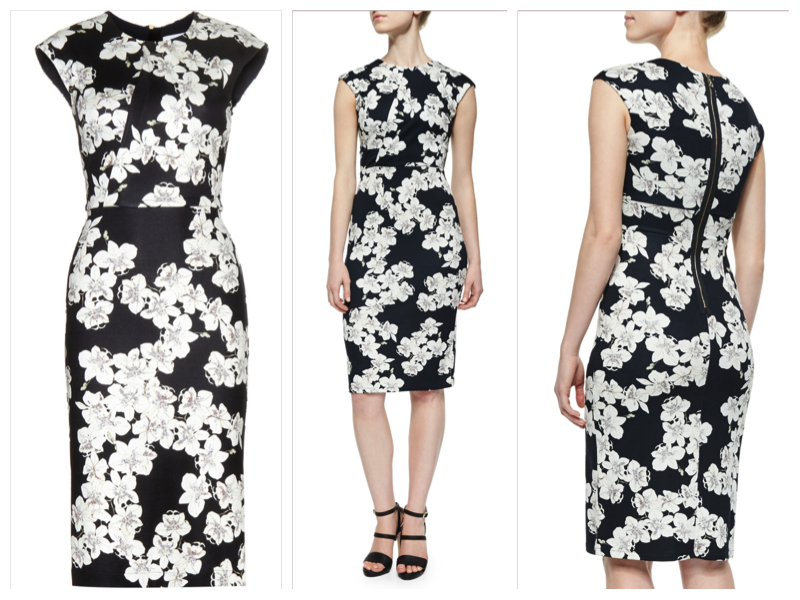 Sophie wore a pair of LK Bennett 'Bayleen' suede wedges for the occasion, which cost £228. This is a classic LK Bennett round-toe silhouette, perfect for everyday wear in the office or for casual outings, which she has had for a number of years nwo. The black suede wedge features a traction grip sole for more stability when walking. Unfortunately these wedges are sold out, though you can still view them here. Get a great replicate here.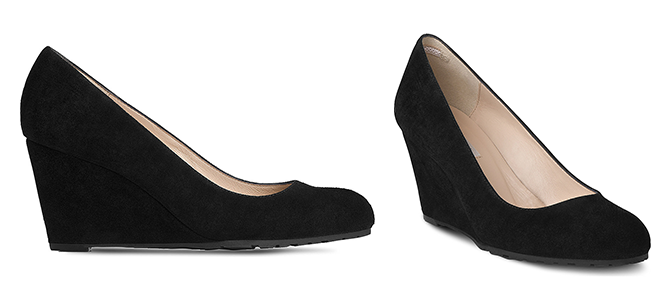 Sophie also wore a black cardigan and accessorised with her Birks Maple Leaf Necklace.
We are sorry that we could not bring you more information on Sophie's shoes and handbags, as not many photos captured her events for CHOGM.
You can get Sophie's CHOGM dinner look here:
!function(doc,s,id){ var e, p, cb; if(!doc.getElementById(id)) { e = doc.createElement(s); e.id = id; cb = new Date().getTime().toString(); p = '//shopsensewidget.shopstyle.com/widget-script.js?cb=1525719115006?cb=' + cb; e.src = p; doc.body.appendChild(e); } if(typeof window.ss_shopsense === 'object'){ if(doc.readyState === 'complete'){ window.ss_shopsense.init(); } } }(document, 'script', 'shopsensewidget-script');
Get Sophie's Suzannah Style here:
!function(doc,s,id){ var e, p, cb; if(!doc.getElementById(id)) { e = doc.createElement(s); e.id = id; cb = new Date().getTime().toString(); p = '//shopsensewidget.shopstyle.com/widget-script.js?cb=1525719115006?cb=' + cb; e.src = p; doc.body.appendChild(e); } if(typeof window.ss_shopsense === 'object'){ if(doc.readyState === 'complete'){ window.ss_shopsense.init(); } } }(document, 'script', 'shopsensewidget-script');
Get Sophie's Oscar de la Renta Style here:
!function(doc,s,id){ var e, p, cb; if(!doc.getElementById(id)) { e = doc.createElement(s); e.id = id; cb = new Date().getTime().toString(); p = '//shopsensewidget.shopstyle.com/widget-script.js?cb=1525719115006?cb=' + cb; e.src = p; doc.body.appendChild(e); } if(typeof window.ss_shopsense === 'object'){ if(doc.readyState === 'complete'){ window.ss_shopsense.init(); } } }(document, 'script', 'shopsensewidget-script');
Copy the Countess in fiery red:
!function(doc,s,id){ var e, p, cb; if(!doc.getElementById(id)) { e = doc.createElement(s); e.id = id; cb = new Date().getTime().toString(); p = '//shopsensewidget.shopstyle.com/widget-script.js?cb=1525719115006?cb=' + cb; e.src = p; doc.body.appendChild(e); } if(typeof window.ss_shopsense === 'object'){ if(doc.readyState === 'complete'){ window.ss_shopsense.init(); } } }(document, 'script', 'shopsensewidget-script');
Steal Sophie's tree-planting style here:
!function(doc,s,id){ var e, p, cb; if(!doc.getElementById(id)) { e = doc.createElement(s); e.id = id; cb = new Date().getTime().toString(); p = '//shopsensewidget.shopstyle.com/widget-script.js?cb=1525719115006?cb=' + cb; e.src = p; doc.body.appendChild(e); } if(typeof window.ss_shopsense === 'object'){ if(doc.readyState === 'complete'){ window.ss_shopsense.init(); } } }(document, 'script', 'shopsensewidget-script');