Last night the Royal Family joined Her Majesty for her 92nd birthday celebrations at a pop concert at Royal Albert Hall. We have all the royal fashion information and some great cheaper options for you.
The Countess of Wessex
Sophie wore a Galvan signature corset jumpsuit, retailing for between £1,000 and £1,128 – that is one expensive jumpsuit! A smooth crepe, structured, tailored, fitted corset with sweetheart neckline, sleeveless with medium thick shoulder straps, the high cinched waistline moves into long wide-legged pant. The jumpsuit is made from a triacetate/polyester blend and has stretch lining.
You can purchase Sophie's jumpsuit here and here. The Galvan jumpsuit also comes in a red colour way, which you can purchase here. We have found you some very very affordable replicates £46 here, £40 here and £25 here. Update! You can purchase Sophie's Galvan jumpsuit on sale for £630 here.
This was a very daring look for the Countess and not something that we are used to seeing her in. Sophie's style is normally very refined and demure, so this very plunging neckline was a huge departure from her aesthetic. We think she looks great, but are not sure if it really worked. Also some quick tailoring to hem those wide pant legs would have been great, or a jumpsuit that is cropped and tapered more toward the ankle would look better with such a fabulous pair of heels as Sophie had, which were a bit lost amongst the long wide legged fabric of the jumpsuit.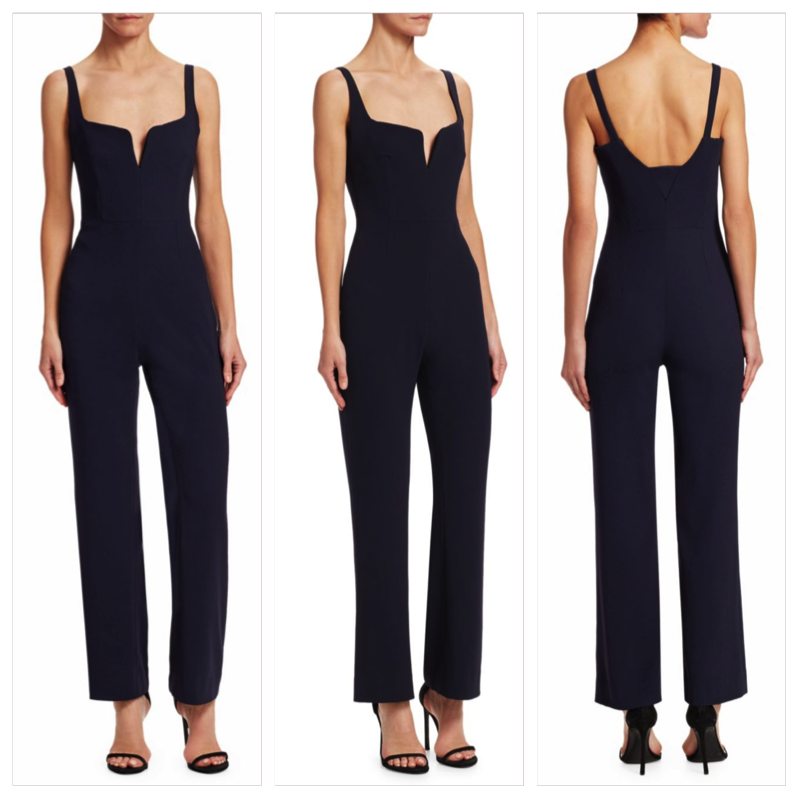 Sophie wore her Manolo Blahnik BB 115 pumps in navy satin, retailing for £495; she debuted these recently for Easter Sunday Service with The Queen. You can purchase the same Manolo's here. We absolutely love these navy court heels on sale for £24 to get Sophie's look. Purchase here.
The Countess of Wessex also wore a Jane Carr 'Mosaic Stole' (cashmere scarf) in navy and burgundy colour-way, retailing for £345. This navy, burgundy and purple dégradé design is hand-painted onto an oversized, super-fine square, and the edges have hand-frayed hems. This is a 100% cashmere scarf.
Jane Carr was established in London in 2005 creating luxury printed and cashmere scarves. Printed scarves are hand made in Como, Italy and cashmere pieces hand-loomed by artisans in Kathmandu, Nepal. Jane Carr has expanded from London retailers to luxury retailers in New York, San Fransisco and Japan.
Unfortunately the scarf in this colour way is no longer available. However, you can still purchase the mosaic in many other colour ways here.
Sophie carried a small purple snake-effect box clutch with gold frame. She accessorised with her gold and green amethyst double drop studs and 'S' initial necklace.
Overall, we are not quite sure about this look on Sophie tonight, quite an expensive jumpsuit and scarf (the heels are too, but we will take them any day!). The navy and purple don't really seem to go together, it is a design rule that two colours that sit adjacent to each other on the colour wheel should not be mixed together, as the old adage, 'blue and green should never be seen.' This reminds us of when Kate wore her Issa navy wrap dress and black heels for her engagement announcement. Everyone could not believe a person would pair navy and black together, as these are two dark staples in women's wardrobe that you would wear one or the other of, not together. Though for some reason it just seemed to work for Kate.
Princess Beatrice
Princess Beatrice wore a Gareth Pugh Silk-blend crepe wrap dress, retailing for £343. This v-neck long sleeve wrap dress is made from a bright purple silk-blend crepe and knots at the waist by a self-tie obi-style belt. The long sleeves feature fitted cuffs with single button closure and the soft gathered, fluid and feminine fabric drape to just above the knee. Princess Beatrice wore her dress with the sleeves pushed up.
This dress was part of the Spring 2017 Collection and is no longer available. You can still view it here.
Beatrice wore a pair of Kurt Geiger 'Britton' pumps, retailing for between £149 and £199. These pointe-toe shiny black patent court heels, feature a thin gold metallic cigarette stiletto heel. The heel height measures 110mm. You can purchase Beatrice's heels here, here, here, here and here. These heels also are available in a red, white and nude colour-way. Princess Beatrice has also worn the Britton pump in nude for Easter service with the Royal Family, which you can still purchase here and here.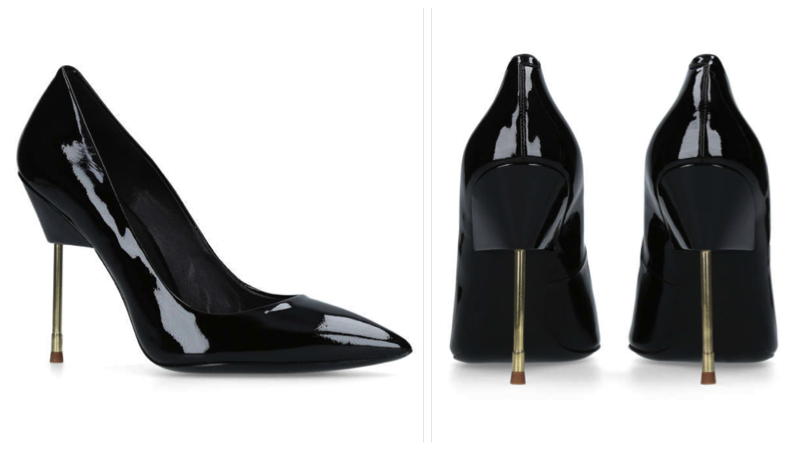 Beatrice carried a mini black pure double flap Chanel shoulder bag with silver hardware and logo. She has previously carried this bag to Royal Ascot a number of times, including last summer. We show a similar Chanel bag, though with single flap and gold hardware.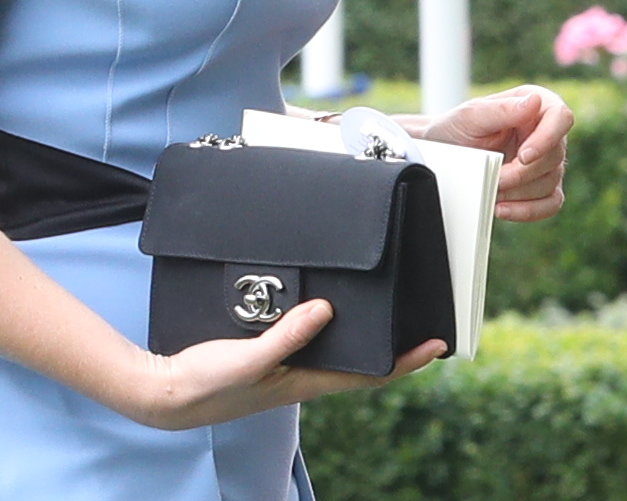 Princess Beatrice accessorised with a gold bracelets on both wrists, with one that appears to have blue gemstones, though we did not get to see if she was wearing earrings.
We loved this look on Beatrice, though felt for a concert she almost looked too corporate with black accessories. We would love to see her wear this dress with hair up, some more fun accessories such as some glittery pumps and metallic clutches. Even some Sophia Webster Butterfly heels. We know that Princess Beatrice likes to experiment with fashion and we would love to see her push the boundaries into chic feminine styling, she has a lot of potential, just work on the details.
Princess Eugenie
Princess Eugenie wore a Max Mara 'Leandro' draped floral crepe dress, retailing for around £1,089. A deep v-neck sleeveless dress with blouson bodice and draping around the bust. The skirt has a slight a-line flare with a blue and yellow floral border print and falls in a swing drape to just above the knee. The blouson feel of the bodice makes it appear that the dress is actual a top and skirt separates. The dress has a rear zip and is made from a blend of Acetate/Silk/Viscose and is partially lined.
Princess Eugenie has previously worn this dress to the Not Forgotten Garden Party that was hosted by her father the Duke of York at Buckingham Palace in May of 2016. This dress is no longer available at major retailers, however you can buy this dress in very limited sizes here. You can get a cute replicate of this dress here.
Eugenie wore Rupert Sanderson 'Rococo' mid heel peep toe Mary Jane in nude, retailing for £319. A nice mid heel height pump feature cut outs on the toes and sides near the ankles with fine straps. The heels also have a front square buckle strap to keep your shoe firmly in place. This heel is actually a great office wardrobe staple. Get a nice replicate for these heels here.
Princess Eugenie carried a Loro Piana clutch retailing for roughly £198. A beige suede flap clutch with buckle closure, two large interior pockets either side of a smaller zip compartment. The bag features two swing suede and gold hardware pieces, a gold ring with engraved logo and gold lock with engraved designer 'LP' initials. Princess Eugenie has previously carried this clutch to the Queen's Diamond Jubilee Service of Thanksgiving at St. Paul's Cathedral in June 2012. This clutch is no longer available, though you can still view it here.
Princess Eugenie accessorised with some gold drop earrings. This is a very feminine look from Princess Eugenie and we are huge fans of this style on her, she is making great strides with her fashion presence.
Lady Louise
Lady Louise wore a Hobbs 'Imogen' Dress originally retailing for £139, it is now on sale for £93(!). A very flattering chiffon dress and feminine fit and flare a-line style. This dress features a double layered flap bodice and swing draped skirt that falls to the knees. The dress has rear half zip and closes with a single button at the neck. You can purchase Lady Louise's dress here. This dress is also available in mint, which you can purchase here. Get a nice replicate of this dress here.
Louise wore LK Bennett 'Clemence' closed court heels originally retailing for £185, and now on sale for £89. A classic staple pump from LK Bennett that you could have in your wardrobe for years. These nude/blush suede heels feature an almond toe shape with gold toned hardware at the tip of the toe and a low size block heel. We first saw these on Easter Sunday Service with the Royal Family. You can purchase Lady Louise's pumps here. Get a great pair of similar heels here.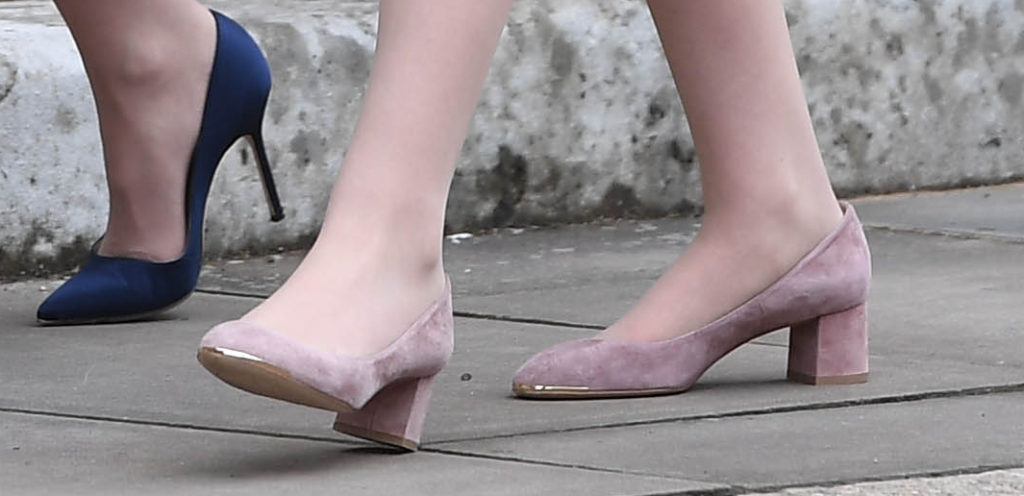 The 14-year-old also carried a gold glitter zip top pouch/wristlet, which added a bit of fun and youth to this look. We 'think' this piece may be from Dorothy Perkins – take a look below. Other possible designers may be Anya Hindmarch, Edie Parker, Coach or Kate Spade. Let us know what you think either in the comments or on Twitter – we love your input!
We think all the royal ladies looked lovely and our favourite has to be Princess Eugenie, we think her fashion style is really starting to evolve since her engagement.
If you are wondering where Meghan's outfit is, we have already created a separate post for this. See her Stella McCartney look here and her Self Portrait look here from yesterday day time.
Steal Sophie's style here:
Get Princess Beatrice's look here:
Princess Eugenie's outfit can be copied here:
Get Lady Louise's style here: