On a solo engagement for the tour of South Africa, The Duchess of Sussex visited Victoria Yards where she met with local artists and looked around the community that has recently been revamped. Meghan chose a dress by one of her go-to high street labels Aritzia.
Photos of this event have been hugely limited, unfortunately.
Meghan wore Aritzia 'Wilfred Shirt Dress Button-front midi dress', retailing for £120. The thigh-high slit, ink blue dress features a low v-neckline with notch collar, short sleeves, large contrast white buttons down the front centre to just above the knee with a self-tie belt. The dress is crafted from drapey fabric with a pebbled texture. We would love to see Meghan remove the self-tie belt on a few of her dresses and mix these with leather or braided belts, to create a different look than the model styling in the product photos. You can purchase the dress here. We absolutely love this option to get the look for less, purchase here.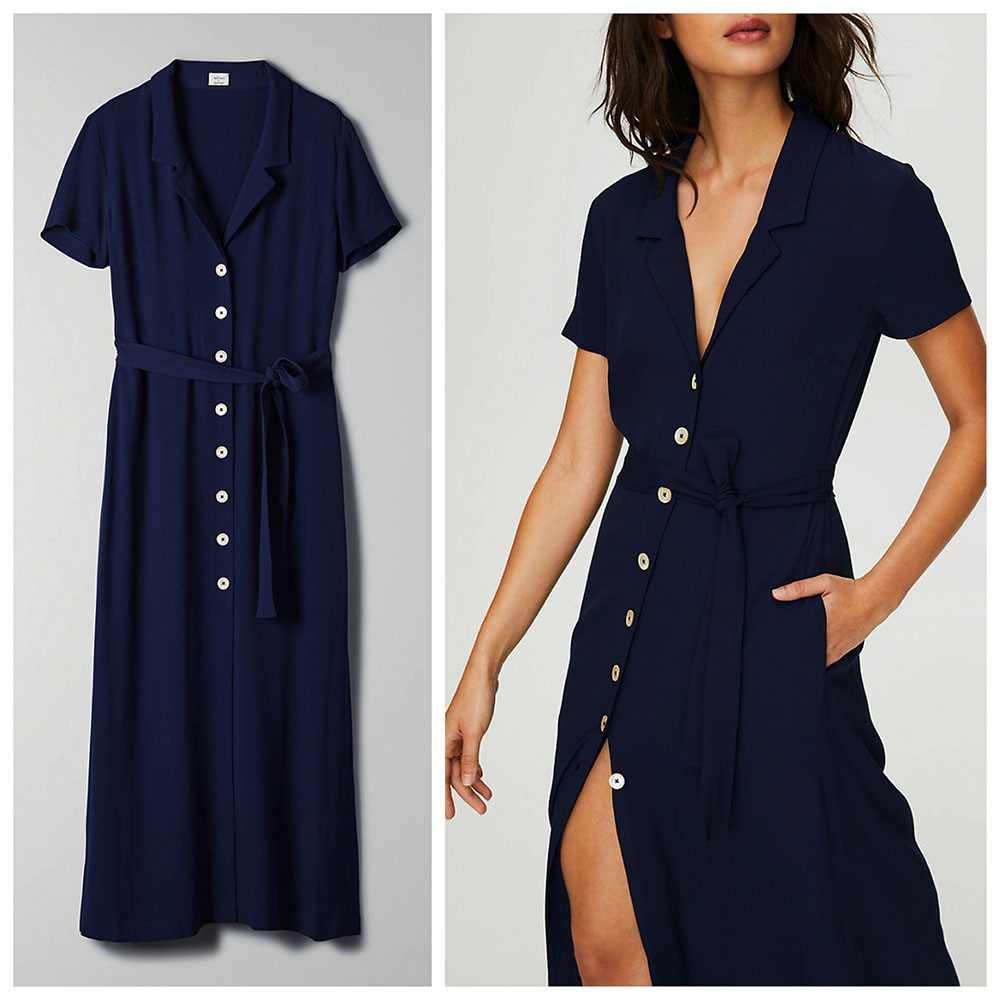 This dress could be perfect for work, even though it does appear to have a high slit at the front, you can always stitch the front together to the knee, or if you have a great tailor get some hidden press studs placed inside. Or simply keep it for casual Friday.
The Duchess added a pop of colour flats from Everlane. Meghan chose 'The Slingback Flat,' retailing for £127. The slingback flat has a sharp, pointed toe and a low, square vamp, with a very slight block heel. You can purchase these flats here.
Meghan wore a pair of earrings from local designer Pichulik, the 'Magi Earrings', retailing for £77. The website describes the earrings: 'The Magi earring dusted in gold and beads arched like a rising sun. Magi is the origin of the word magic and was used to describe people of great sacred knowing.'
The earrings are brass studs with a navy braid rope, embellished with gold and adorned with copper beads and gilt-plated end caps. You can purchase these earrings here.
We love this look on Meghan it is very easy and unfussy, yet looks effortlessly chic with the red flats. Probably one of our favourite looks on the tour so far.
You can get Meghan's look here:
with thanks to @japaneseginger for dress ID