The Duchess of Cambridge visited Islington Community Garden yesterday. Kate chatted, gardened and made pizza with children. The Duchess showed off her chic country attire in a traditional British style tweed jacket and modernised her look with a pair of coveted boots.
The Duchess wore Dubarry 'Bracken Tweed Jacket', originally retailing for £399, though it is now on sale for £279. Kate took a leaf straight from The Queen's fashion book with her choice of practical outdoor tweed jacket. The stylish piece has a stand up funnel neck to protect against the elements with asymmetric branded Dubarry buttons running down the right hand side. There are contrasting beige leather details around the cuffs and the zip detail on the back of the sleeves and large patch pockets on each hip. The jacket is crafted from wool and lined with teflon for warmth. The jacket is available in numerous colours with Kate opted for the 'Heath' colour-way.
You can purchase the jacket here.
Below we show a close up of the jacket fabric.
The Duchess wore J Crew 'Mockneck sweater' in supersoft yarn, retailing for £78. The jumper has a ribbed funnel neck, ribbed cuff and hemline. The jumper is available in an array of colours with Kate wearing the jumper in the mahogany colour-way, with a washed out feel. The jumper is made from a nylon/merino wool/alpaca/elastane blend. A great versatile piece for your winter wardrobe. You can purchase the jumper here.
Kate wore a pair of Zara skinny jeans in a khaki colour-way. It is believed that these are the same Zara jeans that Catherine wore in Canada in 2016. However, there are also an updated pair of Zara jeggings currently available on the Zara website which have also been debated as Kate's jeans. You can purchase the current version for £19.99 here. Try these as a nice replikate here.
Kate wearing the Zara jeans in Canada 2016.
The Duchess of Cambridge opted for a very fashionable and street style pair of See by Chloe boots, much to the delight of royal fashion fans, who loved this pair of high fashion outdoor boots. Kate wore the 'Liegi suede ankle boots', originally retailing for £360 but now on sale for £252. The brown suede lace up boots have gold eyelets, a logo-embossed back tab. The soles have a rugged high-tread, stacked heel with contrasting plates. The boots showcase Chloe's signature scallop detail around the base. You can purchase these boots here, here and here.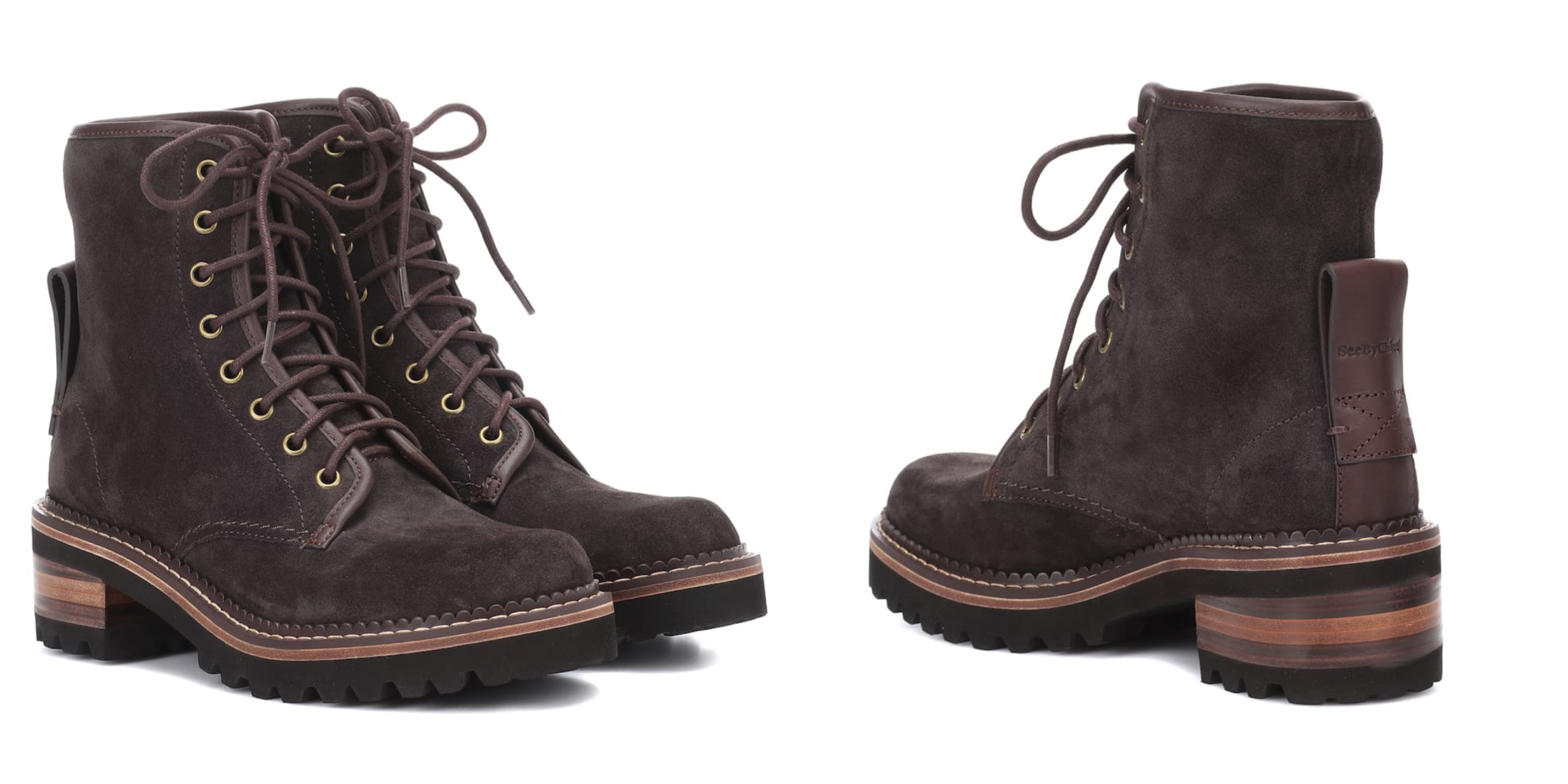 The Duchess wore her Kiki McDonough 'Lauren Pavé Leaf earrings', retailing for £1,833. These earrings are inspired by the British ballerina Lauren Cuthbertson. The drop earrings are made in 18ct yellow gold with pave diamond leaf motif. You can purchase Kate's earrings here. Or try these for an affordable option in a rose gold here.
You can get Kate's gardening style here: