Earlier today, The Duke and Duchess of Sussex bid an official farewell to Fiji to continue their Royal Tour of the Pacific. Meghan was dressed in a beautiful Jason Wu dress as she departed from the Fijian Airport. There was a total of three different looks for Meghan today, including a red dress by Self Portrait, and a beatiful white evening gown.
Meghan wore a beautiful dark green dress from Jason Wu 'Crepe Sheath Dress', retailing for £1,385. The emerald green dress features a crew neck, short wide sleeves, a fitted waist line and a midi length skirt. You will noticed graduated pleated panel details that flutter over the shoulders and sleeves. Raised contouring seam/dart details move over the bodice and skirt at the front and rear of the dress. These seams are slightly raised from the dress to give an unusual sculptural effect. We have seen this on Meghan's Jason Wu criss cross sheath with grosgrain black dress she wore in Australia and they also appear on the Duchess of Cambridge's Stella McCartney dress. The dress is made from an acetate/polyester blend and has an invisible zip closure.
Embed from Getty Images Embed from Getty Images
#MeghanMarkle #duchessofsussex in emerald green #Jasonwucollection pic.twitter.com/8o0173oE8h

— JASON WU (@JasonWu) October 25, 2018
This dress has sold out, though you can still view it here. We have found you an affordable replicate. Purchase here.
Meghan carried her Dior 'D-bee' clutch bag in navy leather, retailing for £360. Meghan has had the large crystal inlaid gold bee embellishment removed from the front flap of her bag. The handbag is made from navy calf skin leather with a very short top handle. The bag features two interior compartments and a large front flap with magnetic closure.
You can view a version of the bag in black here.

Meghan wore her navy suede Manolo Blahnik BB Heels, retailing for £487. We have seen Meghan wear Manolo Blahnik on a number of occasions now and know it is one of her go to brands for shoes, as are Aquazzura, Sarah Flint and Jimmy Choo.
You can purchase Meghan's heels here. Try these to get the look for less, purchase here.
Embed from Getty Images Embed from Getty Images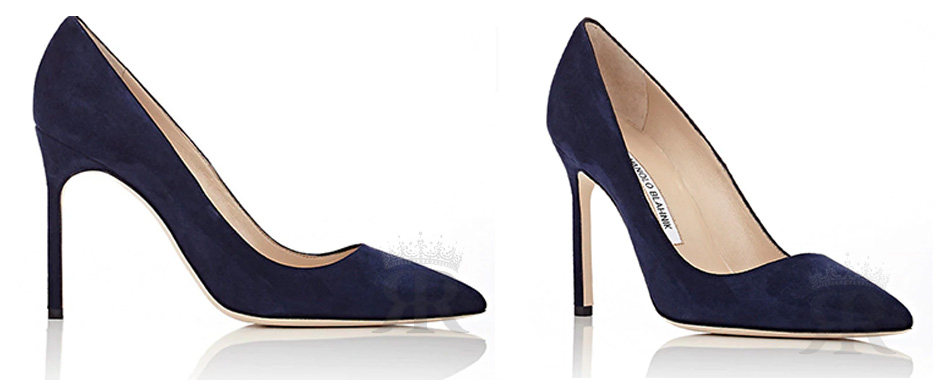 Meghan wowed with a new pair of Pippa Small 'Peepal Leaf' earrings. These are very oversized hammered gold leaf pointed earrings that dangle on sharp gold hooks. These earrings are not currently available as they are part of a previous collection, dating back to 2015 and cost £3175. There is a Pippa Small bracelet available, however, with the same leaves on it, here.
Meghan debuted two new bangles from Pippa Small. Meghan wore the 'Oshna Bangle' retailing for £115. This bangle is made from silver gold plate and looks to almost have brushed or burnished feel to it. A wide gold bangle, though the thinest in the set the Duchess is wearing. The brand sets out to provide jobs for those in need. The website states "Every piece is hand made in Kabul by the men and women artisans of the Turquoise Mountain Foundation. Training and employing young people in meaningful creative jobs is vitally important …." You can purchase this bangle here.
Try this for a great affordable replicate. Purchase here.
Meghan also wore the Pippa Small 'Omeen Bangle', retailing for £160. This bangle made in silver gold plate is almost identical to the Osha Bangle, it is just twice the thickness. The Duchess is really fond of mixing up her jewellery style and stacking different weights, types and styles of rings and bracelets.
You can purchase the bangle here. We have found you a great affordable replicate, purchase here.
We felt this look was very reminiscent of Meghan's dark green Givenchy look on her Royal Visit to Ireland.
A short plane ride and the Duke and Duchess of Sussex stepped out onto the red carpet in Tonga. Meghan was radiant in a regal red dress.
The Duchess wore Self-Portrait 'Red Embroidered Midi Dress', retailing for £400. It is a very floaty and feminine red dress crafted from super-lightweight crepe fabric. The dress features a crew neckline, long sheer sleeves with fabric coated loop button details down the cuff. A fitted bodice is cinched in further with a matching belt and fit and flare midi length skirt. The bodice features gorgeous floral lazer cut motifs over the chest and floral embroidery over the hips, with sharp knife pleated folds throughout each side of the skirt for that ultra feminine styling.
Embed from Getty Images Embed from Getty Images
The length of the skirt has been shortened quite significantly from a gown to a midi length; we think this was done by Meghan's seamstress, since the tag was seen near the hemline, which wouldn't be so if it were a bespoke piece.
This is an absolutely stunning dress son the duchess and she looks beautifully feminine, a true royal lady. A nice nod to her host country of Tonga by choosing to wear red, the national colour. Meghan is really starting to get the hang of this diplomatic dressing.
You can view the dress here. We have found you a replicate for under £20. Purchase here.
Here we take a look at some of the details of the dress close up.
The Duchess has worn Self-Portrait before, when she visited Australia House earlier in the year.
Meghan kept the same shoes and bag though mixed up her jewellery from her Pippa Small pieces, though wore earrings and rings we have seen debuted on this tour already.
Embed from Getty ImagesEmbed from Getty Images
Meghan wore her Natalie Marie Jewellery 'Sun Diamond Stud' earrings, retailing for £1,350. These earrings feature three pointed shaped white marquise diamonds set in 14kt gold claw setting post stud. The earrings are inspired to look like sunbeams. The earrings also come in white gold and rose gold with an approximate weight of 0.64ct of diamonds. You can purchase these earrings here.
Meghan wore two of her Ecksand rings.The Ecksand 'Showcase Diamond Marquise Stackable Ring', retailing for £584. This ring is crafted from 18Kt yellow gold with 0.10ct weight of marquise cut diamond and hand made in Montreal. A perfect complimentary ring with any of the other Ecksand rings or even any of Meghan's other rings.
You can purchase this ring here.
Meghan wore the Ecksand 'Sapphire Showcase Stackable Ring', retailing for £555. This 18k yellow gold ring has been hand crafted in Canada. A bezel frames encases a deep blue sapphire ina marquise cut. A total of 0.30 carat weight of sapphire sits in the ring.
You can purchase this ring here.
Later that evening, The Duke and Duchess of Sussex attended an evening reception in Tonga. For the second time this tour we were able to see a The Duchess in a beautiful evening gown.
Meghan wore Theia 'Cap-Sleeve Beaded Silk Satin Column Gown', retailing for £695. This white column gown features a mock neckline, soft flutter cap sleeves adorned with delicate silver crystal embellishments over the shoulder. A banded waist moves to a sleek straight column skirt that skims the ground. The skirt has a side slit up to the knee and invisible rear zip. A beautiful clean lined gown that was simply stunning on the Duchess, a very elegant gown on Meghan, almost eclipsing her Safiyaa blue cape gown worn to the Fijian State Dinner. This dress was especially designed and crafted very carefully for the Duchess, created in a bespoke white colour-way. Below we show the dress in navy and lagoon blue. The dress in navy is sold out, though you can still view it here.
Embed from Getty ImagesEmbed from Getty Images
You can read Theia's Creative Director, Don O'Neill's story about creating the bespoke piece for the Duchess, with sketches of the design here.
The Duchess of Sussex looking radiant in a custom #THEIA gown!!!! #MeghanMarkle pic.twitter.com/qsNC8vUu9c

— THEIA (@THEIACOUTURE) October 25, 2018
Meghan carried her Givenchy jewel clasp clutch, retailing for £1,554. We have seen Meghan carry this black satin rounded edge hard frame box clutch on numerous occasions now. The hinge clutch has a thick gold toned hardware edge topped with a gold hardware and pointed jewel clasp. The clutch has one large interior compartment and singular slip pocket. A very pretty evening clutch and great for a cocktail party or ball. You can view the clutch here.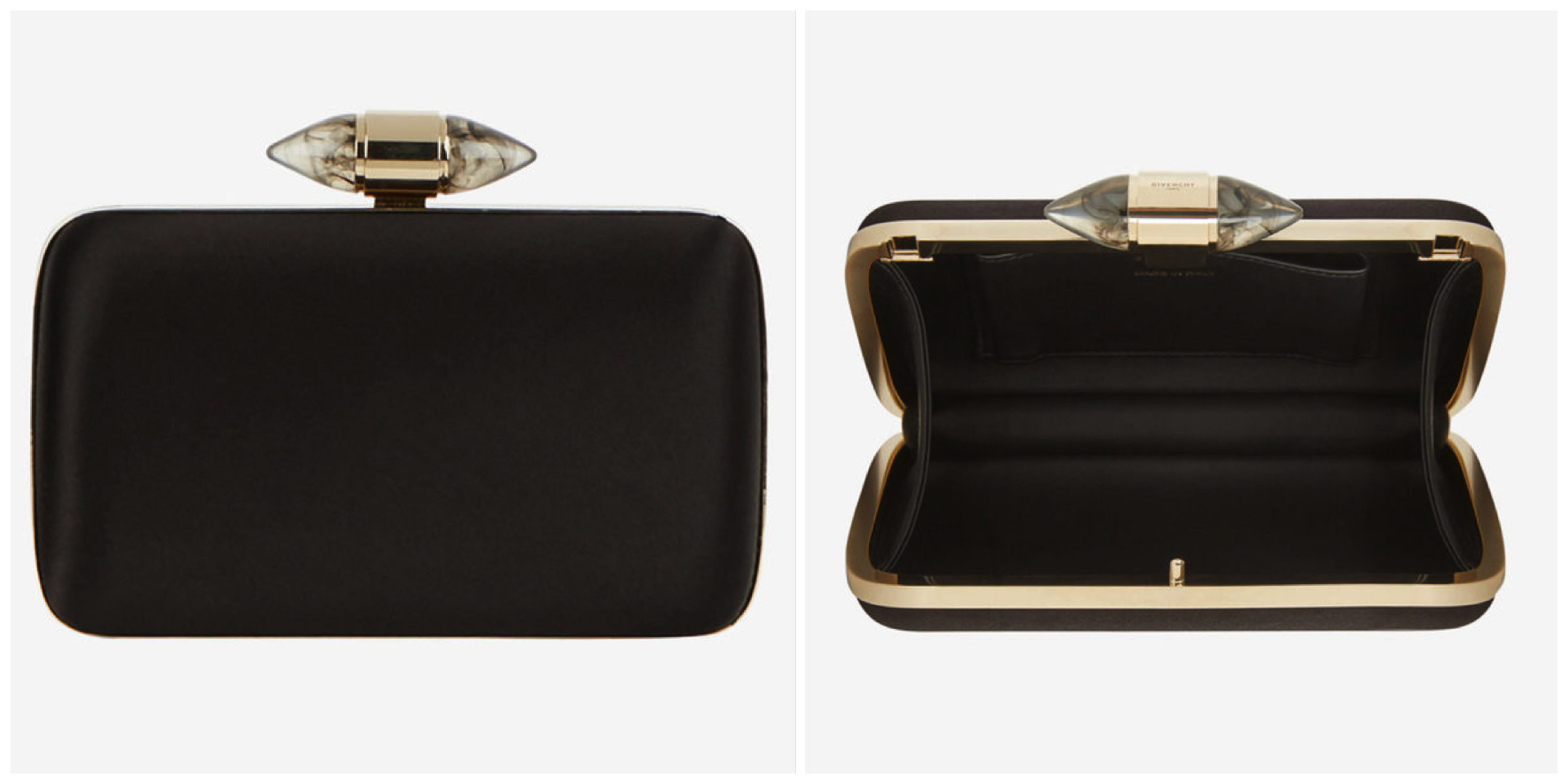 Sticking to the monochrome palette, the Duchess wore her Aquazzura 'Denevue Bow 105' Pumps, retailing for £585. These rich black suede pumps feature a delicate feminine upward bow and skin-bearing side cutouts on the either side of the heel cover. These pumps make for a dramatic yet girly heel for a perfect polished evening look. You can purchase these pumps here.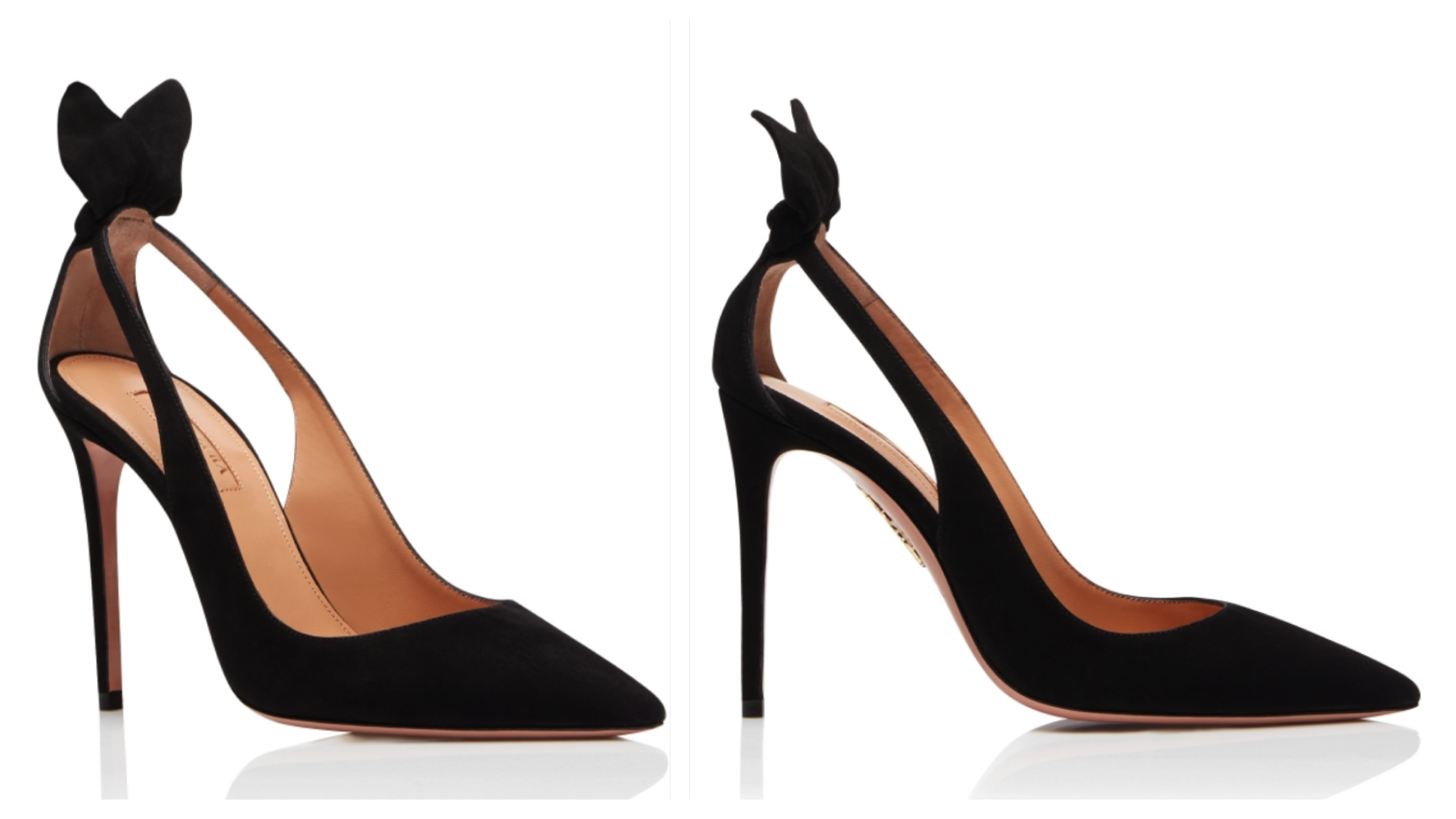 Meghan accessorised with her Birks 'Snowstorm' earrings, retailing for £7,141. Inspired by the beauty of a Canadian winter these earrings seek to capture the unique shapes of snowflakes. 2.15ct of diamonds are set in 18kt white gold. These earrings are in stock and you can purchase these earrings here.
Embed from Getty ImagesEmbed from Getty Images
We also saw the beautiful diamond bracelet that Meghan wore for the Fiji state dinner make a return. We believe this piece is borrowed from the Royal Family's collections, on loan to her by The Queen. The Duchess was also wearing Diana's aquamarine ring that Prince Harry gifted to her on their wedding and seen at the evening reception.
Meghan dazzled us with all of her fashion choices today. She looked sleek and elegant and each outfit oozed a timeless elegance. Some great fashion moments today from Meghan. What was your favourite look from today?
You can get Meghan's forest green Jason Wu look here:
Try Meghan's red Self-Portrait look here:
Steal Meghan's elegant evening gown look here:
with thanks to @whatmegwore, @MeghansFashion(Jason wu dress) @MadAboutMeghan, @MeghansMirror(Pippa Small Earrings), @HeavenQRF(Theia) and @FoodFashFit for the price of the earrings