The Duchess of Cambridge brought out the jewels last night at the Spanish State Banquet, wearing the Lovers Knot tiara and a diamond and ruby necklace on loan from The Queen.
She wore a pink lace dress by Marchesa, featuring the on-trend ruffled half-sleeves, a deep v-neck on the front and back, and a real 'ballgown' full skirt, which appeared to have a little train on it as she walked into the ballroom see Kate behind Queen Letizia).
The piece was a custom one from the label, seemingly a combination of this pink peplum blouse, and a gown.
I suspect the Duchess wore a pair of nude heels (maybe Gianvito Rossi), but since it was an evening event and they are much more day shoes, her LK Bennett 'Agata' bow heels.
Now on to the jewels! Catherine re-wore the Cambridge Lover's Knot tiara, which she debuted at the diplomatic corps reception in 2015. The tiara was once worn by Diana, Princess of Wales, a wedding gift from The Queen.
She also wore a pair of her late mother-in-laws earrings; a diamond stud with pear-drop pearl from jewellers Collingwood.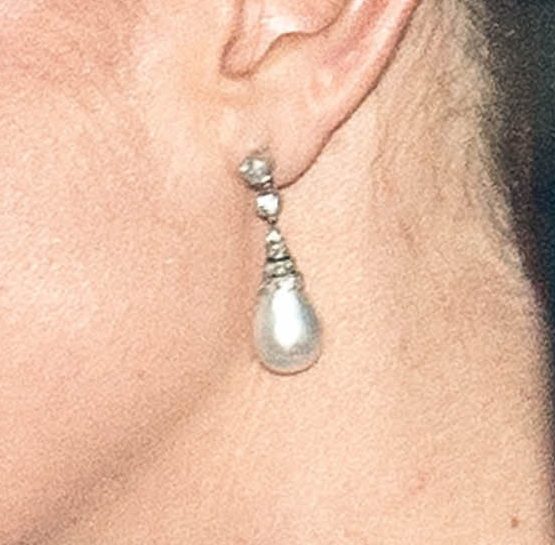 Kate's necklace was a piece loaned from The Queen, a ruby and diamond necklace by Boucheron. This was a wedding gift from George VI and Queen Elizabeth, created in 1907, featuring diamond flowers separated by rubies in a bandeau style. The Hon. Mrs. Ronald Greville left it to Elizabeth (Queen Mother) when she died, and she passed it to her daughter.
Order of Splendour notes it hasn't been worn since 1983! You can see why as it is quite chunky and needs a low neckline to stand out, which Catherine did last night.
I liked the dress, tiara and earrings, but think the necklace jarred with the tiara – pearls, diamonds and rubies were a little much! What did you think?
Copy her look: