Earlier this week, The Countess of Wessex spent the day in the south-west, visiting Bristol and then Somerset. She chose a few new pieces for the outing, including a floral lip-print skirt and new boots.
The Countess of Wessex chose her S Max Mara 'Custodi' coat in a cream/taupe colour. She left it open, but the cat has a slim-fit silhouette, oversized collar and lapels, with large slit pockets at the waist. You can still get one in camel here, or in navy here. It RRPs for £825.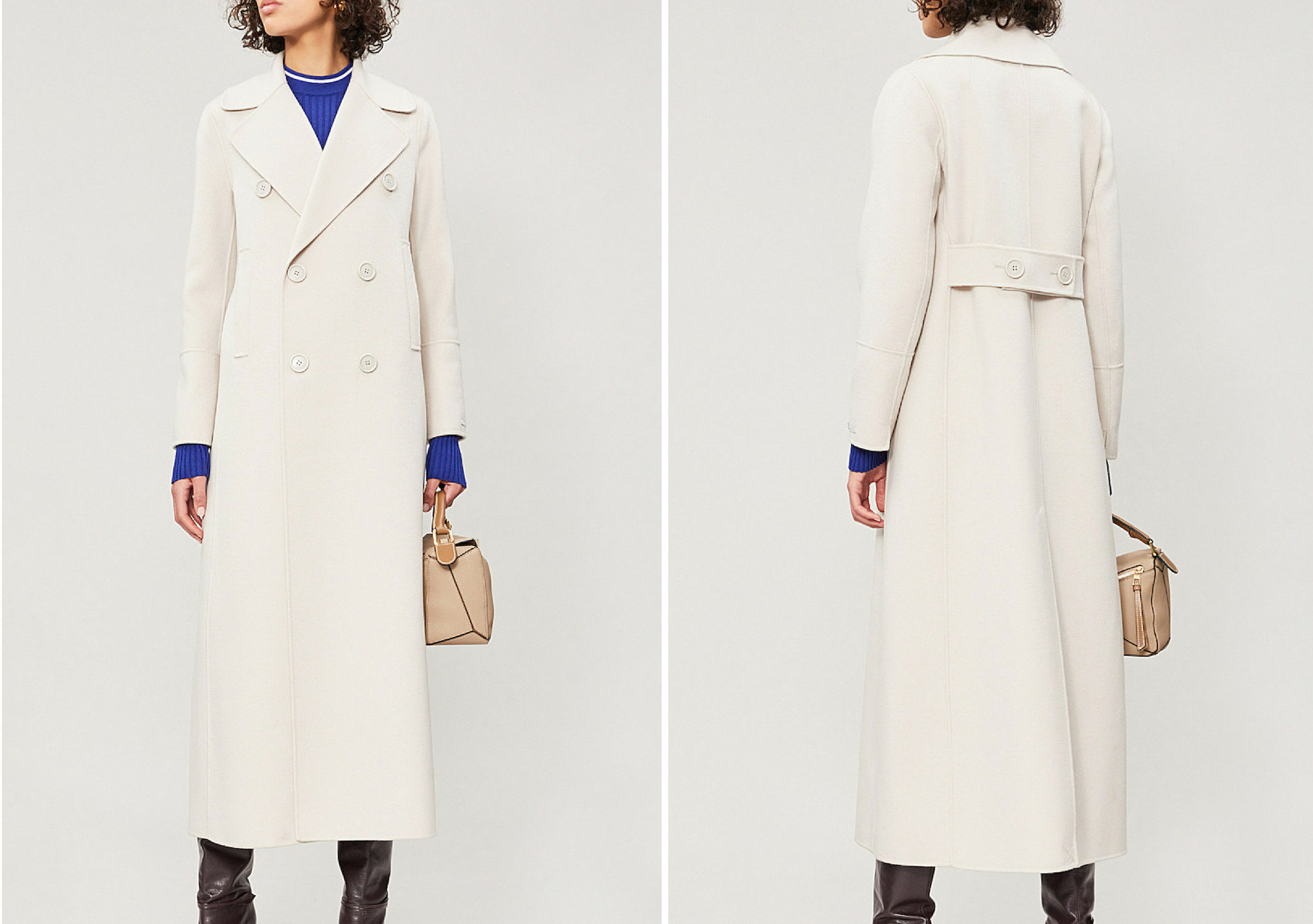 Sophie's skirt was new, from Valentino x Undercover. It was the 'Lip Floral Print Silk Midi Skirt', which costs £2424 here. The midi skirt has a pink floral print across it, and the centres are lips. The pattern is complete with green leaves; amongst the pattern is the cursive script reading 'Valentino UnderCover'.
The skirt is available in a light blue too.
A closer look at the print:
The Countess wore a fine-knit baby pink jumper, which at this stage only has two distinguishing features: the fine hems at the neck, cuff and bottom, and the slight drop to the shoulder seams. More when we have it. For the meantime, this is an excellent and affordable match – get one here.
While the skirt is an interesting piece, we didn't like the darker tones for a day event. Perhaps it would have suited an evening event better, possibly with a deep red blouse to bring out the lip prints. The jumper sitting over the top also adds to the frumpy look here… what did you think?
Sophie carried her Sophie Habsburg clutch bag, the 'Lunatic' style in the 'Cardinal Birch' colourway: cerise and olive. Made of calf's leather, the envelope style clutch comes with a removable chain. It costs approx £400 here.
Her boots were new, from Prada. These 'Madras' ankle boots come in a cognac brown leather, and feature a rounded toe and concave block heel. They have a a decorative structure in that the toe material comes up the foot like a tongue; the zip on the inside of the foot with a leather tab. A great staple piece.
They cost £740 and are available here, and also come in taupe, blush/cream white and black here, or a high-leg version here.
We also saw new earrings on Sophie, which were a circle of life tree drop. She additionally wore her 'S' pendant.
Overall this was a miss for us, thanks to the frumpy way the Countess wore the jumper/skirt combination, and the dull tones of the skirt. What did you think?
You can steal Sophie's style here: