It was Ladies Day at Royal Ascot today, typically when racegoers go to town with outlandish hats and looks for the day. Princess Eugenie chose jewel tones for the day, with a simple teal dress, and a feather-covered hat.
Eugenie's dress was the 'Mia Belted Silk-satin Midi Dress' from Cefinn. Featuring a high neck and a slash keyhole opening to the chest, the silk piece has is fitted in the bodice, with peaked sleeves. The hemline is asymmetric, being longer at the sides, almost a handkerchief hem. The 'Mia' is still available here for £440.
Cefinn was founded by former Prime Minister David Cameron's wife, Sammantha Cameron in 2017. The site says the brand is 'all about effortless pieces with stylish details and a hint of laid-back, catwalk glamour'.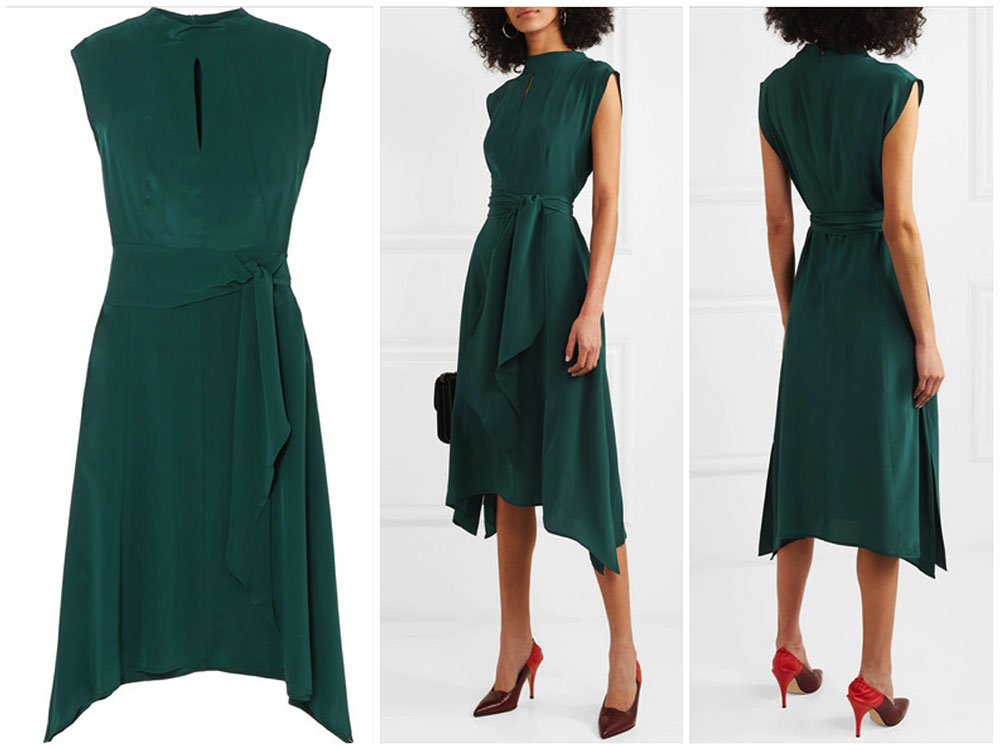 Eugenie paired this with a hat from Bundle MacLaren, the 'Elspeth'.The saucer hat is perched to the side at a 45 degree angle, and covered in blueish Lady Amherst feathers. A single golden quill comes through the centre and spirals at the top. We love this piece, as it adds texture to the look and is unusual. Get one here for £350.
The Princess carried a snakeskin hard-case clutch, with a tarnished metal clasp. More when we have it.
Eugenie wore nude pointed sling-back heels with a high vamp. We recently saw these at the Colonel's Review. We didn't previously know they were sling backs, so this was a handy outing for us to see them better!
They look remarkably similar to the Jimmy Choo 'Ivy' slingback. We show them in ballet pink leather, although the ones seen on royal feet today were patent. They cost £495 and are available here.
She wore her pave hoop earrings, which we still think are Astley Clarke, the 'medium halo diamond hoop earrings'. These cost £1250 and are available here.
What did you think of this look? The hat was gorgeous
Copy Eugenie's style here