For a day of away engagements in south Wales today, we saw a lovely navy and red combination from The Duchess of Cambridge. Kate combined high street pieces, with more luxurious accessories for a chic, but also more casual look.
Embed from Getty Images
Embed from Getty Images
Embed from Getty Images
The Duchess of Cambridge chose a new Hobbs 'Bianca' maxi coat in navy. Made from a wool-polyamide blend, the piece features a large, notched collar, epaulettes, a relaxed fit through the body and secured with three buttons arranged two abreast. There are four buttons at the cuffs, and two large patch pockets with flaps beginning high at the hip. The coat falls to the ankle and features a rear vent. It originally cost £349, but is currently on offer for £259 here and here. You can get a shorter version in green here (note the slit pockets). This is a good replikate.
This is a lovely coat, but feels very similar to the Duchess' 'Gianna' coat, also from Hobbs.
The Duchess wore an older red knit midi dress from Zara. It featured blouson sleeves with long cuffs at the wrist, and is created in a rib knit. With a round neckline, slight drop to the shoulders and a slim fit through the body, the main feature is the exaggerated sleeve, also adding a touch of elegance to what would otherwise be a very casual dress.
The piece is long sold out but try this to copy the look.
Embed from Getty ImagesEmbed from Getty Images
Embed from Getty Images

The dress was cinched in at the waist with a wide black – probably suede – belt. Going to have to do some digging to see if this is new or not, but I don't immediately recognise it.
Embed from Getty Images
Embed from Getty Images
Kate carried her Mulberry 'small Darley' bag as a clutch. Get one here.
Embed from Getty ImagesEmbed from Getty Images
She wore her Stuart Wetizman 'HalfnHalf' boots, which feature a block 1.5in heel, and are made in stretch suede with a fabric back panel to help with easing them on (no zips here!).
We thought this was an unusual choice for the Duchess, who is rarely seen without her heels on (unless the event is outdoors-y!) but it may be due to the weather – it has been quite windy across the UK for the last few days.
Embed from Getty Images Embed from Getty Images
Her scarf was new, from Beulah. Trying to decipher which specific scarf it is, as it's sold out! Other colours are available here though, and cost £95. Beulah supports vulnerable women into work. 10% of profits from all sales goes towards helping bring an end to modern day slavery.
UPDATE: This is the 'Shibana' red and ecru scarf – a wool-silk blend – now available for pre-order here.
We saw the Asprey 'oak leaf hoop' earrings again.
Catherine opted for her Daniella Draper gold disc necklace, which is engraved with her children's initials and stars. We saw this first two weeks ago, on Kate's mini-tour. Get one here.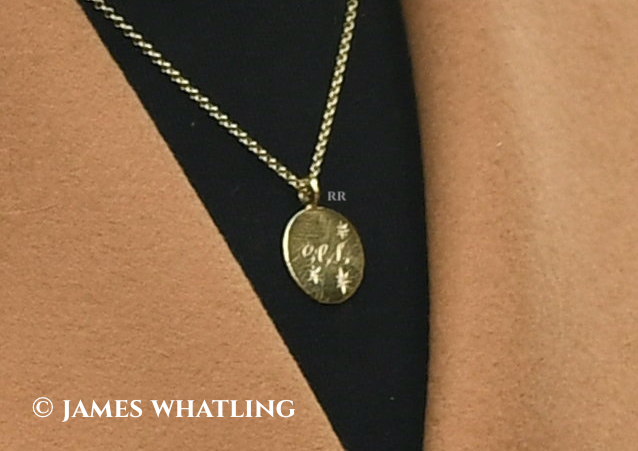 Recreate this look below:
Thanks to @katiesroyallove for the scarf ID