The Duchess of Sussex attended the WellChild awards earlier this week, with husband Prince Harry. The emotional event recognises inspirations young people with life-limiting illnesses. More on the event here.
Meghan opted for the dress she wore for her engagement interview back in 2017. This is the green fitted bow dress from P.A.R.O.S.H. The pencil dress features a round neckline and knee-length skirt, with a bow on the right-hand-side of the waist. There is a concealed zip up the rear of the dress.
Get the maxi version of it here, or try this similar piece from Goat.
A look at the first view, during the engagement interview.
The Duchess threw her Sentaler 'Long wide-collar wrap coat' over her shoulders for her entrance, to keep off the chill. We first saw this at Christmas in 2017, worn to Sandringham. It features long sleeves with the distinct Sentaler ribbing to the cuffs, two large slash patch pockets at the hips, a self-tie belt and a wide collar the folds down and buttons shut on the left-hand side. It is made of alpaca hair, and was so popular that the label renamed it 'The Meghan'. The piece costs £1162 and is available here.
Try this to get a good match for the coat, or this and this for a more affordable version.
Embed from Getty Images Embed from Getty Images
She chose her Manolo Blahnik 'BB' heels in a deep rust/cognac tone. We have seen these previously, and they are still available here for £540.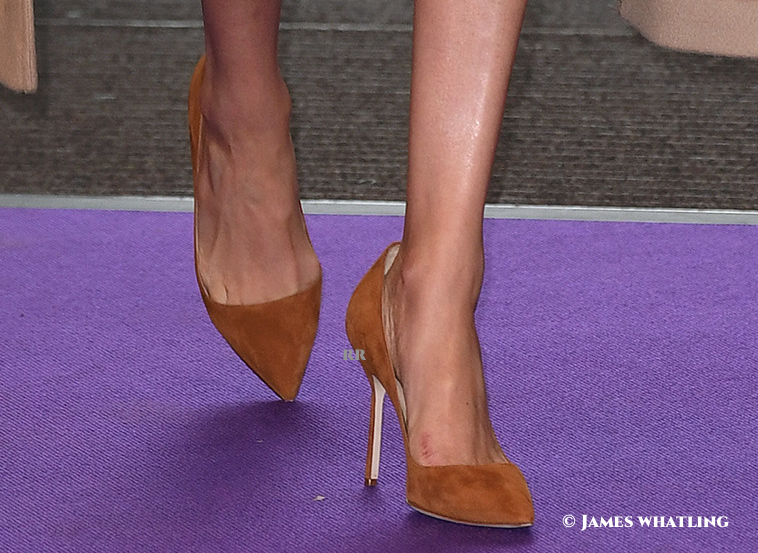 Her bag was a new, a very interesting piece from Montunas, their 'Guaria mini tortoise shell box bag' with an orchid scarf handle. The piece costs £425. Get one here, or try this for a great match.
Meghan chose the 'Hera' gold and diamond earrings from Emily Mortimer. Made of 14ct gold, these earrings are 9mm wide, and are set with 0.2 carats of diamonds across 44 stones. They cost £595 and are available here. These are a great and affordable match from the label or try these.
We loved this bold tone and neutral accessories, with a lovely new bag to boot! What did you think of this look?
You can steal Meghan's style here: