The Duke and Duchess had another day packed with scheduled events yesterday, which saw Harry and Meghan take a boat ride out to Cockatoo Island for the Landrover Challenge, before Harry squeezed in a last minute speech rehearsal at the Opera House. The sudden downpour and thunder storm didn't stop the Royals and they attended the Opening Ceremony of the Invictus Games. The Duchess had one of her busiest fashion days of the tour so far going from semi-casual to glam.
Meghan wore an Altuzarra 'Acacia Stretch Wool Jacket', retailing for £488. With an oversized peak lapel collar and strong shoulders, the jacket has a welt breast pocket and two long extended welt pockets that sit over the hip. There is also a single button closure and a rear pleated vent detail for a flared kick out, almost top and tails feel. The blazer is a mix of wool/polyamide/elastane and made in Italy. The Duchess' jacket was in a white colour-way and we suspect that is is either a bespoke piece or part of a collection that is yet to be released. The blazer was available in a wide range of colours including black, red, beige, brown, check and grey melange which we show in the image below. You can view the jacket here.
Embed from Getty Images
Embed from Getty ImagesEmbed from Getty Images
In-keeping with the events she was attending, Meghan wore an Invictus Games black button shirt. Both Harry and Meghan were dressed in this top, though it appears to be unavailable and may have been created especially for them. You can purchase other items of Invictus clothing here.
Meghan wore Mother Denim Jeans, retailing for £158. These jeans seem to be the 'Looker' style in the brand's 'Not Guilty' black. They are mid-waist rise and made of a high-cotton percentage denim, with a touch of polyester and lycra for stretch. Buy them here, here, here or here.
Embed from Getty ImagesEmbed from Getty Images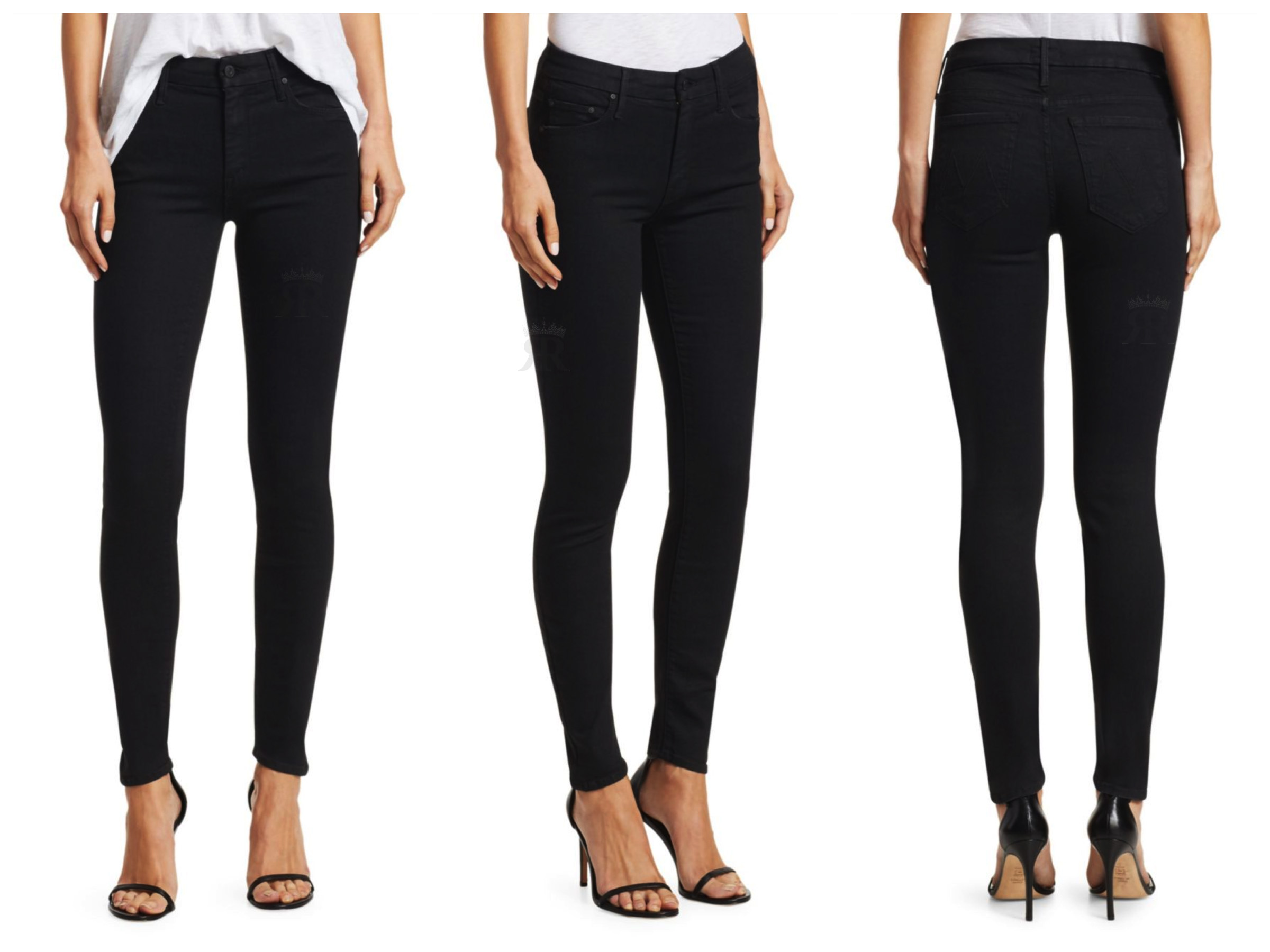 With the Spring in full swing Down Under, Meghan wore Illesteva 'Palm Beach' Sunglasses. These cost £183 and have a funky almost cat-eye shape to them, while the lenses are mirrored, iridescent and round. They are complete in a light tortoiseshell effect with the signature 'I' detail on the front of the frame, supported by thin metal arms. You can purchase Meghan's glasses here or try a darker version here.
Embed from Getty Images
Embed from Getty Images
Meghan debuted a new ring stack, which are currently unidentified though we believe they may either be Monica Vinader or Pippa Small. There are three rings, with a green, clear and blue stone, it appears. Of course we will update you when we know more.
Meghan also accessorised with her initial necklace. This is small gold chain with the letters 'H' and 'M' along the chain, of course, for Harry and Meghan! A super sentimental piece, it was reported that the Prince bought it as a gift for his then-girlfriend.
The Duchess kept the same heels on from the morning. The Tabitha Simmons 'Millie Slingback Pump', retailing for £515. A pair of black suede pointed toe sling back stiletto pumps with delicate feminine suede bow attached to the strap, You can purchase these pumps here. I personally would have preferred to see a full heel rather than a slingback with this look, but the heel adds a touch of class to this outfit, which could be more casual than smart.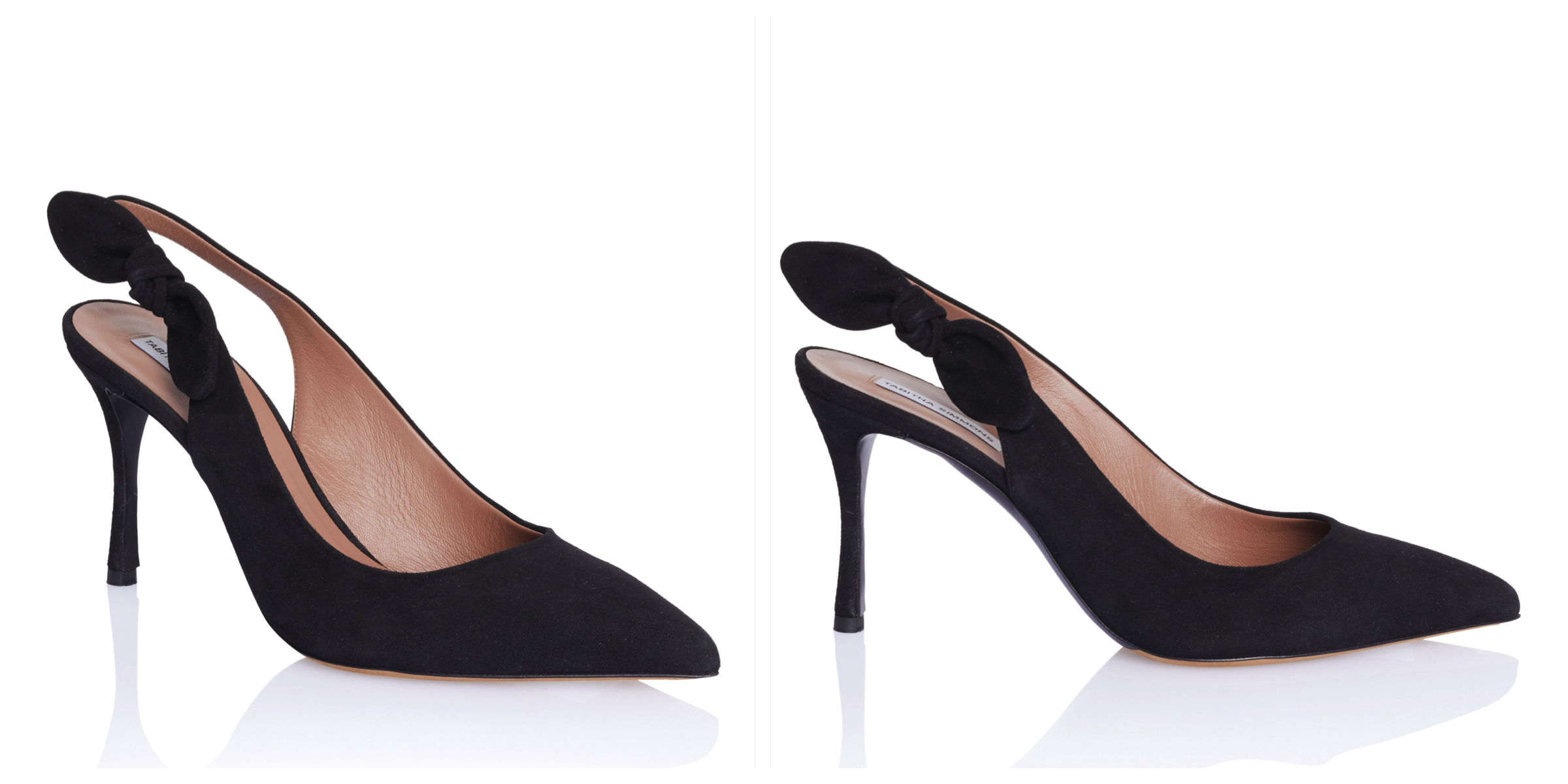 We saw more rings, which we believe to be from Ecksand. One is a sapphire piece, retailing for £544, another is an emerald ring, for £544, and the diamond costs £570. These rings feature bezel cut stones on 18ct gold bands.
A short delay in getting to the Invictus ceremony didn't stop The Duchess from looking any less glamourous.
Meghan wore a Gillan Anderson for Winser London Soft Wool Swing Coat in navy, retailing for £395. This is a swing coat, designed by actress Gillian Anderson in a collaboration with the Winser label. It is a staple piece for any wardrobe, made of double-faced specialist handcrafted wool fabric, and featuring a flared skirt, easy fit bodice and slip pockets to the hips. As with other pieces from Gillian's collection, there is pink piping detail at the inside neck and inner pockets. You can purchase this coat here.
Already the site has been updated to share that the Royal has worn this piece, and they are taking orders for November delivery, as well as introducing a black version. Phew!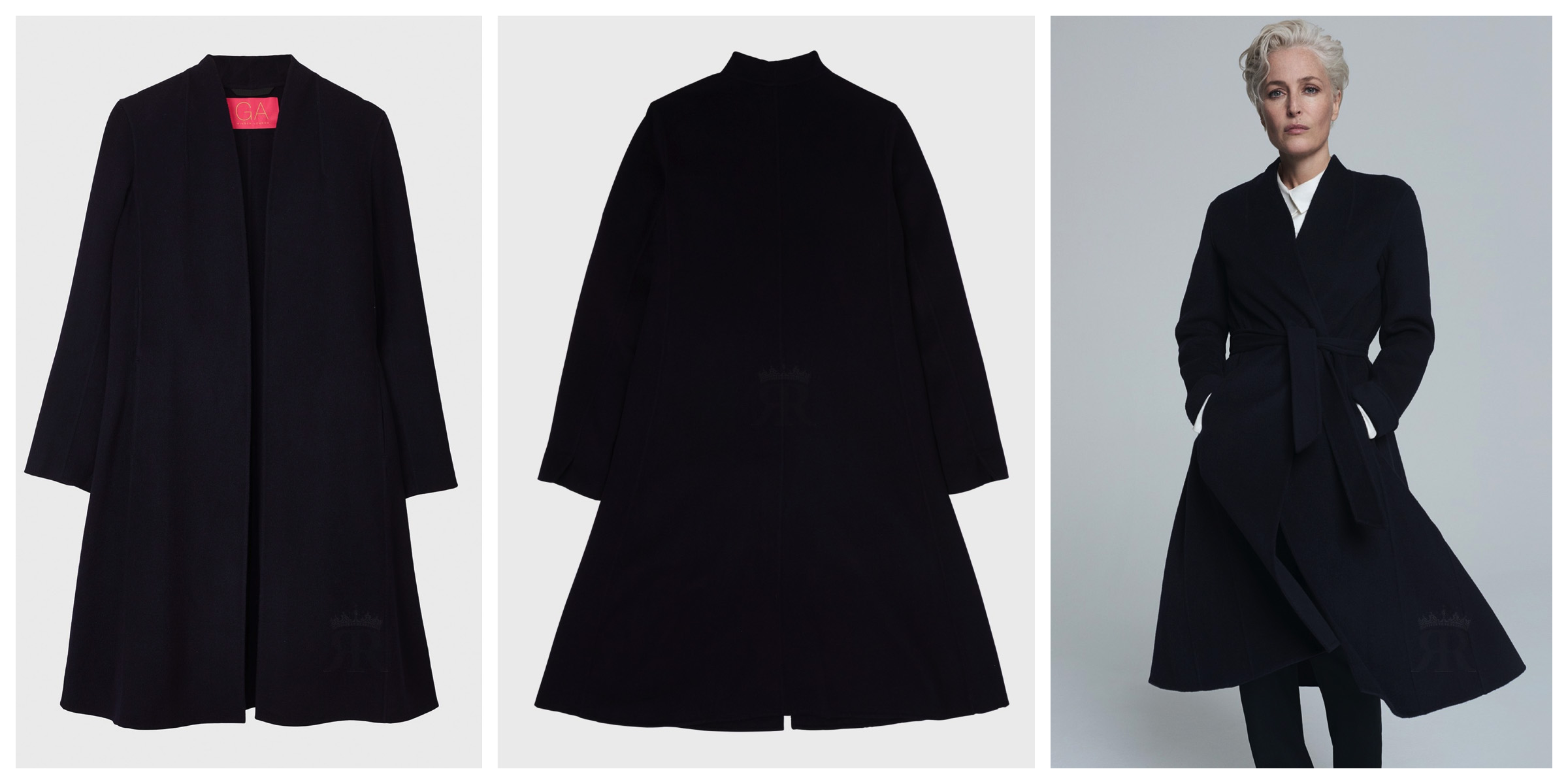 Meghan re-wore her Stella McCartney Dress, retailing for. We first saw Meghan wear this for the Queen's Birthday Concert celebrations. This dress is sold out, though you can still view it here.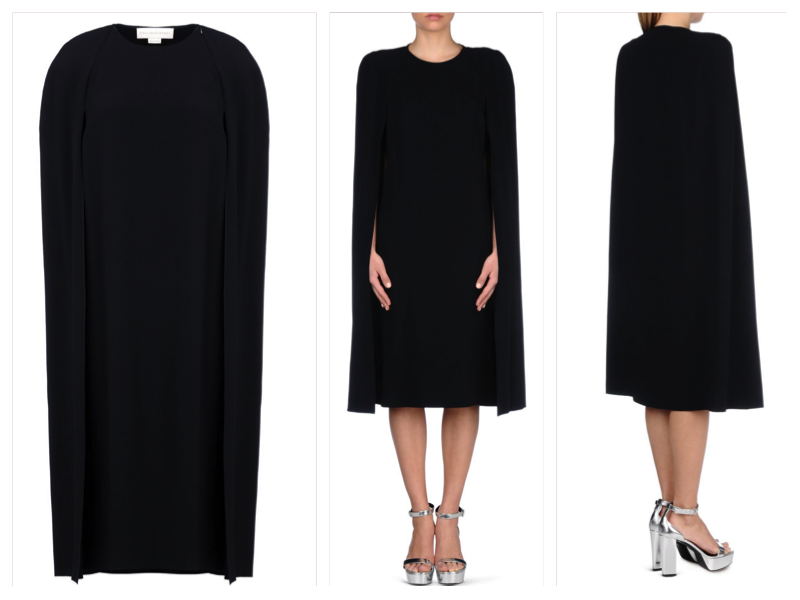 Meghan accessorised with a pair of Birks 'Rosée du Matin Cushion Cut Sapphire and Double Diamond Halo Drop Earrings', retailing for £12,831. Birks is showing these earrings for half price. You can purchase these earrings here.
Meghan wore her Stuart Weitzman Legend Pump, retailing for £286. We have seen these a number of times before on this tour; they feature a pointed toe with low vamp and a 3.5 inch heel. You can purchase this pump here.
The Duchess carried a satin clutch at the event too – you can see it in her lap in the images below, but we sadly don't have any better photos to share with you. It is her Dior bag, first seen at the RAF centenary celebrations earlier in the year, the 'Blue Satin Bee Evening Clutch'. This is top handle handbag was created especially for Meghan, removing the bee design, and features two interior sections. The bags were part of the Dior Autumn 2017 accessories. Get the look for less here.
Prince Harry & Meghan Markle, Duke and Duchess of Sussex, attend the opening ceremony of the 2018 Invictus Games -Sydney, Australia. Photos by @samhussein #RoyalVisitAustralia #RoyalTourAustralia #HarryandMeghan pic.twitter.com/p39AzlXV8p

— Derek Momodu (@DelMody) October 20, 2018

Meghan also accessorised with her Birks 'Rosée du Matin' white gold flex wrap bracelet, retailing for £1,513. We have seen this piece a few times on tour, too. You can purchase this bracelet here.
It was reported that Meghan also wore a Erksand 'Sacred Heart and Emerald Ring Stack. This stack ring features three coloured metals and an emerald open heart to the front. It sells for about £690 from the Canadian brand.
You can get Meghan's casual style here:
You can get Meghan's Invictus look here:
with thanks to @whatmegwore @MeghansFashion @MadAboutMeghan, @HeavenQRF and @innominate_93 for fashion insights