Lady Louise Windsor joined her father Prince Edward, mother, The Countess of Wessex, brother James, Viscount Severn, as well as her grandmother The Queen, for the Easter Church Service. She dressed in a pretty plum coat and blush court block heels.
Lady Louise wore a Hobbs 'Soraya' coat in merlot colour. Originally retailing for £249 this coat is now on sale for £219 – get it here! The knee length coat features a stand up funnel neck collar with button closure. The coat has a slight wrap with concealed asymmetric front-button placket, long sleeves and side slit vertical pockets. It is made from a wool-blend. It is also available in a black here.
Over the past twelve months Lady Louise has moved away from her white tights, mary-jane shoes and double breasted pea coats in favour of clothing choices for a young lady.
She has previously worn this coat on Christmas Day 2017 at Sandrigham, on the walk to church. Though on this occasion Lady Louise choose to wear the coat with button on the funnel neck collar done up, probably due to the colder weather.
The young Royal opted for a plum crochet lace dress beneath the coat, and a small silk organza ombre lavender floral headband. We think her headband may be a bespoke Jane Taylor piece as this is the milliner her mother favours.
Lady Louise borrowed her mother's Noble MacMillian tassel pouch in Cyclamen, retailing for £99. This is a medium size pouch with zip top in a rich plum colour, made from calf skin and lined in silk. A matching plum detachable tassel with gold toned hardware is attached to the zipper to give an extra edge to this pouch. You can purchase an affordable option for this clutch for only £20 here and £17 here.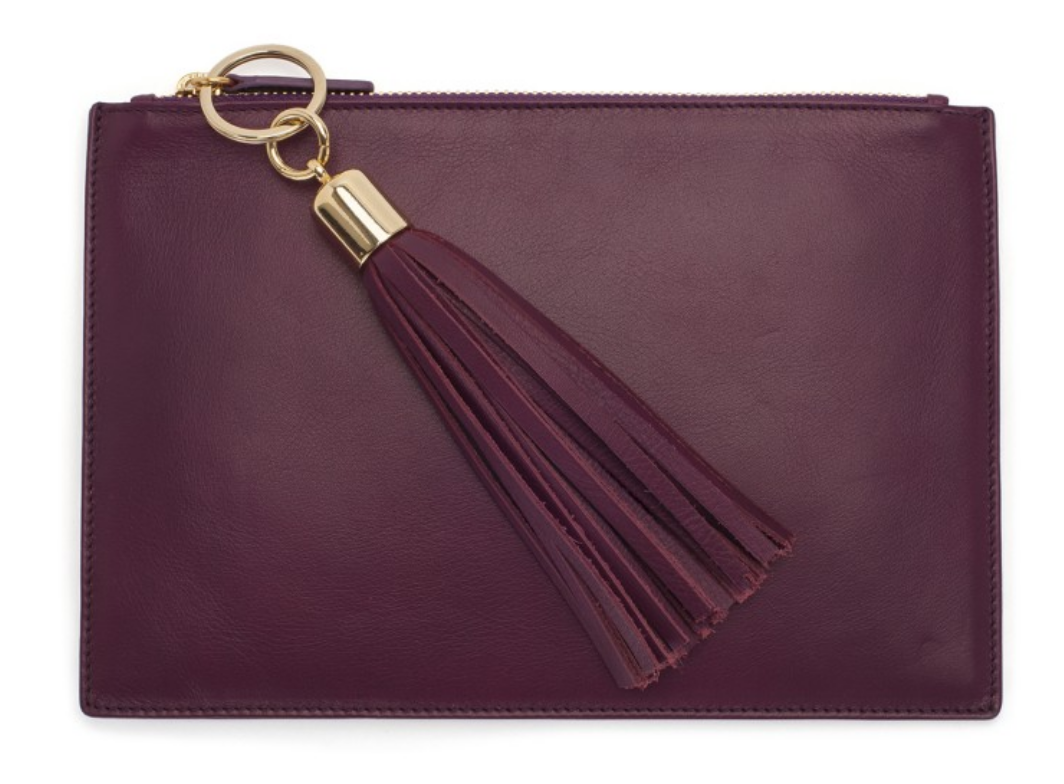 Lady Louise wore LK Bennett 'Clemence' closed courts in dark pink, originally retailing for £185, but are now on sale for only £74. These suede court heels, feature a gilded gold almond toe in a very sensible medium height block heel – these are perfect heel height and type for her first pair of high heels.
This is the first time that we have seen Lady Louise wear a pair of heels. It would have a very exciting day for her as she debuted wearing her heels. I remember being around the same age as Lady Louise when I got to wear my first pair of similar heels for my aunty's wedding. A day where a girl really feels like she is growing up, even wearing heels that aren't even that high. At that age, even a slight heel height can make you feel like you are towering over people.
You can purchase Lady Louise's heels for more than 50% off on sale here and here. Get a great pair of affordable blush block court heels for only £32 here.
Lady Louise accessorised with a gold initial necklace. It looks like she has two initials attached to her chain, which at the moment we can not make out, perhaps and "L" and a "W". She may also be wearing her mothers initial necklace of an "L" and an "J", for Louise and James.
We are sure The Queen is very proud of how her youngest grand daughter is growing up and presenting herself. Lady Louise is already proving to be quite the little royal fashionista and we are sure she will continue to shine in future years.
Get Lady Louise's look here: