On an unannounced visit to Northern Ireland, The Duke and Duchess of Cambridge visited Windsor Park to learn more about the history of Irish FA, before having a kickabout and undertaking some more activities. Kate reused a favoured coat of royal fashion watchers, before showcasing some new sports gear for these physical events.
Embed from Getty Images
Embed from Getty Images
The Duchess of Cambridge re-wore her Carolina Herrera red coat. It was first seen on her tour of Canada in 2016, and in Paris, making this the third outing. It features a peter pan collar, double breasted, wide-set self-covered buttons and a full skirt to the knee. It is made from a wool/cashmere mix and it initially retailed for £1,190.
Embed from Getty Images Embed from Getty Images
A reminder of the coat first time around.
Kate wore a black top/jumper beneath it, but we didn't get a look at the piece. She paired the coat with a pair of black skinny jeans, which we don't have any more information on. However, we know the Duchess is a fan of J Brand jeans.
Catherine also wore a pair of LK Bennett 'Marissa' boots, seen first just two weeks ago (remind yourself here). The suede boots feature a block heel of 3.5 inches, an almond toe and four silver eyelets for the decorative lace ups. They have a zip on the inside of the foot. They sold for £295 but are now sold out in the UK with extremely limited sizes available on the US site here.
Embed from Getty Images Embed from Getty Images
Kate opted for her Kiki McDonough 'Lauren' earrings. The 14kt leaf drop earrings are pave set with diamonds, and a diamond linking them to the stem drop. They cost £2200 and are still available here, or for a simpler and cheaper version of them from the label, try these here.
Interestingly, we didn't see the Duchess carrying a bag today, which is unusual.
Heading to the football pitch, Kate changed into a Barbour 'Longshore Quilted Padded Jacket', costing £159. In a utility jacket style, the piece features a funnel collar, exposed zip with orange toggle, and doubled up pockets on the chest. The fabric is quilted in chevrons, with two fabric panels to the side. The jacket is also available in green. Get one here.
Embed from Getty Images Embed from Getty Images
Catherine also wore a Ralph Lauren 'Cable-Knit Cricket jumper', which sells for £135. It features a deep v-neck in a wide cable knit, with navy and red stripes around the neck, cuffs and hem. Unfortunately, Kate's colour-way has sold out, but the piece is still available in a pink and navy trim here (for considerably more at £249) or in navy, with green and white trim here.
There was a new pair of trainers today, from New Balance, the 'Fresh Foam Cruz' trainers, costing £80. These slip on shoes are lightweight, with a knitted body and moulded sole. With foam cushioning inside, they would be great for exercise. Get a pair here or in pink or silver here.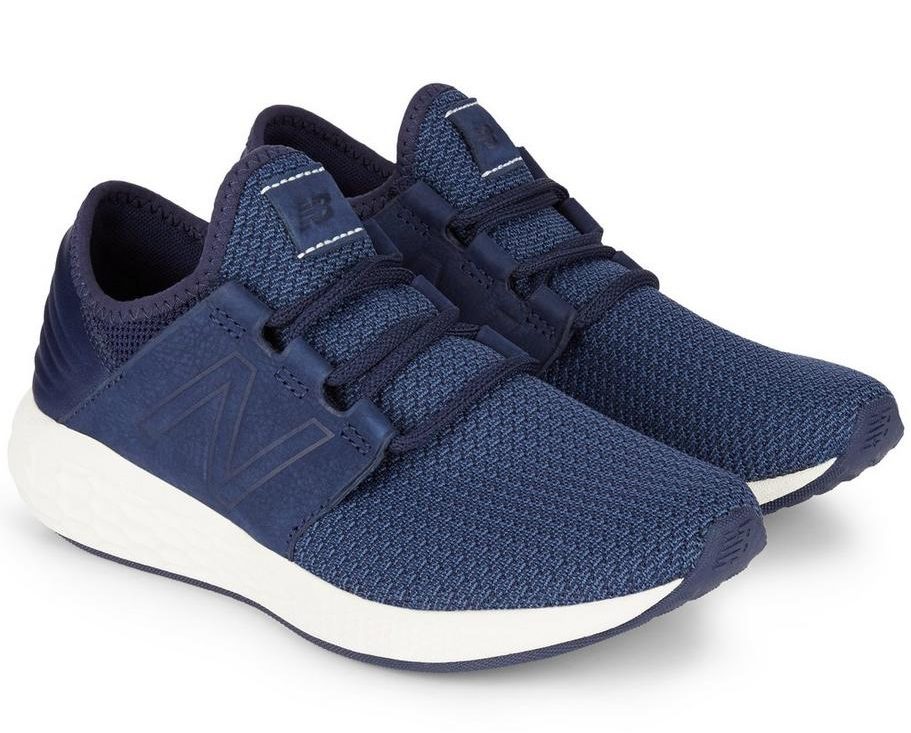 You can steal Kate's style with these options:
thanks to Bojana for the jumper ID and @Middletonmaven for the trainers