The Duchess of Sussex attended her first solo engagement as a member of the British Royal Family. Meghan oozed elegance and class in a glamorous Givenchy cocktail dress as she opened the 'Oceania' Exhibit at The Royal Academy Of Arts in London -a perfect engagement in preparation for the upcoming Australia, New Zealand and Pacific royal tour in a couple of weeks.
The Duchess wore a bespoke Givenchy dress. The French fashion house's website shows a similar design to the Duchess' -the Midi Dress with Pleated Sleeves, retailing for £2,621. The black wool crepe shift style dress features a large v-shaped velvet panel down the front of the dress with its point finishing at the waistline. There are puffed, sheer long ballon sleeves, finished with a velvet cuff and small gold toned button. The dress has a long front folded multi-panel slit. We have never been fans of slits at the front of a dress, especially that length. It can often make the wearer nervous or quite self conscious of breezes, getting out of a car correctly and sitting. A slit to the side or the back of the dress looks more elegant. The silhouette and sleeves of this dress give off a 70's vintage vibe.
Embed from Getty ImagesEmbed from Getty ImagesEmbed from Getty Images
The ballon sleeves of the dress are very sheer with visible pleated details. However, Meghan's sleeves are a lot more subtle than those of the ready to wear midi dress. They appear to be completely sheer, though on closer inspection there is a slight or smaller pleat detail, more in keeping with the shorter version of the dress as in the image below. Meghan's sleeves feature a sheer finish of plissé organza. You can purchase the shorter version of Meghan's dress here, here, here and here.
Embed from Getty ImagesEmbed from Getty Images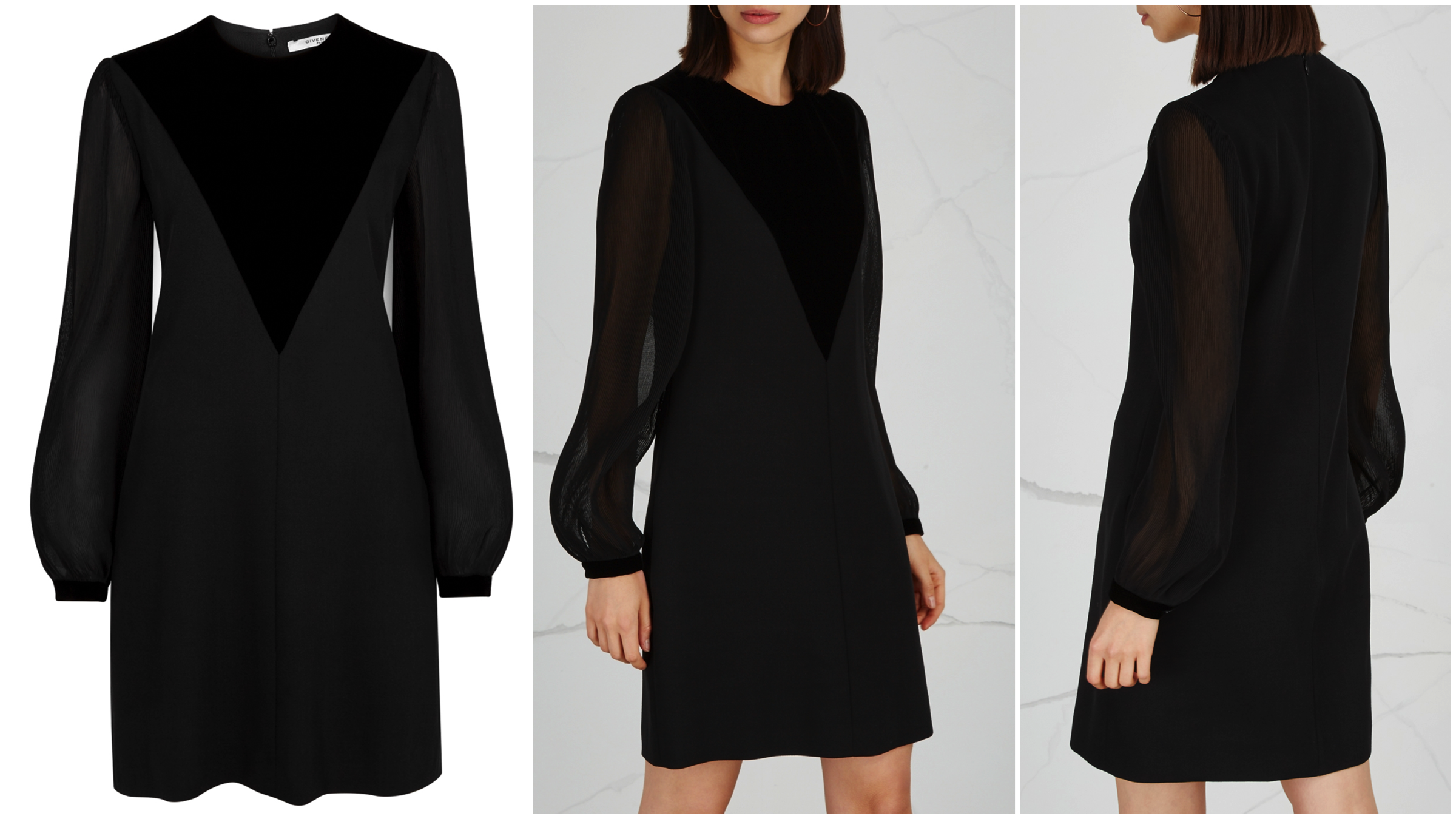 Meghan cinched in the waist of the dress with a wide black velvet Givenchy belt with gold hardware buckle and thin black leather belt punch holes. This belt is unavailable though was shown as part of the Spring 2018 collection and was worn back to front on a model wearing a gorgeous multi-coloured tiered gown. Perhaps Meghan is wearing the piece straight off the runway.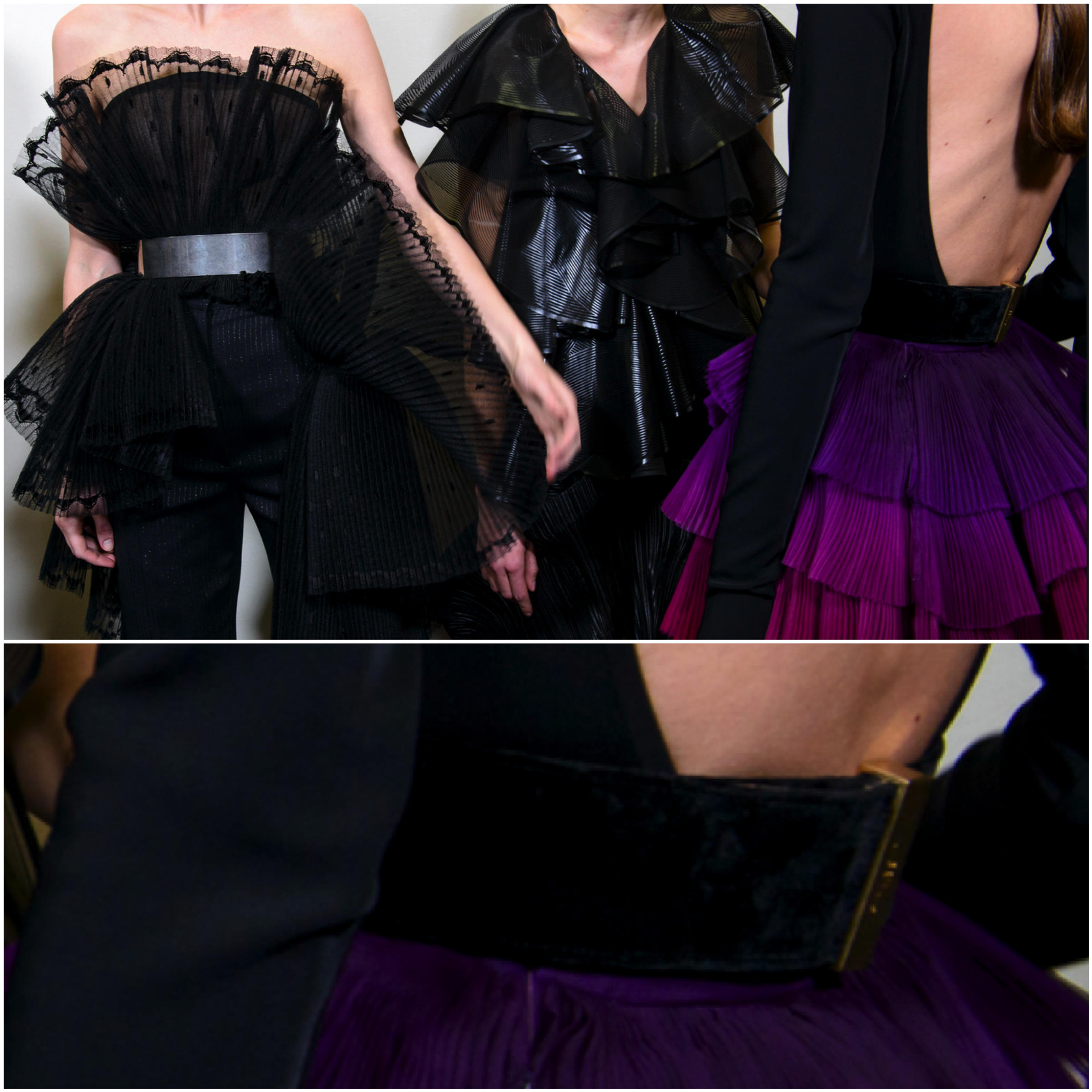 Meghan wore her Aquazzura 'Denevue Bow' 105 Pumps, retailing for £510. The spiked stiletto heel has a height of 105mm and the pumps feature a distinctive cutout on each side of the heel and small delicate bow detailing at the rear for that feminine touch. The Duchess of Sussex has got some good wear out of these pumps as we have seen them on quite a few occasions. The labels distinctive gold hardware pineapple was visible on the sole of her shoe. You can purchase these heels here. Try these for a more affordable get the look here.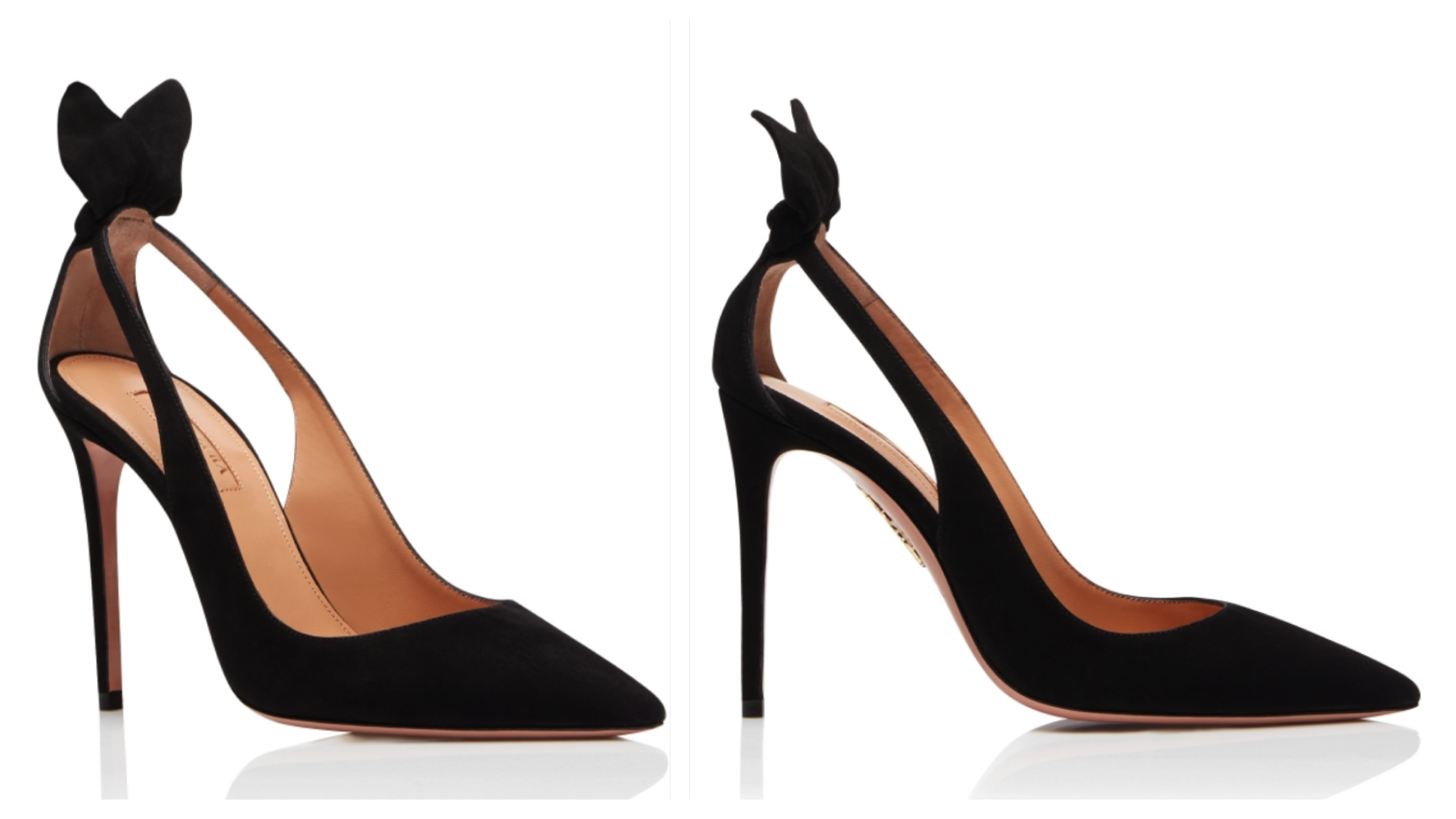 We really hope one day Meghan may wear the heel in fuchsia or leopard print to add that whimsical fun fashion touch to her outfits. We know that Meghan is a great lover of beautiful and interesting shoe designs and we love that – we want to see her keep pushing the envelope that bit further!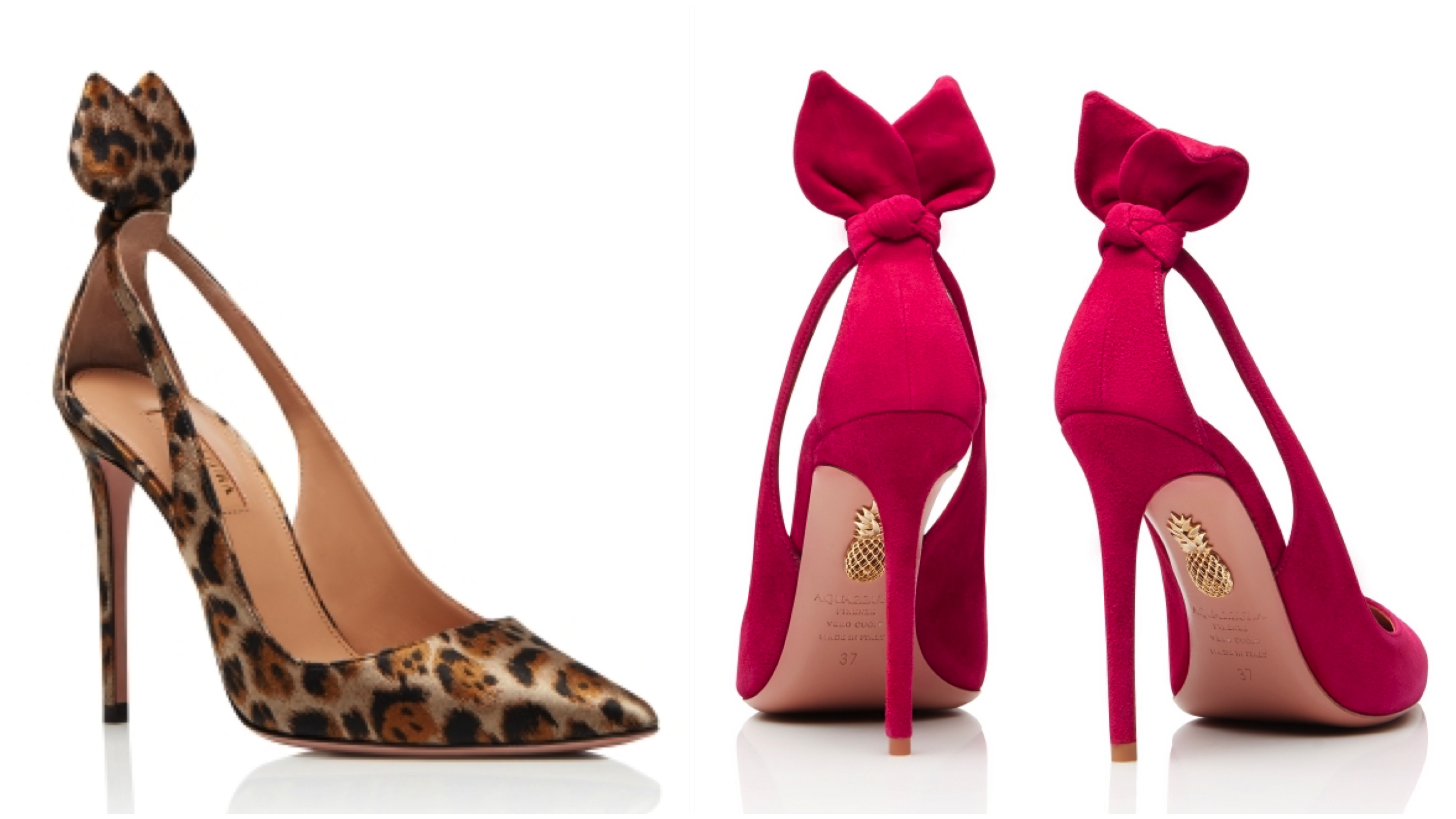 Meghan carried her Givenchy satin clutch with jewellery clasp, retailing for £1,462. The rounded hard frame box clutch has a strikingly unusual pointed jewel clasp closure set in gold toned engraved hardware, which also features around the outside of the clutch. The interior features a single slip pocket. You can purchase this clutch here. You can purchase an affordable option for this clutch here.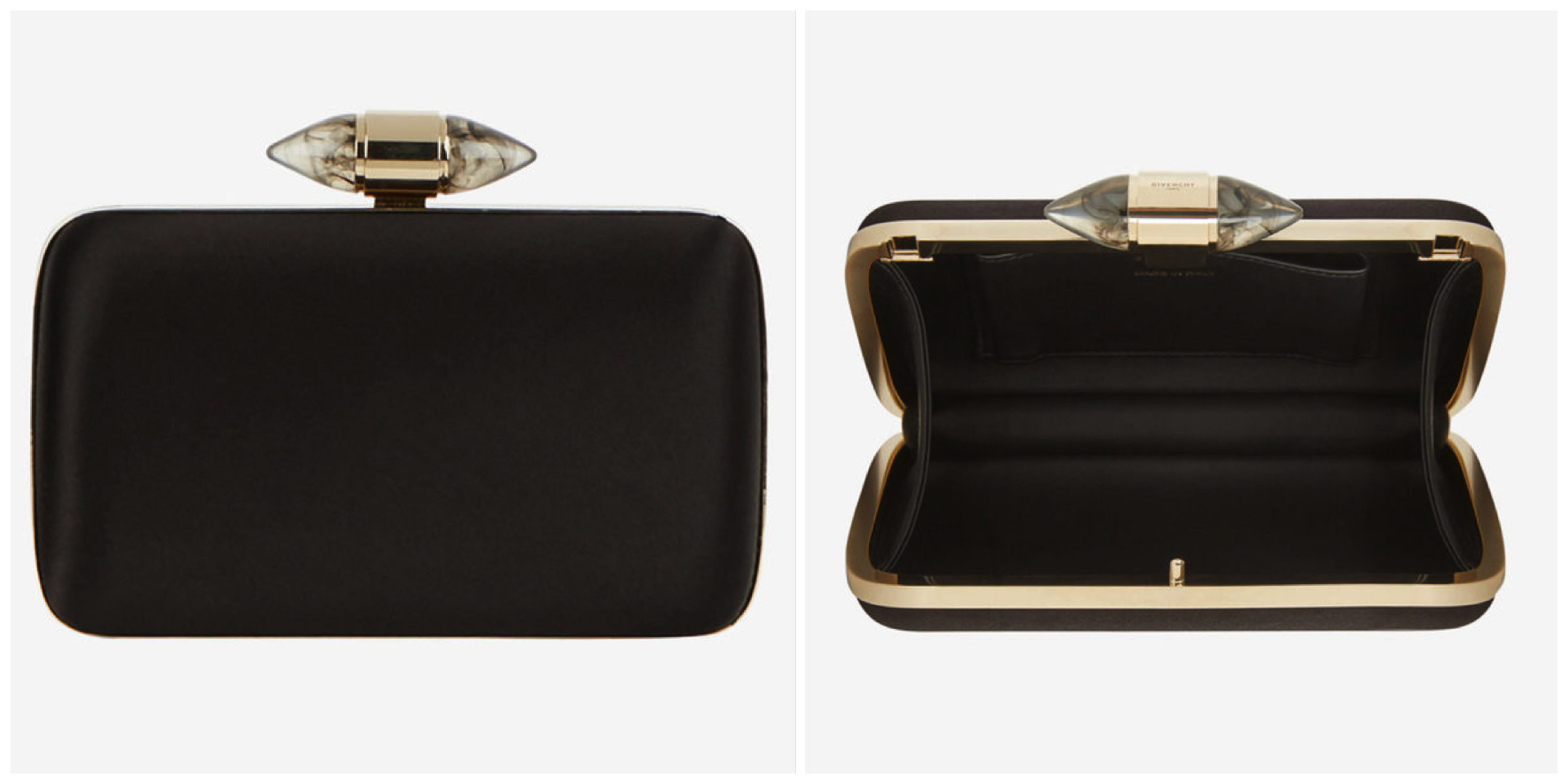 Meghan accessorised with her Birks 'Snowstorm Earrings', retailing for £9,111. The earrings are made from 2.15CT of diamonds and are crafted in 18KT white gold. We love these stunningly beautiful earrings and they always add such a touch of evening glamour to any of Meghan's outfits. They are a great go-to piece that will elevate any evening outfit. We would love to see Meghan wear the matching necklace that goes with this set, the snowflake diamond details are truly exquisite. You can purchase Meghan's earrings here.
Meghan again wore two of her Catbird NYC Threadbare Rings, retailing for £35. The ring is made from 14K Gold, measure 0.5mm in diameter and are available in a range of sizes from 4-9. These seem to be some of Meghan's favourite rings of late, though sometimes they are hard to notice as they are so delicate and thin. We would love to see Meghan wear them in a stack as suggested by the designer, or to stack them up with some of her other Birks stackable rings, just to mix up the way she wears them. We suggest wearing at least three of the Catbird Rings in a stack or if you own some of Meghan's other rings, wearing one Catbird with another of Meghan's jewelled rings in a stack. You can purchase the ring here.
The Duchess looked incredibly polished for her first solo engagement and we adore this chic look on Meghan.
You can get Meghan's look here:
with thanks to @JapaneseGinger for dress info. Extra pictures from Kensington Palace Twitter