The Duke and Duchess of Sussex flew to Fraser Island for the seventh day of their Royal Tour of Australia today. Prince Harry attended the morning engagement for The Queen's Canopy solo and Meghan joined him later for an engagement meeting some of the local people.
Meghan arrived at Hervey Baby wearing a beautiful and casual burgundy and white polka dot sun dress; she looked chic, casual and island ready.
This was an & Other Stories 'Twist Knot' midi dress, retailing for £89. The dress is a maxi-length piece, featuring a pointed collar, button front, short sleeves, and a self-tie belt to pull in the waist; it is however, only a half-belt, coming from the side seam. The dress has an irregular shaped white polka dot pattern against the burgundy fabric. The dress appears to be made from a light floaty chiffon. This is a gorgeous colour dress on Meghan and we love to see her go bolder. This dress sold out straight away, though you can still view it here. You can get a replicate of this dress here.
News just in that the Duchess of Sussex WILL make an official appearance at Fraser Island, meeting members of the public at Kingfisher Jetty.

Stay up to date on the #RoyalTour news with our live blog: https://t.co/UsDeePN5Cj #RoyalTourAustralia pic.twitter.com/Vn4VcCfE3h

— news.com.au (@newscomauHQ) October 22, 2018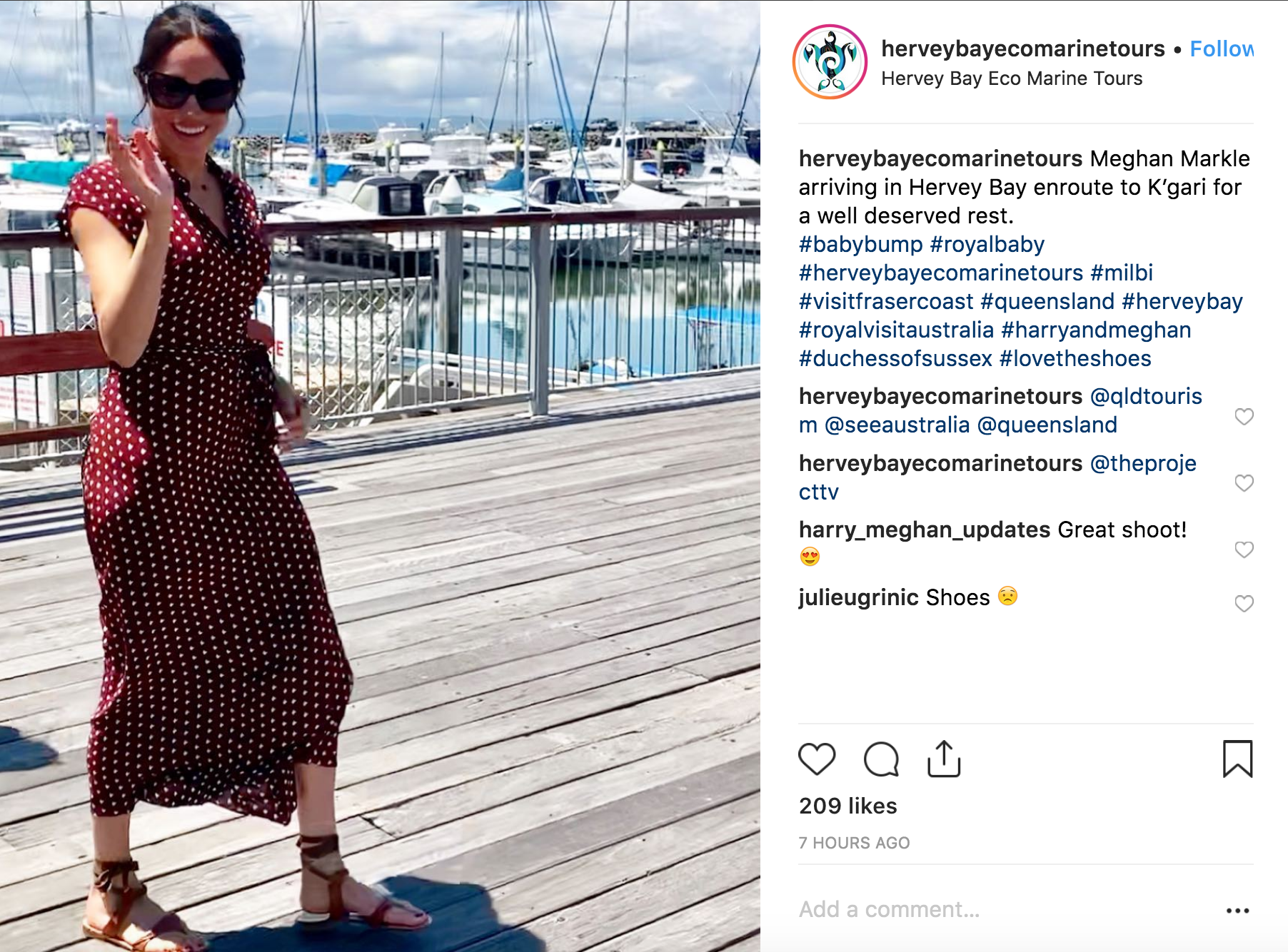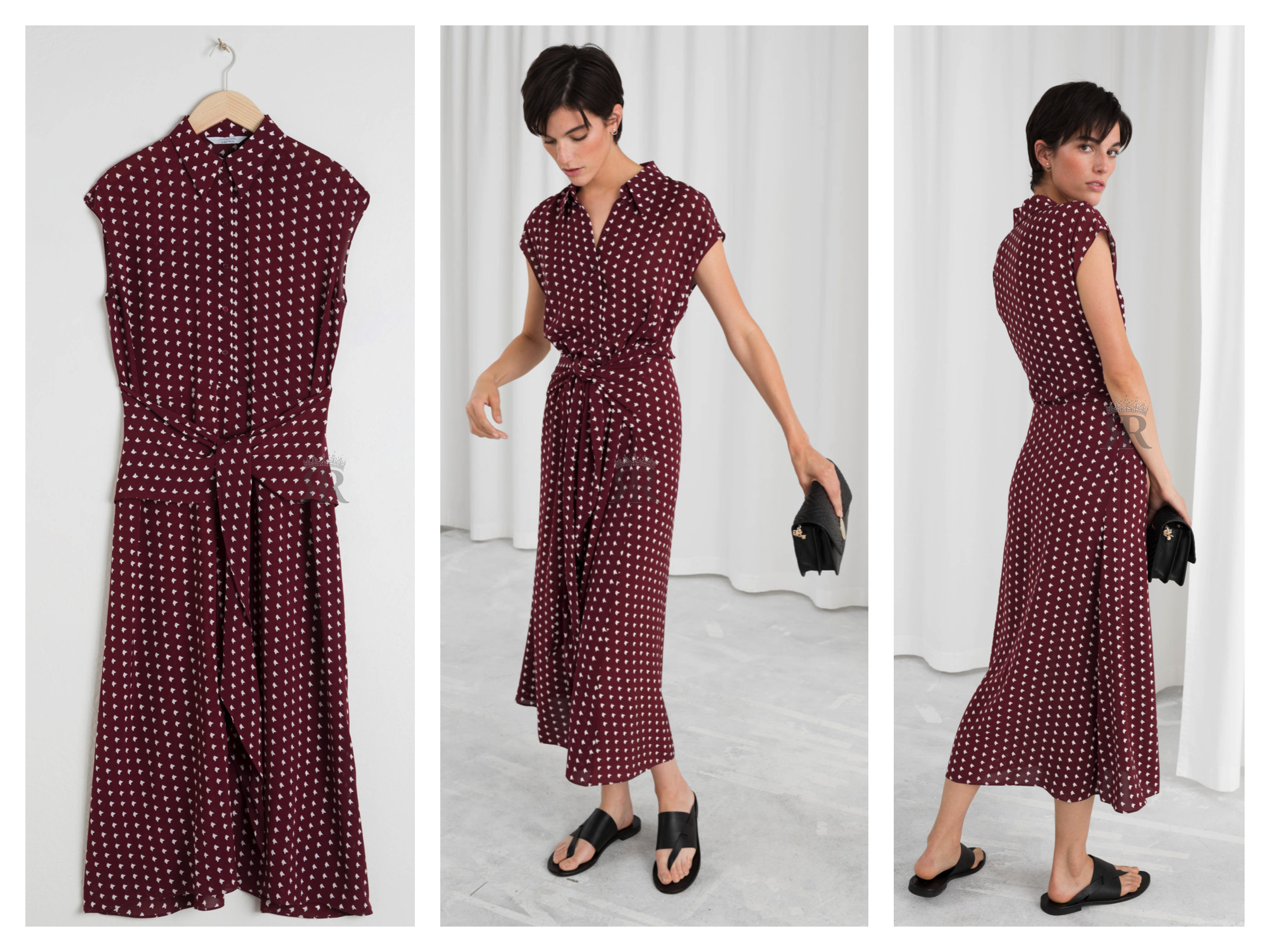 It is very interesting to see that three Royal ladies, Countess of Wessex, Duchess of Cambridge and The Duchess of Sussex have all chosen to wear their own versions of burgundy polka dot dresses over the past fortnight. We think we need to take this as a huge style hint and go out and grab our own! (Interestingly, the Whistles dress in the widget at the bottom is the one Kate wore – you can get it here.)
Meghan did not attend the morning engagements with her husband instead going back to the hotel for some much needed rest, being approximately four months pregnant. Meghan then joined Prince Harry later for a short 'meet and greet,' where she changed into an even more casual ensemble.
Meghan wore Reformation 'Pineapple' dress, retailing for a very affordable £168. This very thin adjustable-strap dress has a straight square neckline to a maxi length skirt, with a large slit up one side, that is also held in place with a looped button. The grey and white striped linen dress also features a wide self-tie detachable belt. For us this is a great go to beach cover-up for lazy days by the beach.
The dress sold out almost instantly as it is so affordable, though you can still view it here. Try this dress to get the look, purchase here.
We feel that Meghan's dress is a little bit too casual for a Duchess on an official tour, much more what she might wear when she was a private citizen on a holiday. Others have noted that the split of the dress is a little impractical for a walk about, as seen when Meghan knelt down to speak to someone. Linen is not the best material to wear when being photographed in, in an official capacity as it often gets wrinkled and can be hard to iron out – ok for us normal people to wear on holiday, but maybe not Princess material. We feel a different style of casual dress would have worked a lot better, even staying in the & Other Stories dress, above.
Meghan wore Sarah Flint 'Grear' sandal, retailing for £188. The flat sandals are handcrafted in saddle vachetta, with a folded leather toe hold, a full leather sole, and a tan cotton ankle strap. These are a perfect summer and holiday sandal. Tie the ankle strap in a bow to the front or the back of the leg. These sandals also come in gold and silver. You can purchase Meghan's sandals here. Try these to get the look for less, purchase here.
Embed from Getty Images
Embed from Getty Images
It was another new pair of sunglasses for the Duchess; she wore a pair of Karen Walker 'Northern Lights' sunglasses, retailing for £179. These oversized cat eye sunglasses are crafted from black acetate with 100% UV protection purple lenses, though these can be fitted with prescription lenses if required. The arm features the signature Karen Walker arrow detail tapered at the temple. Many of Karen Walker's sunglasses and bags feature this arrow detail. You can purchase these glasses here, here and discounted here. Get an affordable pair to replicate Meghan's sunglasses here.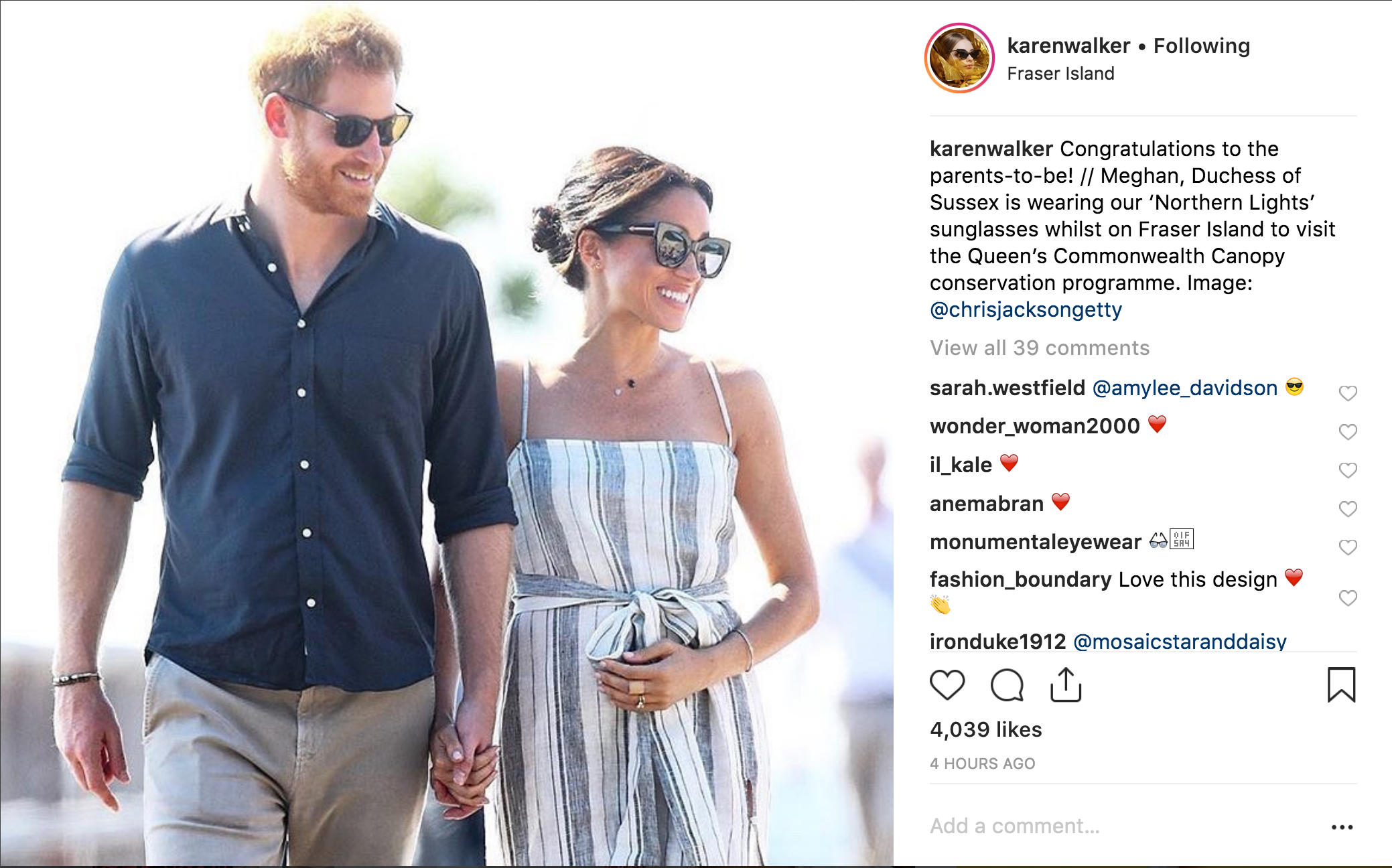 Meghan wore her Adina Reyter 'Three Diamond Amigos' curve post earrings, retailing for £383. These earrings are made from 14k gold in a curving arch with three varying size diamonds attached to the arm, with a total diamond weight of 0.15 Ct. Currently the earrings are out of stock, though the website states: "**Due to high demand, this style is being restocked – estimated ship date 10/22 – 10/30 [22nd October-30 October]", so you will be able to get these earrings if you are interested! You can purchase these earrings here.
Staying with Adina Reyter, Meghan chose her 'Super Tiny Solid Pave Teardrop' necklace, retailing for £198. A very fine, delicate feminine 14k gold chain with sterling silver and pavé diamond pendant with a diamond weight of 0.04 ct. You are in luck as this item is currently in-stock (unlike many of Meghan's items she wears). You can purchase this necklace here.
Meghan layered her necklaces and also wore her Pascale Monvoisin 'Cauri N°2' in 9-karat rose gold, retailing for £250. This necklace is handmade from 9kt rose gold, featuring a 0.53ct glossy black onyx carved shell pendant, inlaid with a very tiny diamond of 0.01ct and made in France. We have seen Meghan wear both of these necklaces together on a few occasions now. You can purchase this necklace here.
Meghan wore her Birks 'Rosée du Matin' white gold flex wrap bracelet, retailing for £1,527. This 18kt white gold bracelet features 0.18ct of diamond inlays at both ends of the flexi-wrap cuff. We have seen Meghan wear this bracelet for the past few days of royal engagements. You can purchase this bracelet here.
Meghan also accessorised with two of her Catbird NYC 'Threadbare' rings, retailing for £34. You can purchase these thin hammered rings here.
The Duke and Duchess today bid farewell to Australia to move onto the next part of their tour in Fiji and New Zealand. Hopefully we might get to see some Karen Walker clothing or possibly Trelise Cooper, Rebecca Taylor and more of The Duchess' much loved Emilia Wickstead, all who are New Zealand Fashion Designers.
You can get the Duchess' laid back style here:
Get Meghan's Hervey Bay arrival style here:
with thanks to @whatmegwore (Pineapple dress, sunglasses), @MeghansFashion, @MadAboutMeghan and @LadysMaid (& Other Stories dress)