The Duke and Duchess of Sussex kicked off the first day of their Australian Visit for the Royal Tour in Sydney today. The couple were greeted by, took a ferry ride on the harbour, went to Toronga Zoo meeting some very cute furry koala friends and met well wishers at the iconic Opera House. Meghan paid homage to her host country by selecting an two Australian Designers, Karen Gee and Martin Grant for the event and wore some of Diana's jewellery, too.
At first we thought the Koala had growled at Meghan and Harry (as they can get grumpy) but watching a video it shows Meghan was overwhelmed with how lovely they were
The Duchess wore Karen Gee 'Blessed' dress in Ivory, retailing for $1,800 AUD or roughly £970. Karen Gee opened in 2013 and focuses on creating ethical fashion. Each piece carefully handmade, on a made-to-order basis with the finest attention to customer detail. Meghan stuck with her go to classic, clean line look for her first official overseas tour. The dress has a simple silhouette, a round neckline sleeveless sheath midi length dress. Meghan looked elegantly tailored in the fitted waist dress that skimmed over her figure perfectly. The dress boasts seamed panels at the front and back to give a feminine hours glass shape to the dress, has an invisible rear zip closure and is made from premium fabric. This is a great go-to piece for day or night and is a timeless wardrobe staple. Karen Gee is known for supplying wardrobe looks for Australian women newsreaders in varying colour block shades of sheath dress with or without sleeves. The dress is also available in black and ink navy. If you are interested about this dress, you can enquire here.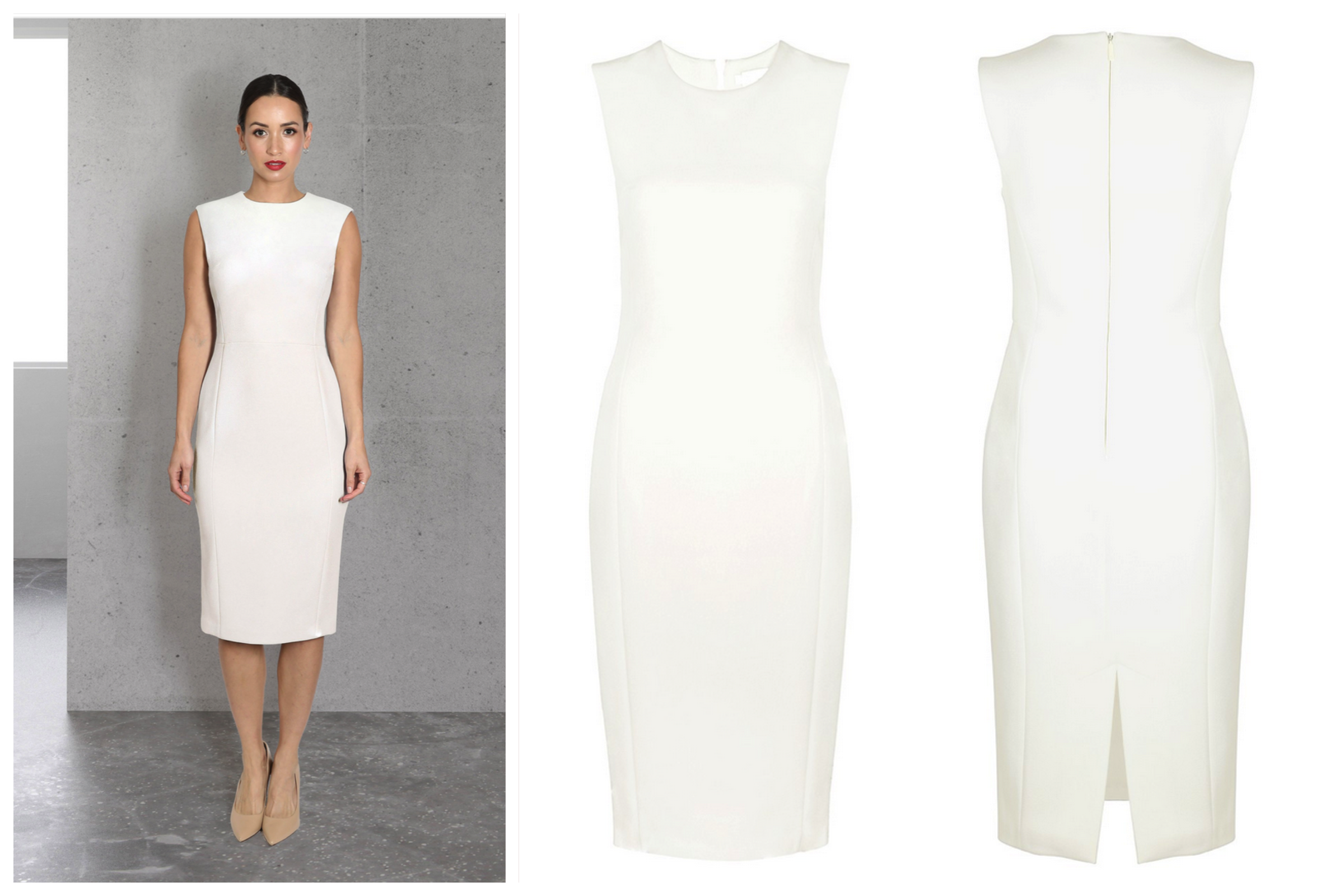 Australian fashion stylist Michelle's thoughts on the choice: I am quite surprised by this choice of designer: it is a bit more left-field, as it is not a very popular brand (popularly-worn label), it is not the type of silhouette that most Australian women choose, nor is it a label that is readily accessible to most Australian women due to it's bespoke nature and there being only one flagship store in the country. Part of the magic of the royal tour wardrobe is the beauty of the balancing act of a royal lady wearing a local designer of the country to show interest in the place visited, a dress that is appropriate for their role, still of good quality and at a reasonable price range that allows women to flock to their local store to grab the dress the Duchess was just seen in. This will then aid in the exposure of the local designer, who can in turn increase their sales and thus in a small part keep the economy moving along. It is what is known as 'Diplomatic Dressing' – such a simple thing, but it encompasses so many smaller details. It allows the everyday women to buy into this magic and feel like a real Princess for a moment too, when they wear the same dress as a Duchess and forget the cares in their own lives. Unfortunately, due to many circumstances in Australia at the moment a majority of women would not be able to afford this look, the price point is very, very high, the dress is the average fortnightly wage. Most women would feel not only priced out of the market, but the bespoke nature of this dress means they can not just stroll down to their local boutique to pick up this dress with their girlfriends on their lunch break with the excitement that they are purchasing a dress on home soil the Duchess just wore.
Lots of women may have been interested in the dress and visited the site, but may have been disappointed when they found out the cost. We can not tell you of the excitement of being able to go into an Oroton store see the bag Meghan just wore, pick it up with our hands and proudly take it to the cashier to purchase with a cheeky smile, knowing you are buying a 'princess piece'. We very rarely get to do that with items most royal ladies wear, generally because of costs. We hope that there may have been quite a few international buyers, though. Tomorrow's engagement in Dubbo will highlight just one of many struggles Australians have been facing.
What do you think?
Meghan also added a Martin Grant light weight oversized trench during the days events, which she took off and back on again during the different activities. Martin Grant is a Melbourne-born fashion designer, who has also designed for Barney's Private Label for Barney's New York. The double breasted beige longline trench features black buttons down each side, a gun flap, a rear storm flap, oversized flap pockets and a self tie belt that is held in place by a buttoned belt loop. It is made of a cotton canvas fabric.
Meghan wore the self-tie belt bowed at the back of the coat. The very notable feature of this trench is the open slit back, which billowed behind Meghan as she carefully walked down the Opera House steps, turning the trench almost into a cape. The silk lining of the coat also shows a very distinction vertical red line. This piece is part of the designer's Resort 2019 Collection and is not yet available to purchase. View it here. Get a very affordable replicate here.
Meghan wore her Stuart Weitzman 'Legend' pumps, which cost £284. A classic pair of pointed toe spiked heel stilettos that we have become accustomed to seeing Meghan wear. These heels are in a haze-beige colour-way and a slightly lower heel height than we have seen the Duchess in most appearances. You can purchase these heels here. Try these for a very affordable option, purchase here.
Meghan briefly changed out of her high heels and popped on a pair of flats when she and Harry boarded the ferry – a very sensible thing to do. She wore the Rothy's 'Black Solid' ballet flats, retailing for £110. The pointed toe black fabric flats have a v-shaped vamp and an interesting bright blue contrast trim around the heel, to make these flats pop. Meghan quickly changed back into heels as she got off the boat. You can purchase these heels here.
Meghan wore a very beautiful and thoughtful tribute with her accessories. She chose a pair of jewelled butterfly stud earrings and an open cuff bracelet that once belonged to her mother-in-law, Diana. The gorgeous gold butterfly earrings have sparkling diamonds inlaid in the butterflies top two wings and head. Dark navy stones are inlaid in the bottom two wings and abdomen. The open cuff, meanwhile, is a medium thickness gold segmented style with what appear to be two black onyx stones surrounded with diamonds.
We know that Harry and William got some of their mother's jewellery in their inheritance after her death, and it seems that the Duke has now passed a number of items to his wife. Some beautiful pieces that we hope to see again.
Meghan changed her for ensemble for an early evening reception. The Duchess wore a bespoke olive green pleated tea-length dress, and popped her hair into a bun.
This was a Brandon Maxwell pleated skirt shirt dress, retailing for £1,380. It is a tea-length shirt dress, with pointed down collar and large gold disc buttons move down the hidden centre placket. The dress features intricate knife pleating detail over the front and rear of the bodice and moving into a fit and flare full, sweeping skirt, that skims to just above the ankle for a gorgeous feminine silhouette. The sleeves are almost a caplet combination and have a small welt breast pocket on the left hand side. The dress is made from 100% polyester. We loved this dress on Meghan, the pleating details looked stunning. This dress was part of the Spring 2019 Collection.
Meghan's dress was created bespoke in a dark green olive colour-way. Below we show the dress in red as available at M'Oda 'Operandi, view here.
Embed from Getty ImagesEmbed from Getty Images
We believe that Meghan wore Tamara Mellon 'Rebel 105 – Capretto' Pumps in nude, retailing for around £300, for this event. These heels are crafted from a matte almost caramel coloured leather, with a 105mm heel height. We know that the Duchess is a fan of Tamara Mellon, having worn the label on a few occasions. You can purchase these pumps here.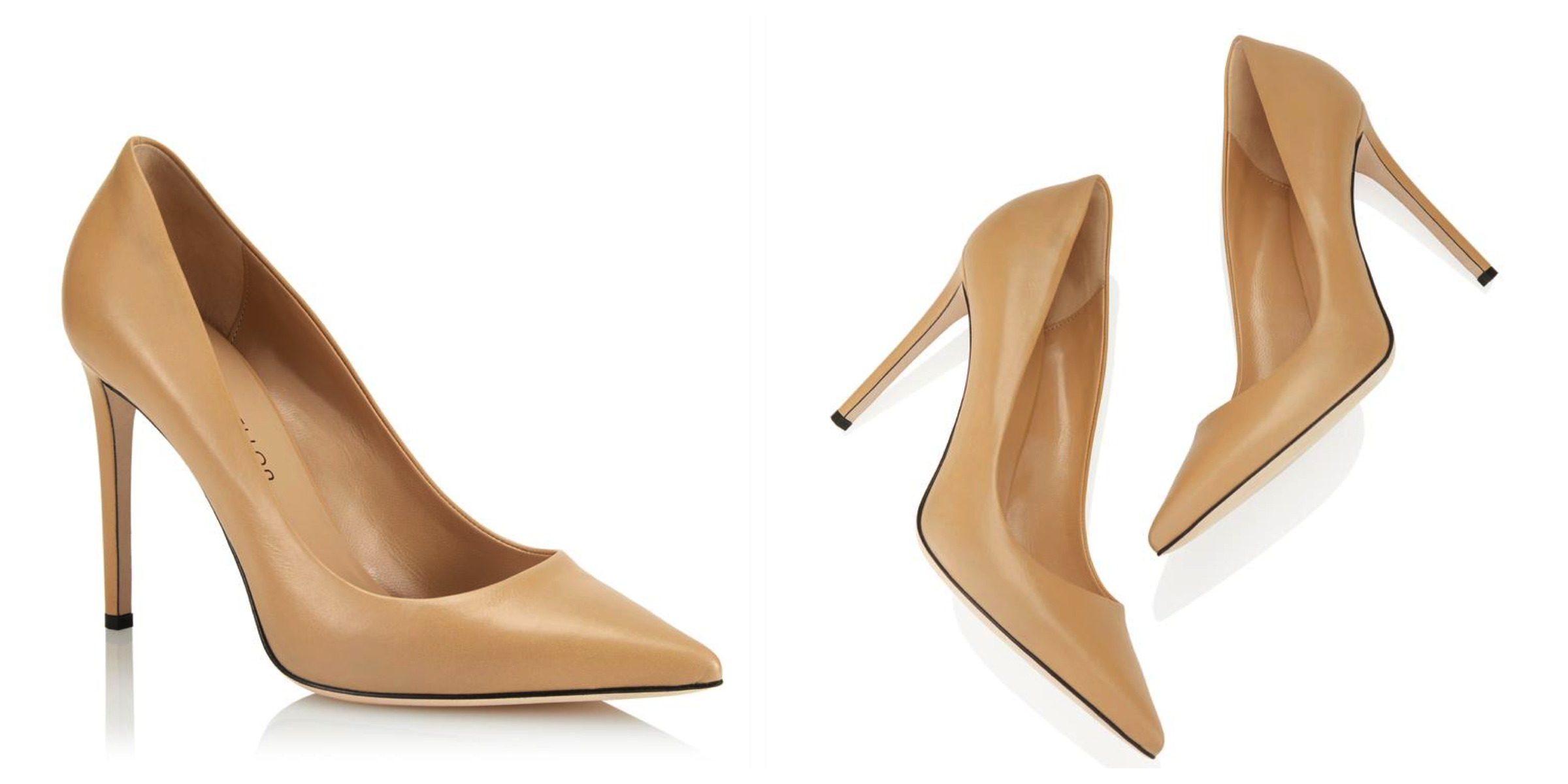 Meghan didn't change her accessories from the day and wore Princess Diana's butterfly earrings and gold cuff. We are so pleased that Meghan kept her accessories, light and fuss free today. The Duchess did not even carry a bag.
We think the Duchess looked radiant in all of her ensembles today and can't wait to see what else she is going to wear on this tour.
You can get Meghan's day look here:
You can get Meghan's afternoon look here:
with thanks to @whatmegwore, @MeghansFashion for their fashion info and Saad of @royalwatcherblog for noticing the earrings