The Duke and Duchess of Sussex attended the Royal Variety Performance Gala at in London on Monday night. This was the first Royal Variety Show for the Duchess and she didn't disappoint Royal Fashion watchers with her choice of evening couture gown. She chose a heavily embroidered piece by SAFIYAA London.
The Duchess wore a custom gown by SAFIYAA London. There is some debate that this may actually be a skirt and top combination. Being pregnant this would make more sense as it would be easier to rework two separate pieces rather than an entire gown to accommodate a growing bump. The halter neck top is embellished with black and white sequins that creates an intricate sweeping floral and leaf pattern over the bodice. The halter top zips to the rear and is belted around the waist to give a peplum silhouette.
The black sequins seem to pick up the lights or camera flashes and appear to have some purple colour through the top as well, either a trick of the lighting or Meghan's top has both black and purple sequins.
Embed from Getty Images Embed from Getty Images
The long sweeping skirt billows at the back into a floor skimming train.
A rear view of Meghan's dress with low back detail.
The piece borrows a few style points from other Safiyaa items, including the 'Malaya Strapless Top' (£895), from the label's Resort '19 collection, for the top with the same leaf sequins and bustier design. You can purchase it here.
There is also the 'Paloma Bicolour Sequin Jacket' (£1,395) in this fabric – Get it here.
Laura on Twitter suggested this might have been a piece initially bought for the couple's recent tour Down Under, and south-east Asia. This would make a lot of sense, since the top features leaf fronds, reminiscent of ferns, and the overall look feels more casual – almost beachy – with the halter-neck, which would have fit in perfectly with the relaxed nature of Harry and Meghan's tour; if so, it must have been changed for another option last minute. What do you think?
The Duchess carried a black glitter box clutch with wide gold metallic hardware frame. The front and back of the bag features black satin panels with stone embellishment. We saw this UFO (unidentified fashion object) when she and Harry went to see Hamilton back in August (second photo).
Meghan wore her Birks 'Snowstorm' earrings, retailing for $12,000 CAD (approx £7,000). Featuring 2.5 carats of diamonds, they are a very sparkly statement earring that Meghan likes to wear for evening engagements, inspired by Canadian winters. You can purchase these earrings here.
Meghan wore a Aquazzura black pump, that were covered by her gown for most of the evening. We caught a glimpse of the pineapple hardware on the sole though – see this pic here.
They appear to be black pointed toe heels in suede, with a towering stiletto, but having not seen the rear of the shoe, it could be any of her black Aquazzura options, like the Denvue bow pump, with cut out detail – Meghan's go-to shoe at the mo, so quite likely – or her ankle strap 'Milano' heels. More if we find it.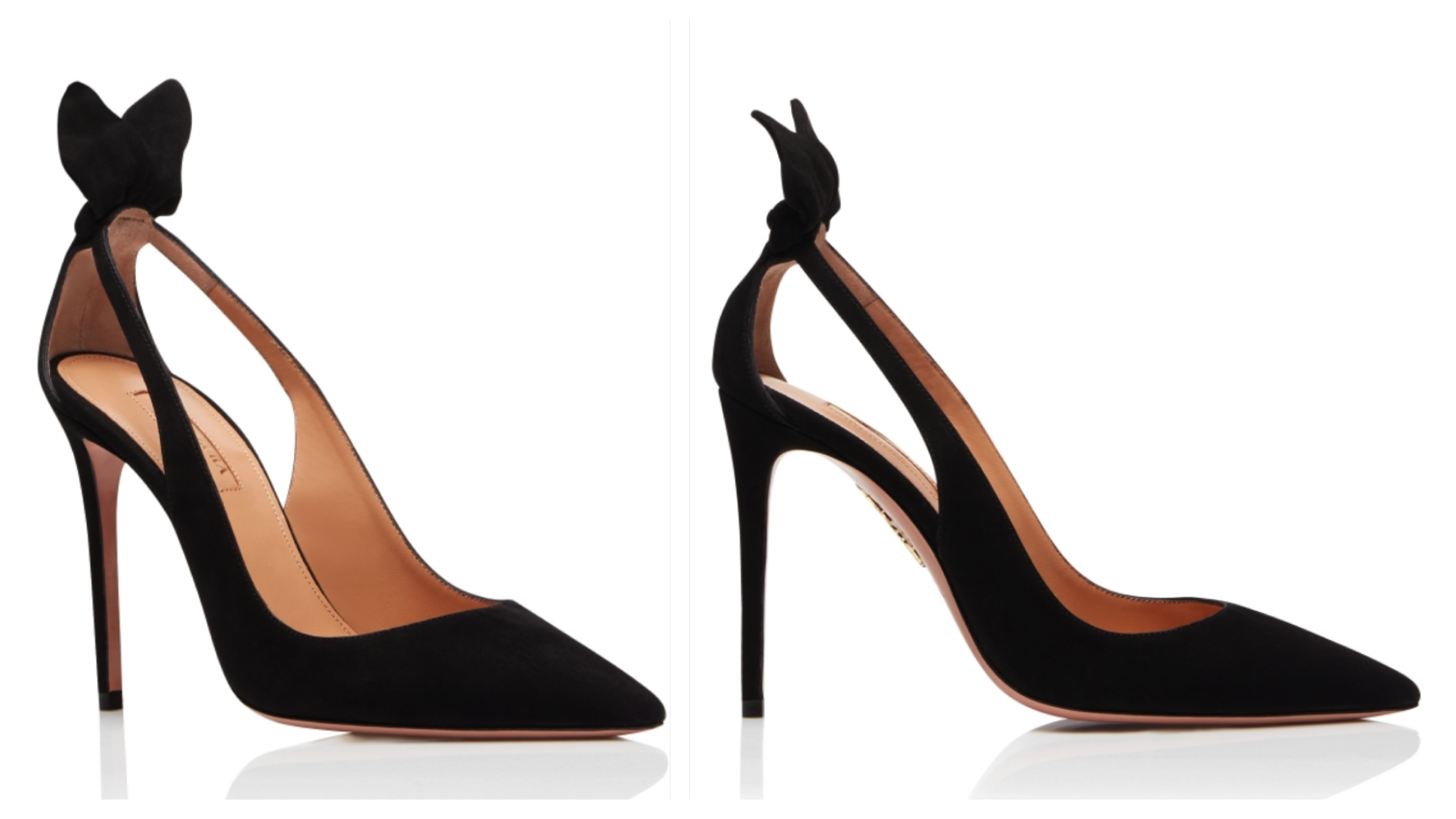 You can get Meghan's elegant evening glamour style here:
with thanks to @whatmegwore, @MeghansFashion, @MadAboutMeghan