Back in Australia after two days in Tonga, The Duke and Duchess of Sussex attended an awards ceremony for the Australian Geographical Society. Here, Meghan and Harry handed out awards, and the Duchess wowed in a monochrome Oscar de la Renta dress, complete with full skirt.
The Duchess chose an Oscar de la Renta cocktail dress for the occasion. The white and black tulle dress is with embroidered bird applique over the dress; it has something of an 'ombre' effect, going from solid birds in the main part of the pattern, to simple outlines at the chest and hem. The sleeveless dress is fitted in the bodice, made of black tweed, and has layers of tulle to make up a full skirt – very Princess-like! Finally, the very top of the piece, around the neck is in a nude mesh with crew neckline, to give the illusion of the dress clinging to the wearer effortlessly. The dress was look 28 of the Pre-Fall 2018 Collection and can be purchased upon application here.
Embed from Getty Images Embed from Getty Images
We show a clip of the filming of the Oscar de la Renta Pre-Fall 2018 Campaign featuring Meghan's dress.
To match this dress, Meghan wore her Aquazzura 'Denevue Bow Pumps 105' retailing for £586. They have been worn a handful of times this tour, and have worked especially well with evening wear. These feature a tall 10.5cm heel, pointed toe and cut out to the rear of the shoe, finished with a bow detail. You can purchase these pumps here.
Embed from Getty Images Embed from Getty Images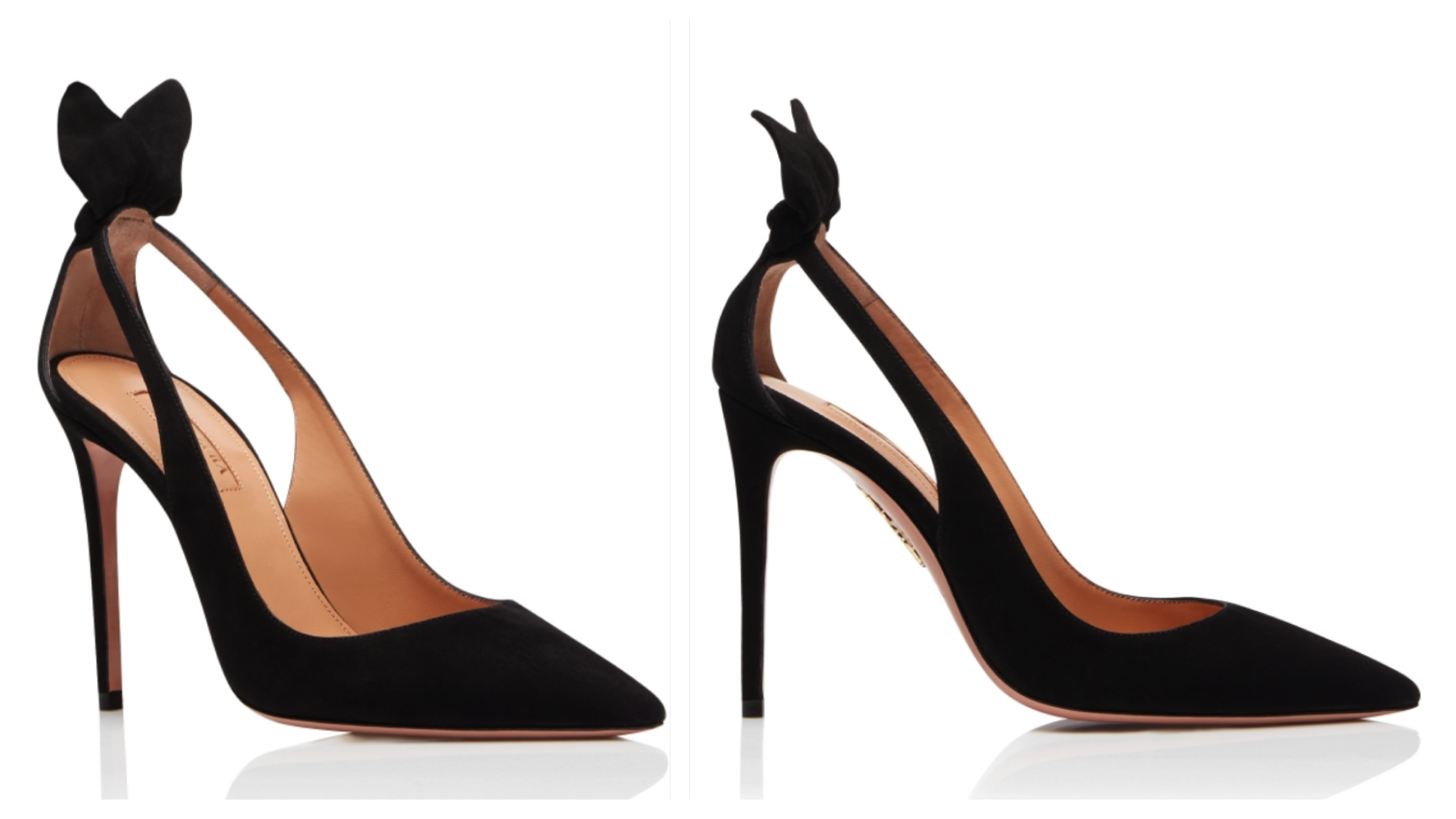 Meghan accessorised with her Adina Reyter 'three Diamond Amigos Curve Post' earrings, retailing for £388. The earrings feature three different sized stones with a carat weight of , seated on a curved gold base. You can purchase these earrings here.
Meghan wore two of her Birks rings: 'Stackable White Gold and Diamond Snowflake Ring', retailing for £2,974 (get one here); and the 'Stackable White Gold and Diamond Bee Chic Ring', which costs £1,759. You can purchase this ring here.
The snowflake ring, like Meghan's snowflake earrings, are inspired by the Canadian winters, creating a snowflake from stones – a larger one at the centre, and surrounded by smaller ones. The bee ring features a hexagonal honeycomb-esque design, embedded with diamonds. Both are made of 18kt white gold and are made to be stacked, as in the image below (first and third rings).
We don't think Meghan carried a bag for the event.
Most royal watchers were enamoured with this dress, showcasing a gorgeous silhouette and featuring a full princess skirt. What did you think?
You can get Meghan's look here: