The Duke and Duchess of Sussex attended Invictus Games to watch the men's basketball match, and presented medals to the winners. Meghan was dressed in another Australian label, Scanlan Theodore.
Meghan wore the Scanlan Theordore 'Crepe Knit Wrap Jacket' in merlot wine colour-way, retailing for £428. This wrap jacket is made from a very fine crepe knit, with a deep-v neck line and closely fitting long sleeves. The beautiful feature of this jacket is the soft ruffled peplum flare hem to add a girly touch. The jacket is made from a blend of viscose and polyamide. This piece reminds us of Meghan's Oscar de la Renta navy draped blouse she wore recently to the Coach Core Awards. Scanlan Theordore is one of the Australian labels that we had suggested Meghan might wear for the tour before it began. Scanlan Theordore is more of a business wear brand and is a little more accessible to women.
You can view the jacket here.
Crown Princess Mary of Denmark also has the same jacket in navy. This jacket seems like a very timeless staple piece from the label, for every woman to add to her work wardrobe. With a variety of colours offered for all tastes, the jacket is excellent to mix and match with skirts and trousers for work. Scanlan Theordore offers the jacket in black, grey, stone, navy, blush, fuchsia and forest green.
Embed from Getty Images Embed from Getty Images
Meghan wore a pair of slightly ankle cropped skinny black jeans. With thanks to @whatmegwore, we believe these jeans are from Banana Republic, though we are still locating the exact style.
The Duchess teamed these with her Sarah Flint 'Jay 100' pumps, retailing for £307. A black suede pointed toe pump with inverted v-toe vamp. A glossy tortoise shell tapered heel adds just that something extra to to take an ordinary black suede pump to the next level. We have seen Meghan wear these pumps on numerous engagements.
You can purchase these pumps here. Try these as a nice replicate – purchase here.
Embed from Getty Images Embed from Getty Images
Meghan accessorised with her Shaun Leane 'Yellow Gold Vermeil Talon Earrings', retailing for £225. The design of these earrings are inspired by the animal kingdom in the form of a sharp tapered; they feature a double-sided fastening.
You can purchase these here.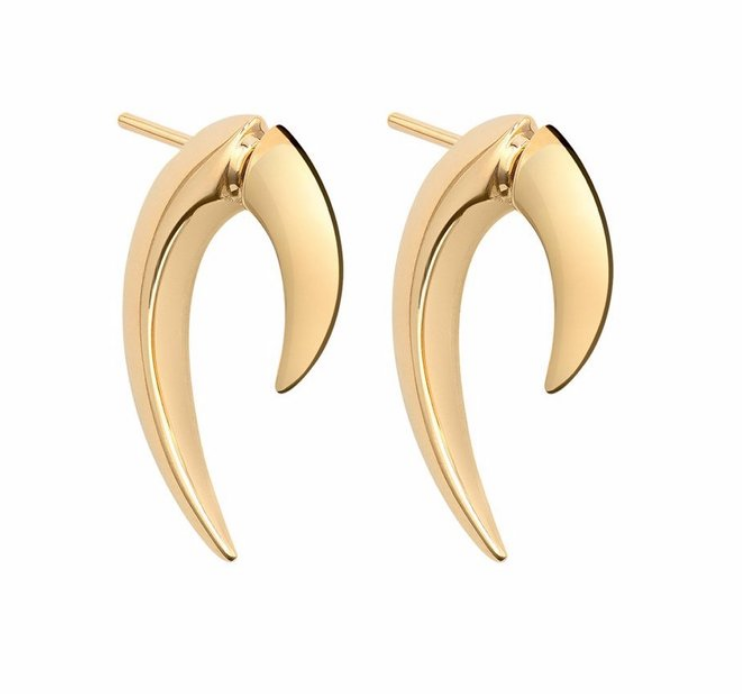 Both Harry and Meghan also wore poppies today. Poppies are worn in Britain, and some Commonwealth countries, anytime from near the end of October until 11th November, to remember those lost in war. Of course, Prince Harry served two tours of duty and knows of many soldiers who died for their country.
Embed from Getty Images
Embed from Getty Images
In addition to the great look, we love Meghan's half up, half done twisted knot hairstyle today.
We are quite taken with the fact that Meghan has chosen to wear so many different Australian designers for this tour and she has really shown a prowess for diplomatic dressing. We hope this will continue on their return to the UK and we look forward to seeing the Duchess add more UK designers to her wardrobe.
You can get Meghan's look here:
with thanks to @HeaveanQRF (jacket ID) @whatmegwore, @MeghansFashion, @MadAboutMeghan