Yesterday afternoon, The Duke and Duchess of Sussex flew to Ireland for their first ever official royal overseas visit, following RAF centenary celebrations earlier in the day. The Duchess wore bespoke Givenchy separates in a deep dark green colour-way – a small tribute to the host country.
Meghan wore a Givenchy forest green short sleeve top. The knit blend top, matching perfectly with her pencil skirt, features a high rounded ribbed crew neck and three quarter length sleeves. Meghan wore her top tucked into her skirt to give her a more polished look. The choice of knit almost t-shirt like top instead of stiff blazer or blouse was a touch of genius giving the entire ensemble more of a relaxed skirt suit feel, without looking too business woman. If you look very closely at the photos of Meghan you will notice the attention to detail that has been given in the making of this entire ensemble and fit. The three-quarter sleeves end at exactly the point that Meghan's top tucks into her skirt, creating a nice even line to look at. You won't even realise it's there, but it creates a beautiful look to the top and shows attention to detail. If the top had sleeves that were longer or hit at a different point, it may look odd and would become noticeable and thus detracting from a truly couture bespoke piece. Below we show two similar styles. Meghan's top is bespoke and unavailable for purchase, though you can view the top in black here.
Embed from Getty ImagesEmbed from Getty Images
Meghan wore the Givenchy 'Punto Milano' pencil skirt, retailing for £1,027. This skirt has very prominent large flap patch pockets with gold button detail with carved logo detailing over each hip. A strange place to put a pocket on such a fitted skirt – definitely more for detail than practical. The skirt reaches to just below the knee, giving a very demure, feminine and sophisticated vibe to this skirt. The skirt is made from a knit/viscose blend and features a rear vent for ease of movement. You can purchase the skirt in black here.
The skirt is also available in a red colour way. You will notice the seamed and panel detail in the skirt a lot better in the red colour way. There are two vertical panels on either side of the zip and two diagonal panels leading that meet at the zip to provide perfect tailoring. Purchase in the skirt in red here.
Meghan carried a new Strathberry tote. The 'Midi Tote' in the Tan Brindle colour-way, retailing for £545. This top handle tote does not have two handles as most, but instead only one handle with the other being the label's signature gold bar closure. The tote also features an adjustable, detachable shoulder strap and gold hardware accents. The brindle tote is most notable for its accented white top stitching around the edge of the bag, handles and strap and slightly grained leather. The tote has the name of the company branded into the leather on one side and is crafted from calf leather in Spain. This tote also comes in a plain tan colour-way without visible stitching and a smoother leather. The tan bag is a little cheaper in price than the Brindle.
This is the third Strathberry bag we have seen Meghan carry to official engagements. We could carry this bag everyday it is so versatile. This tote is sold out, though you can still view it and purchase in other colour-ways here.
We thought Meghan was wearing the Manolo Blahnik 'Bipunta Suede Cap-Toe Pumps', yesterday but new pictures have shown us the sole and they are in fact Paul Andrew heels, in the 'Shakti' style. When viewed closely, there is a suede toe-cap detail, unfortunately not really visible in this picture, but the shoe features a pointed toe and slim heel, approximately 9cm in height with a deep-cut on the inside of the foot towards the tow. Meghan also has these shoes in black, and they cost in the region of £470. We do not have a stock photo of the original shoes for you, sadly, but you can see a floral version of the shoe here.
Michelle Dockery has worn this brand in the past.
Meghan accessorised with Vanessa Tugendhaft 'Precious' earrings, retailing for £665. These very pretty feminine earrings are designed to be symbols of love. They appear to be four leaf clovers, however the earrings use four love hearts that meet at each point in a geometrical pattern to provide this look. Each heart is inlaid with three small diamonds in an 18CT pink gold setting. The total weight of the diamonds is 0.1CT. Meghan has the matching pendant to these earrings which she has worn on at least two previous engagements. You can purchase these earrings here.
We were very pleased to see Meghan chose a crew neck for this outfit. The dark green with the tan accented accessories worked perfectly for the Duchess today. This entire ensemble is simple, yet elegant and very easy to replicate for the office.
Evening:
That evening, the Duchess changed for an evening reception and chose – would you believe – Emilia Wickstead for the occasion. Many royal fashion watchers were very surprised to see the Duchess choose this piece for the reception after it was reported that Wickstead had criticised the design of Meghan's Givenchy dress as being remarkably similar to her own design and ill-fitting. Whether you agree or not with Meghan wearing an Emilia Wickstead piece, it is very heartening to see a woman not get swept up in a debate and continue to wear the designer.
It was a bespoke Emilia Wickstead midi dress for Meghan. The custom version of the 'black Cloque midi dress' featured a low square neckline, wide straps and a fitted bodice. Meghan's dress has been altered and the straps on her dress do not cross over at the back as on the original. A flared tea length skirt showcased pointed flap pockets on either side of the hip, very similar styling to the ones seen on her Givenchy pencil skirt worn earlier in the day. The dress is constructed from multiple panels. These fine tailoring details, fit and execution have been created perfectly and allow the dress to show clean lines and an elegant cocktail black dress. The stand out on this dress was actually the wide black belt, with rectangular buckle and prominent metal rimmed belt holes giving the belt an almost studded appearance.
There are even some elements of the dress that go back to 2012 and similar designs in the Spring 2018 Collection, shown in the image below.
The pockets on the dress might remind you of The Duchess of Cambridge's dress from the label, seen in India.
Meghan wore her Aquazzura 'Deneuve Bow Pumps 105', retailing for £543, which we saw recently at a reception with The Queen. We love these uber feminine twist on the classic court heel. The pointed toe black suede court heel features cut-outs on either side of the heel cover and a high peaked black suede bow at the back of the heel for an added touch of gorgeous girliness. You can purchase these heels here.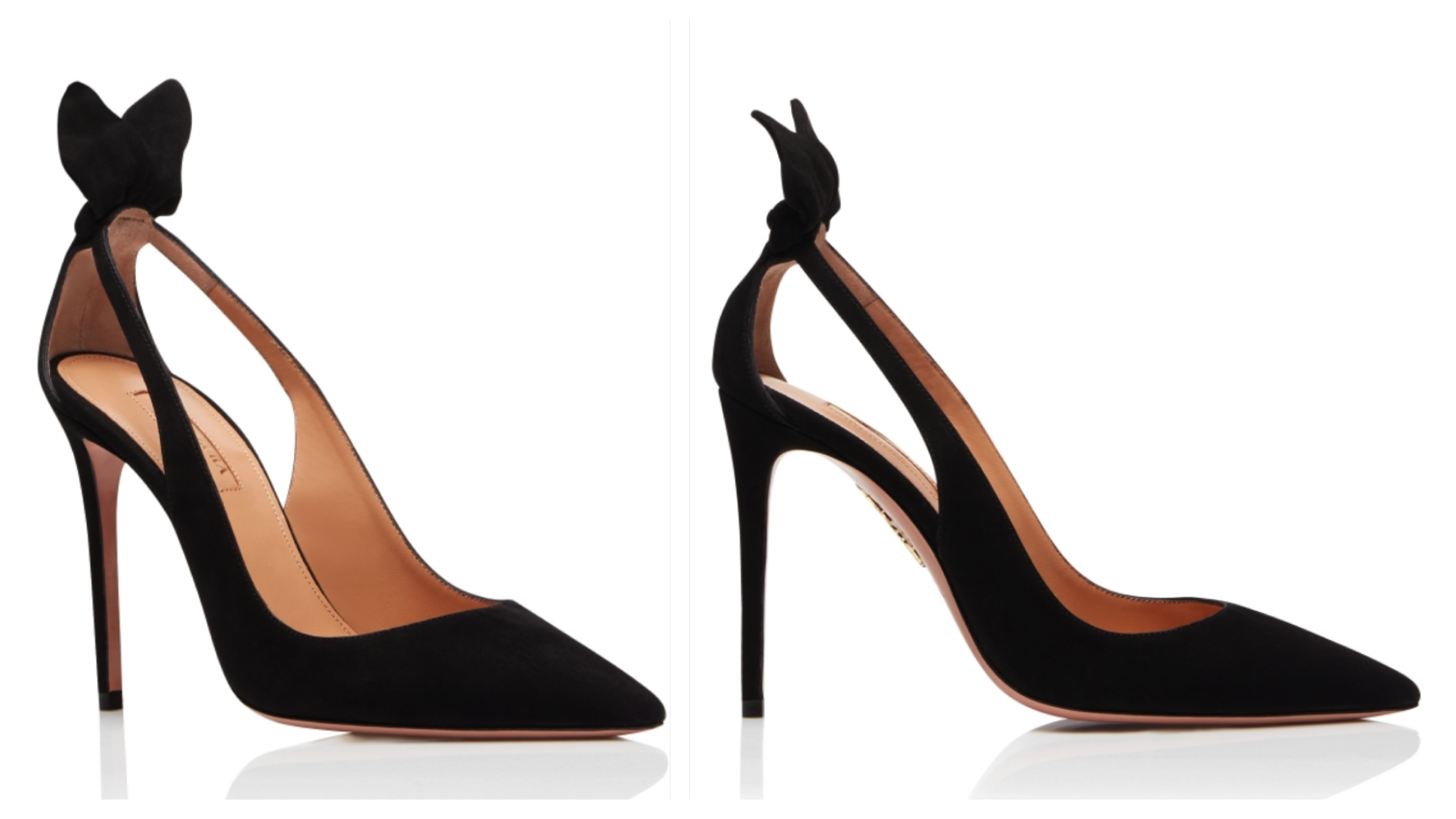 Meghan carried her Givenchy 'satin clutch with jewellery clasp'. The black satin box clutch has a thick gold metallic contrast edge and a sharp double pointed arrow jewel clasp set in gold hardware. The clutch has an single interior slide pocket. We first saw this clutch at Royal Ascot a couple of weeks ago.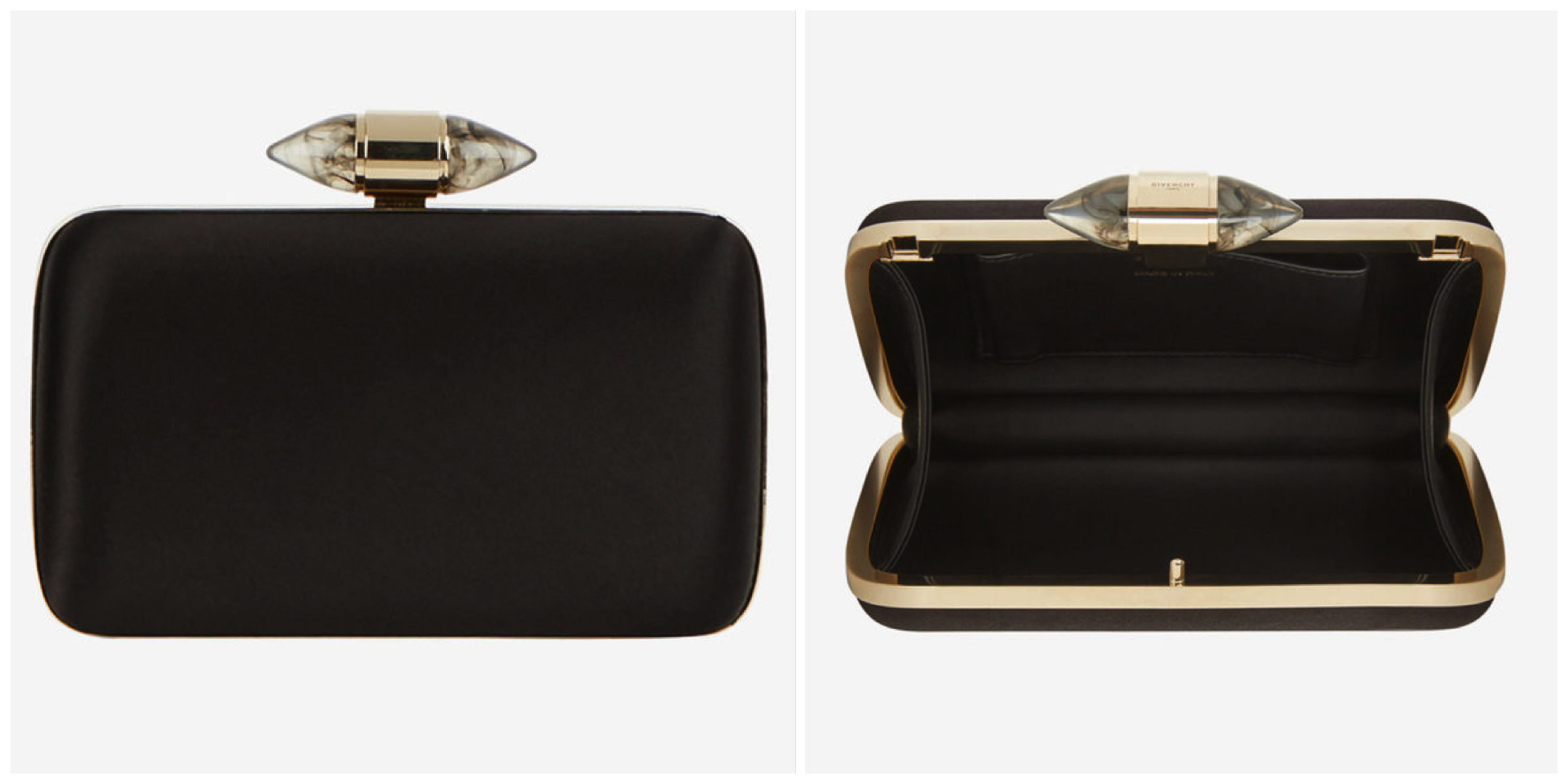 Meghan accessorised with a new pair of Birks earrings. The 'Birks Muse Citrine and Diamond Drop earrings', retailing for approximately £2600. These earrings have a diamond shaped 14CT citrine drop with diamond halo and pave diamond post set in 18KT yellow gold, with a total of 0.35CT of diamonds. You can purchase these earrings here.
Embed from Getty Images Embed from Getty Images
Get Meghan's Ireland looks here:
With thanks to @MeghansMirror for the Paul Andrew shoe ID