The Duchess of Sussex, recently returned from her honeymoon, joined her husband Prince Harry and other members of the Royal Family for Trooping the Colour on Saturday. The day included a few significant firsts for Meghan. It was her first ever Trooping the Colour and her first time appearing on the balcony of Buckingham Palace. Unlike William and Kate's wedding, Harry and Meghan did not have a balcony appearance as it took place at Windsor, where they kissed on the chapel steps instead.
Meghan dressed in an all pale pink Carolina Herrera ensemble for today's events.
The Duchess of Sussex was dressed in a bespoke Carolina Herrera pink bardot button midi dress. The pale pink dress has a low shawl collar that sits over the shoulders, with pleated asymmetric front twists to add a feminine elegance. Large pale pink coloured fabric coated buttons appear down the left hand side of the dress, very similar to her Altuzarra dress, which she wore to meet the Australian Prime Minister recently.
At present this design is not part of the current Carolina Herrera collection. Below, we show Carolina Herrera designs with similar structural elements. The first shows the off the shoulder front twisted panel, the second the pale pink colour with pale pink asymmetric buttons, the third the large asymmetric buttons. You can get a very funky replicate of this dress here.
Meghan re-wore her Philip Treacy 'OC427' hat. We first saw Meghan wear this to Prince Charles' birthday garden party a few weeks ago. It is a blush-coloured sinamay oversize titled hat. This hat does not feature any embellishments at all and in terms of royal hats, it is quite simple.
Meghan carried a Carolina Herrera 'Metropolitan Insignia' clutch. This white patent leather clutch at first appears to be a half moon shaped tube clutch with gold metal contrast framing. On closer inspection, it is actually quite unique how Carolina Herrera has incorporated her initials into the metal framing. On each edge of the clutch you will notice gold metal letter 'C', which become apparent when you notice the serifs on the ends of the gold rounded bar. The letter 'H' is a little tricker to see, but appears over the edge and middle of the clutch. If you were to look down upon the clutch you could see the H.
This clutch comes in a unique range of colours and patterns, including solid, sequinned, embellished, glitter, embroidery, flamingo, lace and many more. An interesting choice, but we are not sure the white really went with this soft pale pink dress, it appears a little stark. Perhaps the Duchess did not want to re-carry her Wilbur and Gussie clutch, though if Meghan were wearing white shoes (of course, we never get to see shoes at Trooping!), it may have tied in nicely with her overall ensemble.
Meghan wore her Birks 'Birks Iconic Stackable Rose Gold Diamond Snowflake Ring', retailing for £3,725. This pretty stackable ring has 7 diamond shaped snowflakes around the band made from 18ct rose gold. You can purchase this ring here.
The Duchess also added a new Birks ring. The Birks 'Bee Chic Ring', retailing for £2,233. This ring is part of the Snowflakes Collection and the design is inspired by bees. 18ct rose gold hexagonal shapes are inlaid with diamonds make up the band of the stackable ring. You can purchase this ring here.
Meghan also appeared to be wearing the same earrings that she wore to the engagement photo call, the Birks 'Les Plaisirs de Birks' oval opal earrings, retailing for £850. However, this is still up for debate. You can purchase these earrings here.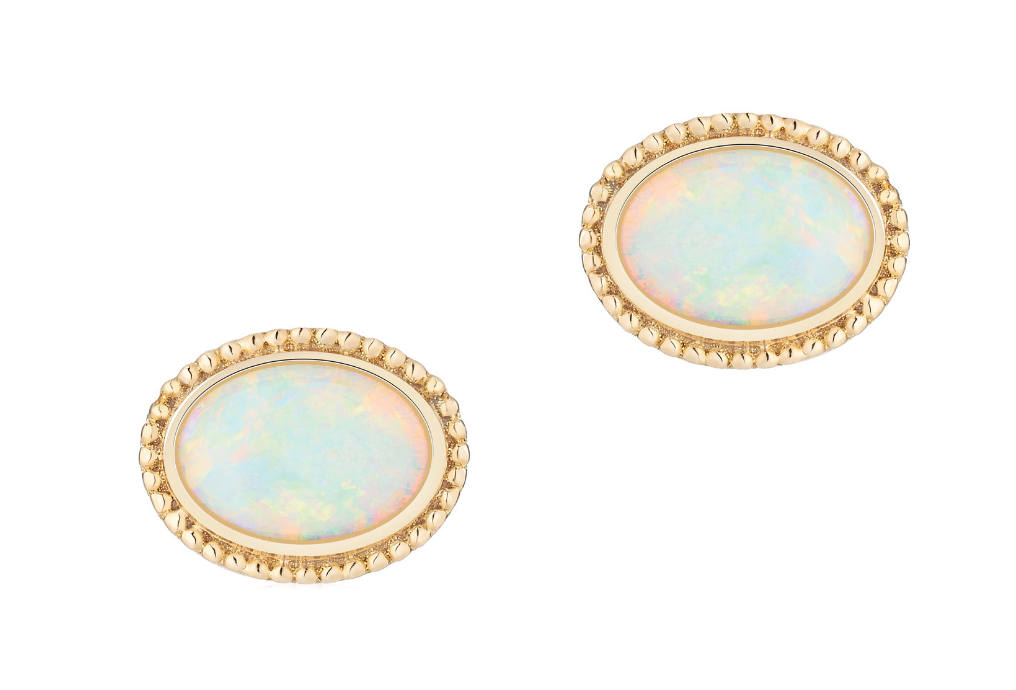 There has been much comment on social media about Meghan's daring off-the-shoulder choice. Personally for any other royal engagement we would have been quite happy with this dress. However, for Trooping the Colour, if the shoulders were pulled up about 1 more inch it would make the dress look more sophisticated. What are your thoughts?
Copy Meghan's outfit below: