Tonights BAFTA ceremony saw The Duke and Duchess of Cambridge attend the ceremony at the Royal Albert Hall. The organisation had asked guests to rewear their outfits, or use vintage clothes, to help with their environmental impact; therefore, we saw a VERY old dress come out of the wardrobe for Catherine – a white and gold gown from 2012.
Embed from Getty Images
Embed from Getty Images
The dress was a slightly reworked version of the McQueen embellished gown seen in Malaysia, on the Diamond Jubilee tour. The Duchess had the sleeves altered from sheer sleeves, to opaque half sleeves and peaked shoulders. This is the embellished hibiscus dress, with a ruched bust bordered by thick gold band under the bust and up to the shoulders; the band features the same hibiscus motif that the entire dress does, but flanked by leaves. The effect of this band is to create an empire line, but there is actually a seam at the waist, from where the skirt begins to flare.
Compare to the original, in 2012.
Embed from Getty Images Embed from Getty Images
The necklace and earring set were new, from Van Cleef and Arpels. These are the Magic Alhambra style, with the six motif necklace, and the earrings from the same design. The motif is based on a clover, and created in mother of pearl, with a gold beaded border. The necklace costs €9050 (c.£7614) and the €6300 (c.£5300) – quite the high-end jewellery! You can view them here and here.
These make quite a nice match for the earrings.
Kate's bag came from Anya Hindmarch, the 'Marano' style in metallic gold glitter. The bag is a rounded oblong, with gold casing visible, and the bow logo on the clasp.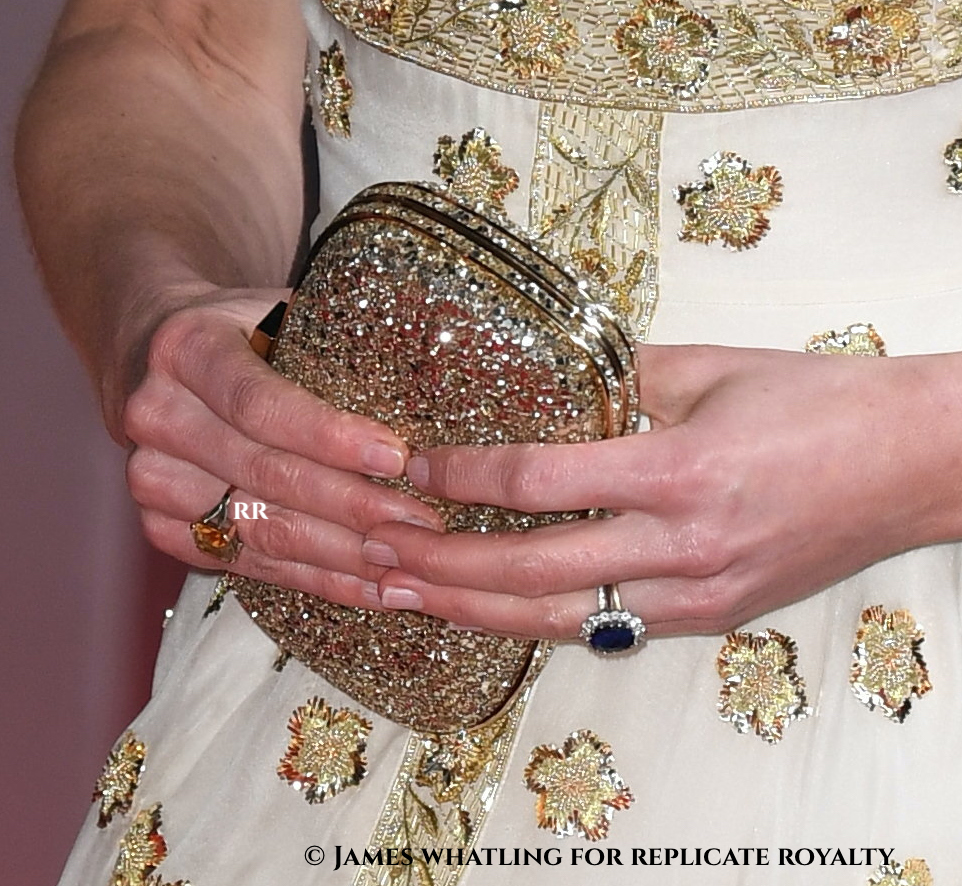 It looks like Catherine was wearing a new pair of Jimmy Choo 'Romy' heels, in gold glitter. These are probably the 100mm height. You might remember the Duchess owns them in ombre silver shoes.
Some noticed Kate chose her citrine ring, which drew on the gold tones of the outfit. This is an old piece – dating back as early as 2008 – that we have seen at Wimbledon.
The Duchess wore her hair in an intricate updo, like a detailed french plait. She used a hairnet.
Try these to get the look:
Thanks to our own Gabi for the shoe ID, @innominate_93/@HeavenQRF for the bag – they both posted at exactly the same time!