The Duchess of Cambridge went on a mini tour of the UK today, to promote the 5 Big Questions survey. She headed to Cardiff and Surrey, but an engagement in London was cancelled due to bad weather. For a baby sensory class at the Ely and Careau Children's Centre in Cardiff, Catherine stepped out in a chic coat from Massimo Dutti, a higher end brand owned by high street Spanish chain store Zara.
Embed from Getty Images
Embed from Getty Images
The Duchess chose a Massimo Dutti 'Limited Edition Buttoned Cashmere/Wool Camel Coat', retailing for £349 but was on sale for £149. This very beautiful coat has a deep cross over peak collar, double breasted buttons down the centre, flap hip pockets, rear panels and vent and four button cuffs. The maxi length adds a touch of class to this rich camel coloured coat. A definite wardrobe staple that you could wear for years and years. We thought this coat on the Duchess was fab, and the colour and silhouette suits her perfectly. Try this coat to get the Duchess' look for less.
Embed from Getty Images Embed from Getty Images
Under her coat, Kate wore a black knit roll neck jumper. This looks to be one that she has previously worn a few times over the years, though its identity still remains unknown. Try this top to get Kate's look for less, purchase here.
Catherine chose a Zara 'Animal Print Skirt', the skirt originally retailed for a very reasonable £29.99 and was on sale for an incredibly affordably £9.99. The knife pleated, leopard print tea-length skirt features a faux leather waistband with side zip closure and snap button. This is a very chic skirt is an excellent piece for both a work wardrobe and casual wardrobe by adding a black t-shirt, leather bomber and suede flat ankle boots.
We loved this skirt on the Duchess, a bit of a different look for her – leopard print done right. The skirt is sold out, though you can still view it here. Try this skirt as a great affordable alternative, purchase here.
Kate wore black suede pointed toe boots, a pair we have seen a few times. They are from Ralph Lauren, and feature a pencil heel of 4 inches, a sharp pointed toe and full-length inside-leg zip. . Try these boots, to steal Kate's look here.
The Duchess accessorised with her Accessorize 'Gold Filagree' drop earrings. These small delicate gold hook earrings have long since sold out. Try these get Kate's look here.
Catherine added a new gold textured round disc pendant, that features the letters 'G', 'C', and 'L' for George, Charlotte and Louis, with three small engraved stars. It comes from Daniella Draper, and is their 'Personalised Gold Midnight Moon Necklace' costing £1,070.00. It is created in 9ct gold, on an 18-inch chain, and hand engraved. They come with a diamond set into the front too, but it looks as if Kate's doesn't have one, which might have brought down the price a little. Get one here, or the sterling silver version for £400 here.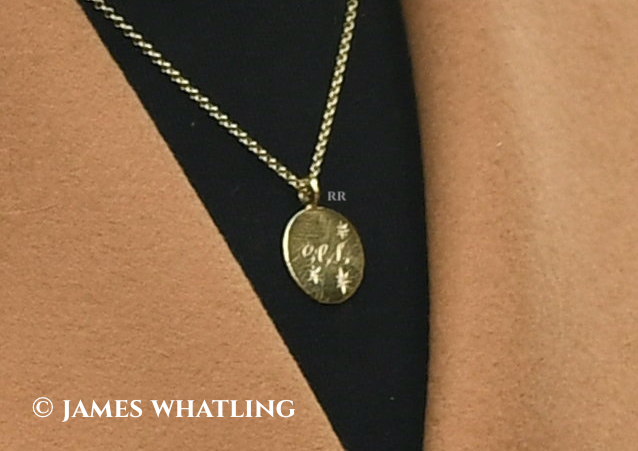 You might remember she also owns a Merci Mamman long necklace with George and William's initials on, that we saw back in 2013/14. You can still get one here, and it has been renamed 'The Duchess' necklace.
A great look for the Duchess today and a very wearable ensemble for everyone. We would definitely recommend you try to replicate this look – super chic, and hugely versatile for non-Royals. You can get Kate's look here:
Thanks to @MiddletonMaven for necklace ID, @emgcollins for skirt ID and Caroline Parr for the coat info.