Today, The Duchess of Sussex attended her second joint engagement with The Queen, for The Queen's Young Leaders Awards, which celebrate inspiring young leaders from the Commonwealth. Meghan was accompanied by husband, Prince Harry, in a muted colour palette skirt suit by Prada.
The Duchess of Sussex wore a Prada blush pink skirt suit that has been custom designed for her. The collarless skirt suit again drew on 1960's vintage vibes, a la Jackie Kennedy. The short sleeved jacket featured a sweeping bateau neckline, that was almost off-the-shoulder, but not as daring as her Trooping The Colour ensemble. Large matching blush double-breasted buttons ran over the tailored bodice, with a peplum flare hem to the top as well. The jacket has a thin blush cinched waist belt with rectangular buckle to help emphasise the peplum shape. The skirt flared out gradually to a midi length with an asymmetrical, left-draped hem. We suspect the ensemble is made from a wool-crepe. Meghan looked very elegant in the clean lines of the skirt suit.
Meghan wore Aquazzura 'Deneuve Bow Pumps 105', retailing for £490. These black satin heels have a cute twist to the court heel, with cut out features on the side of the heel, described as 'skin-bearing', and a feminine, black upward-pointed cute bow. We think these are the perfect cocktail heels, with the black bow giving a black tie feel, almost like a women's take on a tuxedo. These heels also come in a red colour-way and you may be pleased to know Aquazzura do these style of shoe in a flat ballet style in several colour-ways for those of us who can't do heels! You can purchase these heels here, and the flats here. Get a nice replicate here.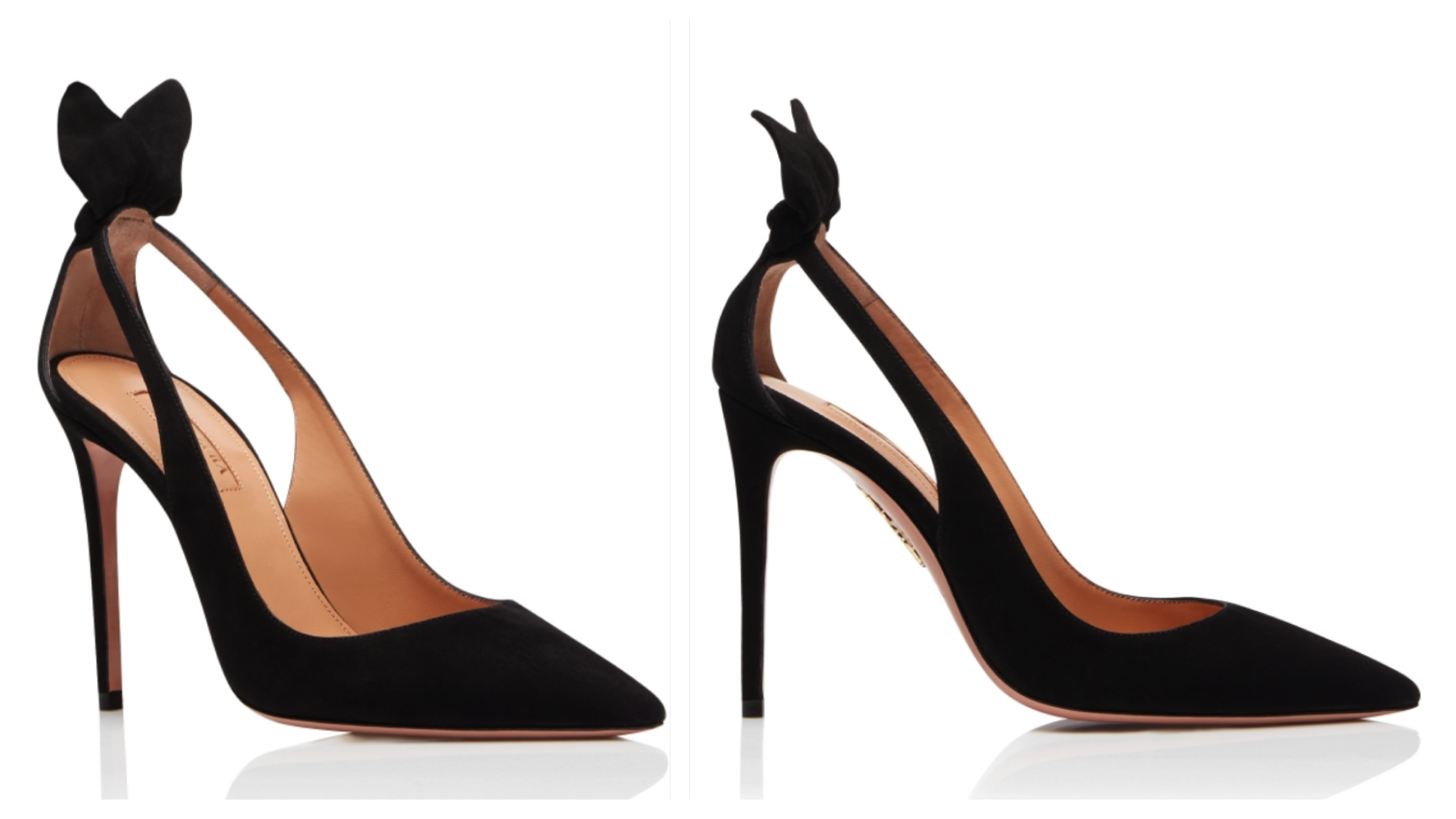 Meghan carried her Prada 'Convertible Leather Clutch' – a rectangular grained-leather flap clutch with gold embossed logo and gold chain link shoulder strap. The stand out feature of this clutch is the bright pink material used for the interior of the bag, which you can see when the bag is turned on the side; this is something of a girly touch. Meghan has previously carried this clutch to her first evening reception at the Endeavor Fund Awards earlier this year, wearing her McQueen suit. You can purchase this clutch here. Get a more affordable option here.
Meghan debuted a new pair of Vanessa Tugendhaft earrings for the Commonwealth Young Leaders reception. The 'Parisienne Carrousel' earrings, retailing for £1,040. These are an interesting pair of hooped earrings – a row of small diamonds are surrounded by pink gold ball settings on either side, with a total of 0.13CT of diamonds. These hoop earrings will dress up any outfit and are perfect for day or evening events. A another definite earring we will see on numerous occasions from Meghan. Meghan is a big fan of Vanessa Tugendhaft and has a few pieces of jewellery from the designer. You can purchase these earrings here. Get an affordable replicate here and here.
The Duchess of Sussex accessorised with her cross bracelet, with is believed to be a piece from Birks. Some have speculated it may have been a gift – perhaps from Prince Charles – for her baptism into the Church of England prior to the wedding, which is a nice thought.
We think that Meghan looked lovely, but we feel that the Duchess is starting to play it too safe and has opted for the same toned down colours of white, ivory, cream and blush tones for her ensembles. We would like to see more bright colours and bold patterns! It seems such a stark contrast from her much darker blacks, navy and forest green colours she wore before her marriage.
You can get Meghan's look here:
thanks to JapaneseGinger Twitter for shoes and @whatmegwore earrings
thanks to @JapaneseGinger on Twitter for shoe ID and @whatmegwore for the earrings