The Countess of Wessex joined her husband and children from the Royal Family's annual walk to church at Sandringham this morning. Sophie took quite a different step than her bold outfit from last year and wore a classically tailored coat in a bright cerulean blue.
The Countess wore a very bespoke designed coat from her favourite designer Emilia Wickstead. The coat is constructed of several different Emilia Wickstead coat styles as shown below. The first coat shown from 2017 displays the same blue as Sophie's, and a very similar notch collar. Sophie's collar is exaggerated more with an oversize notch collar. The second look from 2015 showcases the wide rectangular buckle belt. The last look from Autumn 2018 Collection shows the long line length of Sophie's coat.
The coat is expertly crafted from several panels and contouring darts over the bodice to give the coat a more fitted looks. We would love to see Sophie wear this coat casually over a pair of light wash denim jeans and a crisp white linen shirt (and perhaps add her Hicks and Brown fedora she wore to church with The Queen on Sunday for a true dressed down chic look) Try this as a replicate here.
UPDATE: Suzannah has since confirmed that this coat is a bespoke piece of theirs. It is made from cashmere.
Sophie wore an Erdem dress under her coat. We believe that Sophie's dress features the Gertrude Wallpaper print as shown below in the Georgeanna dress but in a style similar to the Siren dress, which features a Victorian style high neck ruffle, that we can just see poking out of Sophie's coat. We would love to see this dress without the coat. Try this as a nice affordable get the look here.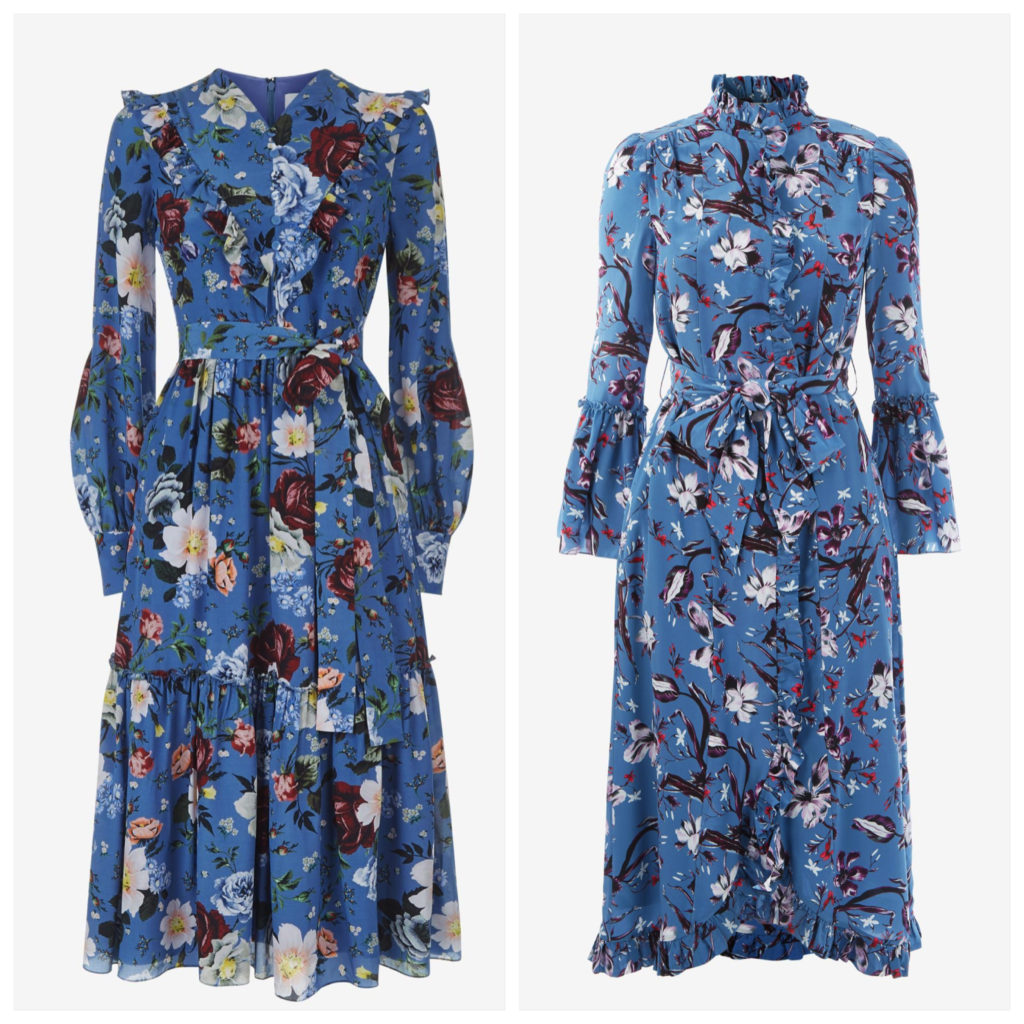 The Countess wore a bespoke Jane Taylor black cocktail hat. The hat is described a 'wet look velvet cocktail hat with vintage veil'. This piece is a teardrop percher that sits diagonally across the face in a dainty feminine style. A much smaller hat than we are used to seeing from Sophie, with some amazing oversized styles favoured this year. Check out some of her Royal Ascot looks of 2018 here, here and here.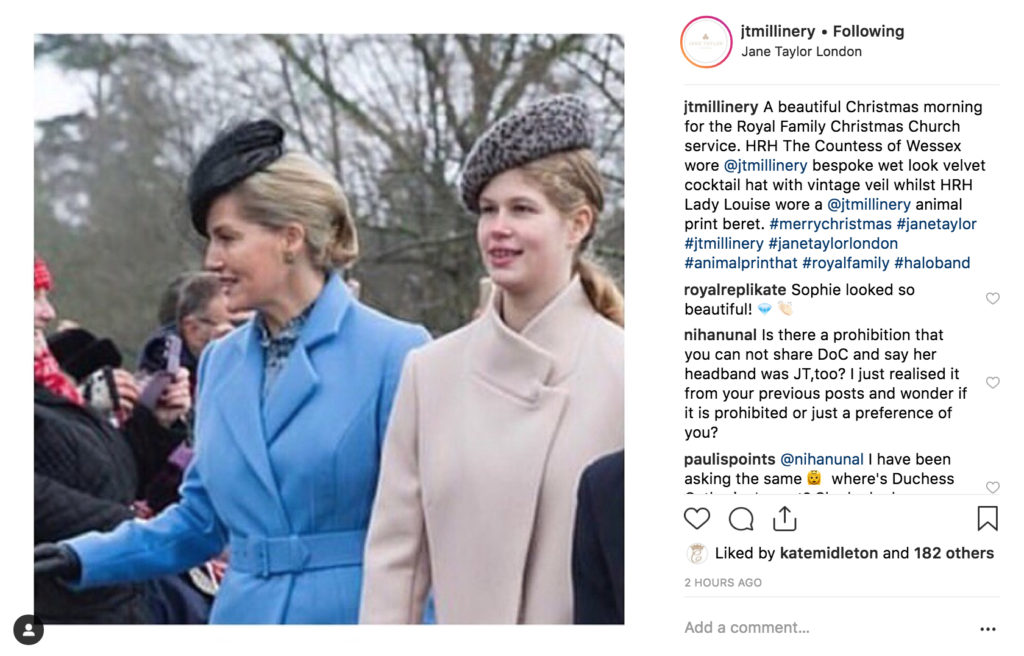 Sophie carried her Sophie Habsburg 'Pochette' clutch. She has carried this clutch before but always without the silver snake embellishment detail. Today is the first time we have seen this detail, so it appears to be removable.
Sophie wore a pair of black suede almond toe pumps. These look like her LK Bennett 'Harley' heels, although more pictures might help us further. The Harley shoe features a hidden platform and 4.5 inch heel, made from a rich black suede. These are a few years old now, but cost £195.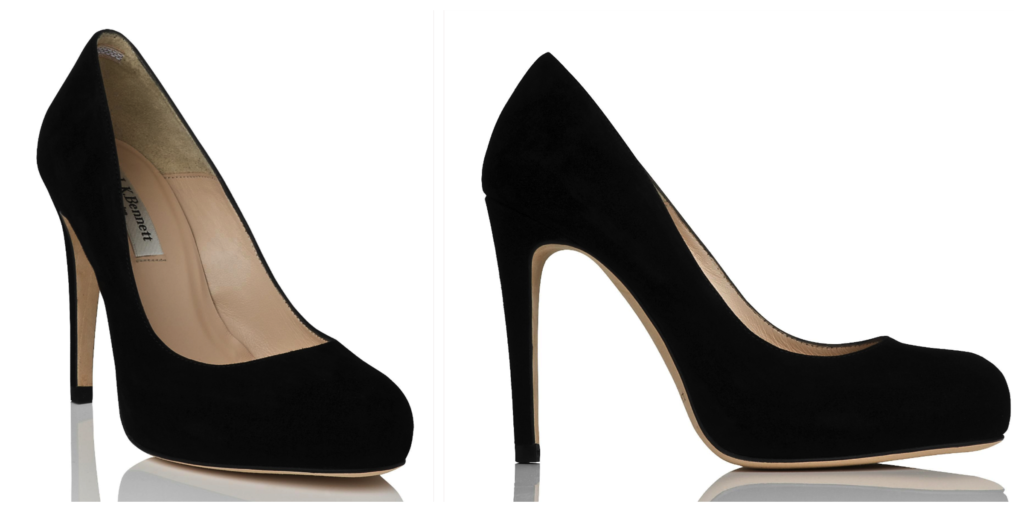 Sophie wore a new pair of earrings. These appear to be a disc shaped in black with inlaid diamonds almost appearing in a floral pattern with gold contrasting edge. Get a nice get the look here.
UPDATE: these earrings are from Lucia Odescalchi , the 'CHAiNGING Berlin Earrings', retailing for £164. The gold plated silver disc earrings have a cluster of black silver in the centre. You can purchase Sophie's earrings here.
To keep warm, the Countess also chose leather gloves.
A beautiful and classically regal style from the Countess for Christmas this year. A gorgeous length coat, we are loving this look from Sophie.
You can get Sophie's look here.