The Countess of Wessex has attended day two of Royal Ascot donning a second Emilia Wickstead ensemble, in another pastel colour, with twist of black.
Sophie wore a bespoke Emilia Wickstead 'Vida' jumpsuit. This is a modified version of the piece available on the label's site. We believe the Countess had her bodice changed to have the button placket at the front removed. A high neck moves into a gathered bodice with cinched waistline. Mini box pleats drop to wide-legs that skims the ankles. It seems that it is all about the sleeve detail as much as the stark contrasting pastel and black colour combinations for Sophie this Royal Ascot season. A wide black ribbon is interwoven down the sleeve in an 'X' pattern, adding a striking feature to this look. You may remember that Sophie wore a Galvan jumpsuit to The Queen's birthday concert a couple of months ago, though this version blurs the line between a true jumpsuit and a maxi dress. The jumpsuit is described as a green colour-way, though we would say it is more of a sea foam or pastel aqua You can view the jumpsuit here. Get an affordable replicate here.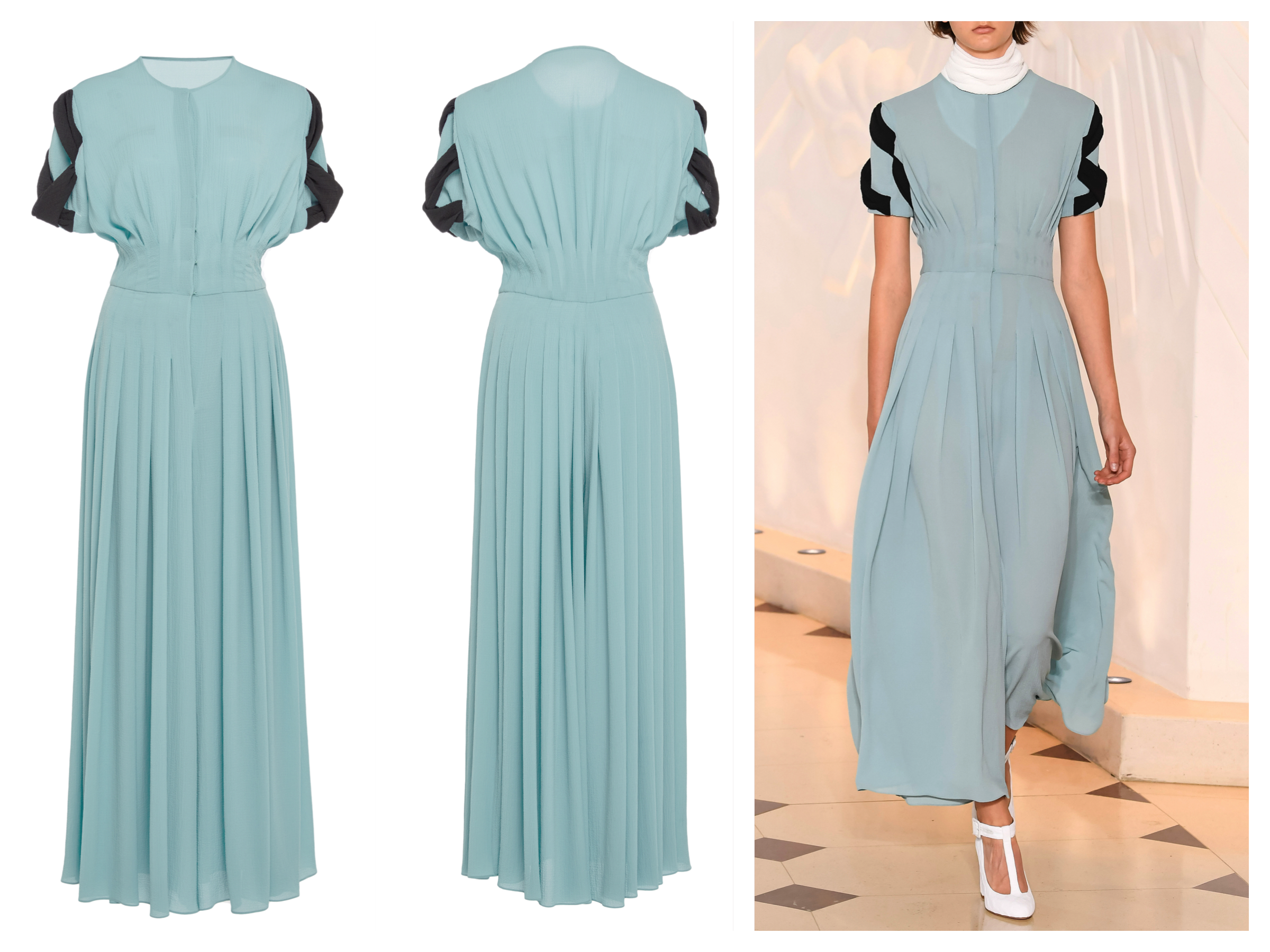 Sophie wore an incredible hat today, it is believed to be a bespoke Jane Taylor creation. The oversize hat is dyed to match Sophie's pastel aqua dress perfectly. The waved shaped brim sweeps up and over the face. The stand out feature of this hat is the amount and detail of the trim that has been added. Knife pleats of pastel aqua and black crinoline run the circumference of the brim and create a swirl toward the lower end of the brim. The pleats perfectly match in with the pleats of the dress. This is the kind of hat we expect to see at Royal Ascot, a fantastic fashion moment.
Sophie carried a Sophie Habsburg 'In & Out' Clutch, retailing for £157. This is much a softer style of fold-over pouch clutch than the normal structured hard frame clutches that the Countess favours. The black skin-effect clutch was a nice contrast against the blue of the trouser leg. We love to see something like this for a change. The clutch is still available in Kangaroo fur (yes…!) here.
For the first time in a long time, Sophie mixed up her heel choice. For day two, we believe Sophie wore Prada black court heel with curved cone heel in suede, but we show the shoe in satin. It is great to see darker shoes and clutch with this outfit and a nice change from beige and blush. You can buy an updated pair of these heels with gold embellishments here.
Sophie wore her Ippolita 'Rock Candy 4-Stone Drop Earrings', which we saw worn only last week. A perfect pair of dangling earrings in a striking blue topaz hexagonal shape. Each stone is set in gold with gold hooks, although the Countess has hers with gold studs. These earrings are no longer available but you can still see them here.
The Countess accessorised with many layers of bracelets today, included a gold Tiffany & Co. T Square Bracelet, retailing for £4,950. An open ended double 'T' bracelet in a thicker band of 18ct gold. You can purchase this bracelet here.
A Heavenly Necklaces 'Citrine Dream' bracelet, retailing for £40. A thin gold chain with various geometric shaped citrine stones. This bracelet is sold out, we show the bracelet in blue/green quartz colour way, purchase this bracelet here. You can still purchase the matching necklace online, however, here; The Countess of Wessex owns this piece too!
You may have also noticed that Sophie wore a gorgeous Aquamarine cushion cut ring, on a thick white gold band. We absolutely love this gorgeous blue gem ring, so striking and chic for any outfit.
Get Sophie's Style here: