Yesterday, The Countess of Wessex visited her patronage, Shooting Star House – a hospice for children, which also provides support for their families. Later that evening, Sophie attended a Women in Finance gala, bringing back an old gown. Read more about her day and charity work here.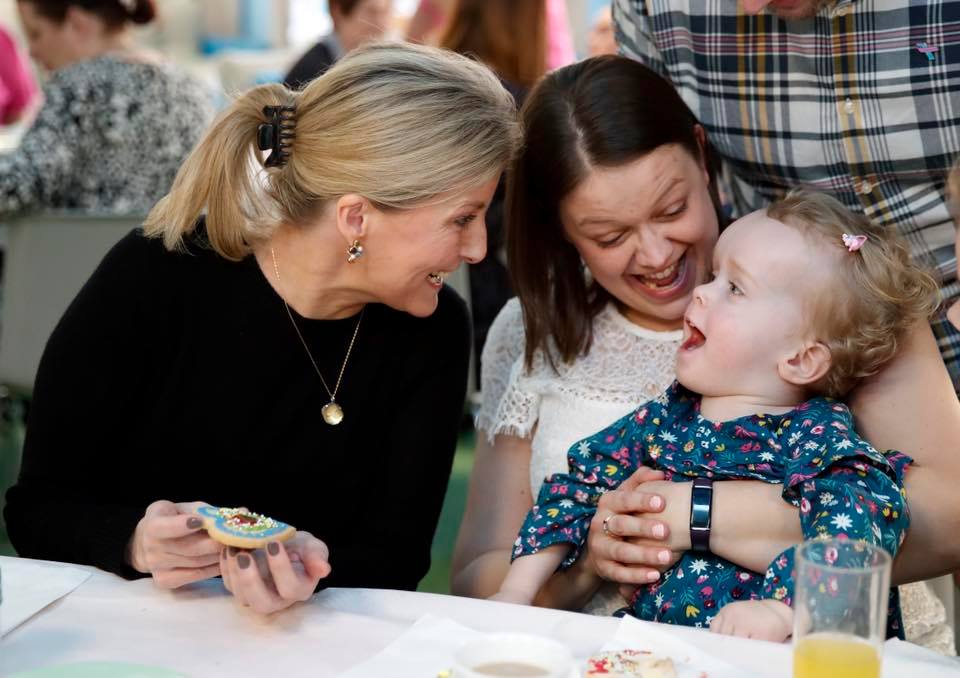 Sophie chose a new coat from Max Mara: the belted wool 'Reus' coat, costing £815.00. Although the coat looks a shade of terracotta, or even a dusky pink, the brand calls it 'tobacco'… Made of 100% wool, the coat has a large, notched lapel, visible seams on the inside of the arm and on the back, and angled slit pockets. The piece has matching belt with black rounded square buckle and falls to the calf. On the back there is a trench-like panel.
Get one here or try this for a nice colour match from the high street.
The trousers were new to me, but are quite nondescript. They are beige tailored trousers, falling to the ankle, with a front/back pleat. We are so limited on photos, that's all I can tell! The Countess owns other similar pairs of slim leg trousers, for example in red, but we haven't found those in the past for the same reason. These trousers from Joseph look like a good match, or try these if your budget doesn't stretch as far.
The Countess teamed this with a simple black round neck jumper, which is, again, too generic to figure out.
She used her 'Amber' clutch from Sophie Habsburg, with its distinct red jewel clasp. You can view the piece here, but the label appears to have stopped selling this style.
Tying the tones together, the Countess chose Prada nude leather pointed heels. These appear to be a new pair – they look a darker shade, and have a black heel cap and side sole, whereas her others are light. You can get a pair here for £555 (100mm) or £545 (85mm) – again, photos haven't helped in identifying the height; most of Sophie's court shoes are 85mm, but she does own taller, too. Or try these and these to copy the look.
Sophie brought back those multi-stone and pearl cluster earrings we saw in Sierra Leone, that date back to 2018. With green, purple, blue and yellow stones interspersed with two seed pearls, these are lovely. Still no more information on them, unfortunately.
She added her large yellow (citrine?) stone on a chain; often, the Royal will wear the stone with the initial pendants for her husband and children (they are from Felt London) but I haven't spotted them this time.
The Countess of Wessex wore her hair clipped up, and a dark taupe nail polish.
Channel the Countess with these options: