For a day of engagements in Essex yesterday, we saw The Countess of Wessex choose a new floral blouse and trouser combination, bringing back a familiar coat. Read about her day here.
The Countess wore her Suzannah coat we saw at Christmas. It is a combination of the 'Hunter Michigan' (the fabric) and 'Brodie' (the shape) coats. Sophie left the coat open for her visits and removed the belt. It features an open collar that stands up at the rear, with pointed lapels, and angled slit pockets at the hip. The skirt follows a slim silhouette and falls past her knees.
Embed from Getty Images Embed from Getty Images
Sophie wearing the coat at Christmas.
Beneath, Sophie chose a new blouse by Chloe, pairing it with mauve trousers. This is the 'Floral-print silk crepe de chine blouse' blouse, in 'cloudy rose'. The blouse is made of silk, featuring mother of pearl buttons, long cuffs and a pointed collar – a staple piece. It costs £810 here and here.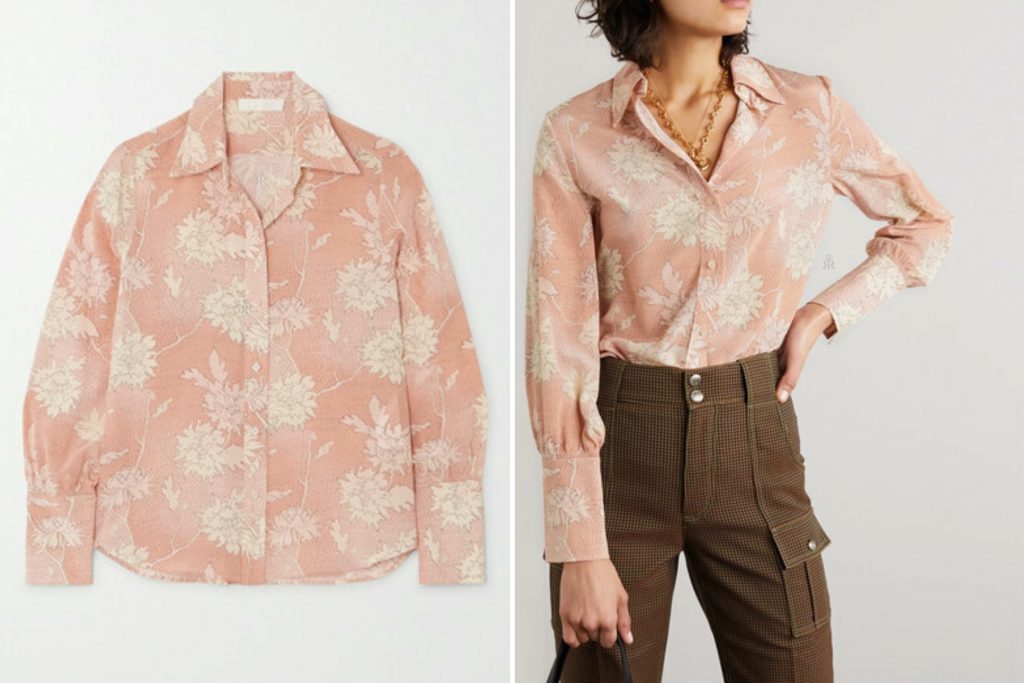 A closer look at the fabric; pale pink is covered with a scale-like pattern, and cream and pink flowers.
The trousers are pleated at the front and back, and are in a mauve-pink tone. The fit appears to be bootcut. Updates when we have them.
She wore her Prada 'Madras' boots. With a round toe and block heel, they are an everyday boot. They have long sold out but try these for a copy.
The Countess had her Aurelie Bidermann snake hoop earrings in. Made to look like a snake biting the ear, the tail of the serpent sweeps round, finally flicking out (or in, depending on which way you wear them!). They cost £226 here – try these to match the look. She also chose her Hermes 'Constance' handbag necklace.
Embed from Getty Images Embed from Getty Images
We saw the 'brown rose' version of her Sophie Habsburg 'Cleo' bag. The small bag is created in a snakeskin effect leather, with a rounded top flap. It is still available here for approx £400.
This look was slightly off for me – perhaps it was the trousers and boots combination, especially the colour. I find that dresses with heels is where Sophie really excels in the fashion stakes, occasionally missing it with trousers or separates.
Channel her outfit here:
Shirt ID credit to be added