The Countess of Wessex had a very busy day on Wednesday, heading to RAF Wittering in Cambridgeshire, before going back to London for evening events. We had some new pieces on show for these events, as well as a repeat of Sophie's royal wedding outfit back in October.
At the RAF base, the Countess chose an off-white dress from Max Mara. This was the 'belted stretch-cady midi dress', which sold for £795; it is now sold out but you can view it here. The sleeveless piece features a round neckline, with a fitted bodice that moves into a full pleated skirt, which sits mid-calf. It also has an invisible rear zip and matching thin, white belt.
This is such a Sophie-dress – the midi-length, the flared skirt and the neutral colour, which makes it hugely versatile.
She teamed the dress with her navy blazer, which we still can't find. It is now a number of years old, featuring single-breasted buttons, three buttons at the cuff, welt pockets and a peplum. We are a little unsure about the use of navy instead of a grey or black jacket for this look. It would have looked more balanced with a matched tone.
Embed from Getty ImagesEmbed from Getty Images
Her shoes were new, from Penelope Chilvers. These are the 'Tango' Mary Jane heels in taupe suede (although they look very grey to us). Featuring a straight block heel of 90mm, tapered at the bottom, a squared toe and an ankle strap with round buckle, they are available here for £239.
Sophie carried another bag from Sophie Habsburg, the 'GIlda' nappa handbag. Created from soft taupe leather, with a blue interior, the bag has a snap closure, a square flap pocket to the front and a chain and leather handle; the bag also has white top stitching. Sophie Habsburg's site is currently under maintenance, and has been for some weeks, meaning their products are currently unavailable.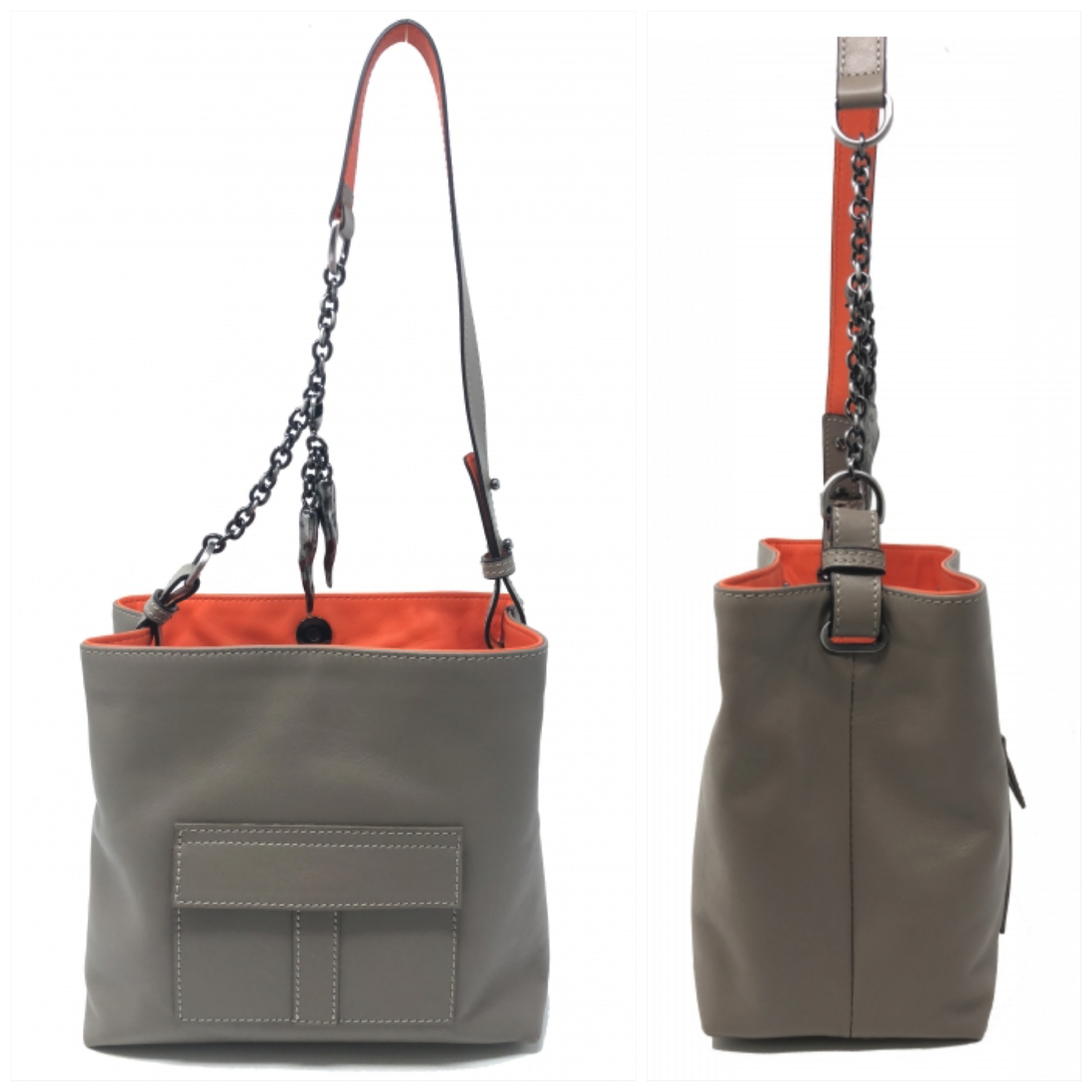 We last saw this piece on her visit to Ireland last October.
The Countess wore a pair of light-stone earrings, again that we have not found previously. Set on a silver hook, these circular earrings match really well with the dress and shoes.
Sophie also wore her RAF Wittering badge, as the base's commodore.
Embed from Getty ImagesEmbed from Getty Images
For her evening events back in London, the Countess wore a metallic tweed midi dress from Alaia, 'Scalloped metallic stretch-knit' midi dress, retailing for £2,290. You may recognise this dress as the one Sophie wore to Princess Eugenie's wedding back in October. This black metallic tweed dress has with scalloped edging along the rounded neckline, sleeves and iys midi hemline. There is also a hint of navy in the fabric. You can purchase Sophie's dress here in very limited sizing or here for £3087.
Sophie matched the dress with a pair of navy pointed heels, which we think are the Manolo Blahnik 'BB' navy suede pumps, due to the thin heel. These heels are available here for £495.
She accessorised with a pair of citrine double-drop earrings; a pear-drop yellow stone hangs from a round stud. The Countess also wore her Halcyon Days 'Maya' bracelet, which is a torque (twisted) gold bangle with pearls at each end. There is also geometric pattern. The piece costs £95 here and is available in red, or palladium with black stones.
Embed from Getty ImagesEmbed from Getty Images
Steal Sophie's day style here
Or her evening style here: