Autumn Phillips attended Cheltenham with her husband Peter Phillips, her mother-in-law Princess Anne and Mike and Zara Tindall on Friday. Autumn braved the elements on a very windy, rainy and muddy race day.
Autumn wore a black velvet military style coat from Guinea London. Autumn chose the 'Motcomb', coat retailing for £485. The rich velvet coat has a high funnel neck with two button closures on each side, long sleeves ending in split fold back cuffs with two buttons on each side of the cuff, flap horizontal hip pockets, a rear half belt with silver button fastenings and finishes at a knee length. You can purchase the coat here.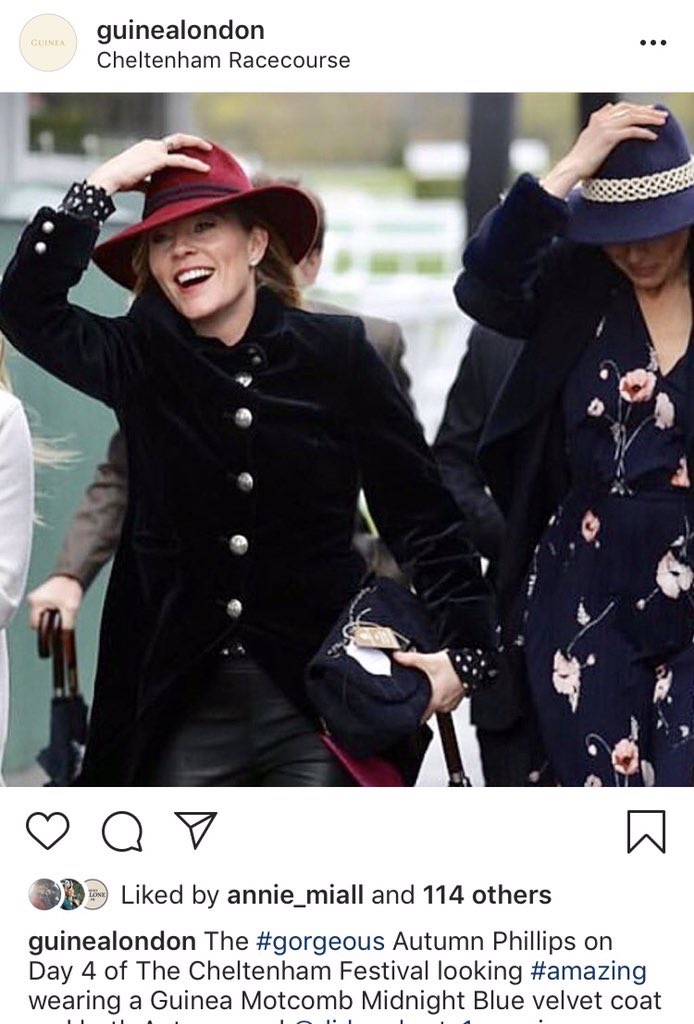 Looking at the fine details of the coat close up, you can see that the coat boasts highly decorative silver-toned buttons with royal crest relief and a bright contrasting fuchsia silk lining. The pretty coat is made from 100% Italian velvet.
Autumn wore a Lily and Lionel 'Maddox' shirt in Cosmos print, retailing for £250. The button down shirt has a black and white star print over the blouse, with the collar and cuffs featuring a smaller scale pattern of the same stars. The shirt billowing style long sleeve with button cuffs and gathers across the back adding to a floaty relaxed silhouette. We would love to see this shirt in full, with a black pleated kilt style skirt and knee high black suede boots. You can purchase this blouse here.
In a very different fashion move, the always classically-styled Canandian donned a pair of black leather panel leggings. Quite a bold move for the Cheltenham Festival when a vast majority of the race goers looked to have stepped out of Horse and Hound magazine. Families coordinating in their perfectly tailored tweed and check coats accented with burgundy velvet trim, leather boots and feather adorned trilbies or tweed flat caps.
Autumn chose a Camilla Rose 'Dusk Fedora', retailing for £270. The felt fedora in a rich burgundy colour-way has a high indented crown, wide sloping brim and is trimmed with a double row of navy braided bands. We love this chic look on Autumn who usually favours floral disc perchers from Juliette Botterill. You can purchase Autumn's hat here.
Autumn carried the Russell and Bromley 'Quince' bag, retailing for £245. The navy quilted front flap bag has chain double strap handles, gunmetal engraved turn lock, large interior compartment with both zip and slip pockets. Autumn chose to use it as a large clutch. You can purchase the bag here.
Zara carried the same bag just a couple of days ago – we love to think they are sharing accessories!
Autumn wore Stuart Weitzman 'Delphine' boots, retailing for £485. The black suede block heel ankle boots have a gradual sloping front platform and rear zip closure. You can purchase these versatile boots here, here and here.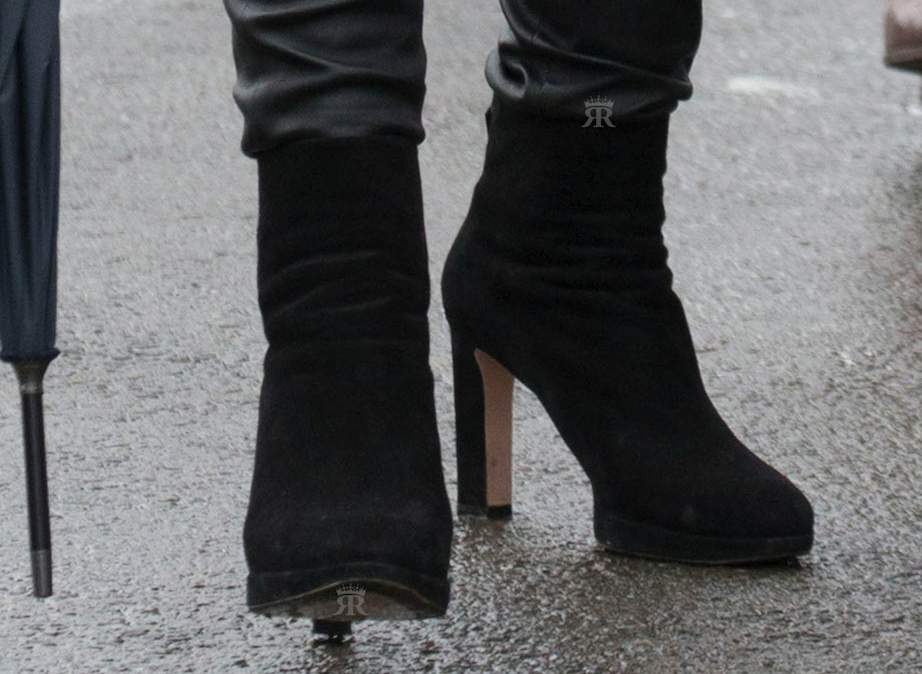 Autumn accessorised with a classic pair of round diamond studs.
You can get Autumn's race day style here:
With thanks to @polkapopp for the hat and boot ID